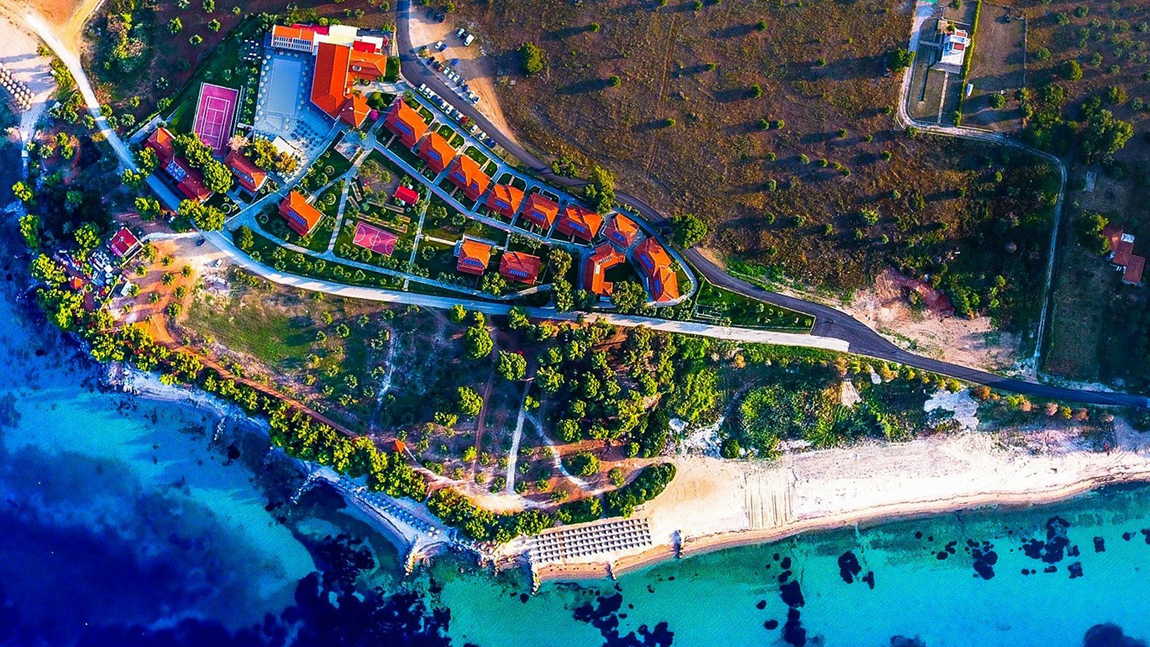 Most talked about:
Hotel Overall
Breakfast
Swimming Pool
Most satisfied with:
Bathroom cleanliness
Distance to public transport
Pool Cleanliness
Great Family & kids friendly.

Guests are very happy with the Animation, entertainment, nightlife, music.

Great Atmosphere, friendliness.

"nettes Personal"

"mini disco"

"Evening program"

"personal preference"

Guests are very happy with the Swimming Pool.

Sport facilities is nice.

Hotel age is nice.

"Gedränge"

"deluxe room"

"côté de la mer"

"nice pool"

Overall CLEANLINESS is nice.

Room cleanliness is excellent.

Bathroom cleanliness is excellent.

"gepflegte Anlage"

"clean room"

"Clean pool"

"clean rooms"

Average Bathroom.

Great View.

Room size is excellent.

"modern furniture"

"Gäste"

"major road"

"mini golf"

Guests are very happy with the Breakfast.

Great Dining experience.

Pizza, Pasta, Salads, Snacks, etc is good.

"Frühstück"

"große Auswahl"

"dinner buffet"

"buffet dinner"

Staff friendliness & competence is nice.

Service is nice.

Animation team is nice.

"friendly staff"

"membres du personnel"

"tennis court"

"cleaning ladies"

Great value for money.

Guests are OK with the Food & drinks price.

Food price can be improved.

"free bread"

"Preise der Getränke sind fair"

Shopping is nice.

Great Distance to beach.

Tours & excursions is nice.

"Ausflüge"

"small shop"

"nächsten Ort"

"Petit bémol"

Great Wifi price.

"Kostenloses WLAN auf dem Zimmer"

"Wlan-Empfang ist gut und kostenlos"
https://www.bluedolphinhotel.eu/index.php
Iulian Alexandru
on

2022-12-08
via

Google
Philipp
on

2022-11-24
via

HolidayCheck
Am besten nur mit Frühstück buchen. Beim Abendessen war das Gedränge beim Buffet groß (in dieser Zeit auch noch mit vielen Kleinkindern) und der Service mit den Getränken langsam.
Thomas
on

2022-11-17
via

HolidayCheck
Wir können das Hotel nur empfehlen.Die Lage direkt am Strand, gepflegte Anlage und Umgebung.Die Mitarbeiter waren freundlich und hilfsbereit.Besonders Herr Sakis der uns geholfen hat unsere Ausflüge zu planen. Die Mitarbeiter der Küche haben für leckeres und abwechslungsreiches Essen gesorgt.
George K
on

2022-11-17
via

Tripadvisor.com
The best experience in Greece. Everything in this hotel was perfect. We received service even better than for a 4 star hotel. The food was delicious. The rooms are large, clean and with new and modern furniture. There was also a very good animation every night. The location is excellent if you are by car. For sure we will visit again.
Jennet
on

2022-11-16
via

Booking.com
de locatie, de faciliteiten en de liefde waarmee die onderhouden worden. de kinderen waren dol op het 'entertainment-team' -
Henrike
on

2022-11-13
via

Booking.com
die Zimmer im Haupthaus sind supermodern und großzügig. wirklich tolle a la carte Restaurants und sehr nettes Personal. Animateure waren trotz Ende der Saison total engagiert. - - Die Poolheizung war kaputt und man hat sich nicht gerade beeilt, dies vor Saisonende nochmal zu reparieren, nur auf wiederholtes Nachhaken vieler Gäste mit kleinen Kindern . -
Dedu Bogdan
on

2022-11-07
via

Google
Totul a fost de nota 10 !!!
alexoudis george
on

2022-11-01
via

Google
excellent 5-star category in terms of services, room quality, food, very good value for money, I think it is one of the best options for Halkidiki and it shows because despite its size it is almost always full and …
TatevikD
on

2022-10-31
via

Tripadvisor.com
Nice hotel, good value for money, nice and clean beach (in July 2018 when we traveled we had to pay for a beach bed and umbrellas). Located between Kasandra and Sintonia offers an easy acess by car to both.
Csikilaca
on

2022-10-31
via

Booking.com
Modern, elegant and clean room. Delicious, varied food. Free wi-fi and parking. Nice view from the deluxe room. mini disco for kids. Clean pool. - -
Bartek S.
on

2022-10-27
via

Google
Great place for one day stay and perfect place for whole week holiday. Comfortable rooms, good food and fantastic view.
Oliwia Białończyk
on

2022-10-24
via

Google
Beautiful hotel, tasteful design and clean room, friendly and smiley service. Delicious food! Poland greets Greece! ♥ ️
Mila
on

2022-10-24
via

Booking.com
We were fascinated by the garden. Our baby enjoyed the view of the trees when walking around the hotel with the stroller. Also, the apartment is super modern and very big with a great balcony. Everything is perfectly clean. The staff was really polite and helpful and the food was fresh and tasty. :) We also enjoyed the autumn swimming in the pool. - Nothing
Highjack
on

2022-10-23
via

Booking.com
Die Lage des Hotels ist super. Es hat einen großen Strand, welcher direkt an die Anlage angrenzt. Hier sind ausreichend Liegen kostenlos vorhanden. Das Personal ist freundlich und hilfsbereit. Das Konzept der Anlage ist gut überlegt und bietet trotz ihrer Größe auch Möglichkeit zum Rückzug. Das Essen am Abend könnte besser sein, wie auch das Frühstück. Aber dies ist jammern auf hohem Niveau. Grundsätzlich sind alle Speisen genießbar und vielseitig. Die pingelige Kritik bezieht sich hier dann auf Gargrad und Würzung. Hier merkt man, dass für eine große Menge gekocht wird. Grundsätzlich würden wir aber auch hier 4/5 geben. Die Getränkeauswahl ist gut. Die Cocktails sind gut. Mit Sicherheit besser als die einer beliebigen Cocktailbar. Als exklusiv und besonders können diese sich aber auch nicht rausstellen. Dem Preis allerdings mehr als angemessen. Die Getränkepreise sind völlig normal verglichen mit einem Restaurant. Das Fazit ist, dass wir gerne wiederkommen. Die Anlage, die Umgebung, aber auch die weitere Umgebung haben uns sehr überzeugt. Wir sind viel mit dem Auto unterwegs gewesen und haben uns die verschiedenen Finger angesehen. Die Anlage hat sicher eine Top Lage und findet sich wunderbar in der schönen Natur Sithonias wieder. Wir danken für einen tollen Urlaub. Bis zum nächsten Mal. - - Der Gargrad der Speisen. Das Fleisch war dann perfekt, wenn es Schmorgerichte waren. Fisch war leider jedes Mal übergart. Auch ansonsten zog sich die Frage des Gargrades wie eine rote Linie durch. Mit etwas mehr Gefühl für den Umgang mit den tollen Lebensmitteln die man hier ohne Frage anbietet, bleibt nichts zu kritisieren. Danke. -
Desislavaа
on

2022-10-21
via

Booking.com
Lovely and renovated hotel. Various types of delicious food and perfect location for a peaceful holiday. 10/10 for the staff.
Igor
on

2022-10-19
via

Booking.com
Very well maintained property with beautiful greenery amids of olive, pine and palm trees. Great for relaxing strolls. Good beach restaurant with great mushrooms risotto. Clean sea with sparse seaweeds and lots of curious fish:) Sandy beach. Good variety of food in the restaurant, though I would have preferred more seafood but that's just my personal preference. You can find something for everyone and you won't be hungry. Room is clean and nice. Evening program with dance team, nice though repetitive. Good value for money would say.
Scenic40250551097
on

2022-10-19
via

Tripadvisor.com
Had a great time. All staff were very friendly. Especially all the reception staff. Nice facilities. Nice shows with great entertainment staff who encouraged social engagement for those that wanted it. In the restaurant the food was lovely and the service great. Armando keyeziu and the Restaurant manager Constantine, stand out as people who in particular gave great service to me. Highly recommend staying here.
Evangelos
on

2022-10-18
via

Booking.com
the quality of the buffet meal was average
Manchester_united
on

2022-10-17
via

Booking.com
Great location, friendly staff. Near major road to go anywhere you like. - Everything was very nice.
Chen
on

2022-10-17
via

Booking.com
וואו האמת, מקום מהמם. חדרים ענקיים וחדשים..מיקום מול הים עם ירידה לחוף ב2 דק הליכה. גינת שעשועים לקטנים, מגרש כדורסל, מיני גולף..חדר מיני קלאב לילדים. אוכל טעים ומגוון, צוות מהמם החל מהקבלה, חדר אוכל, מנקות חמודות וצוות בידור חם ואוהב! הגענו בסוף עונה ובהחלט נגיע שוב פעם הבאה :) EFHARISTO POLY!! - - בכנות- רק את הכריות של המיטה. לא עומדות בסטנדרט של כל המקום -