Lyttos Beach Hotel

,
Hersonissos, Crete

,

Greece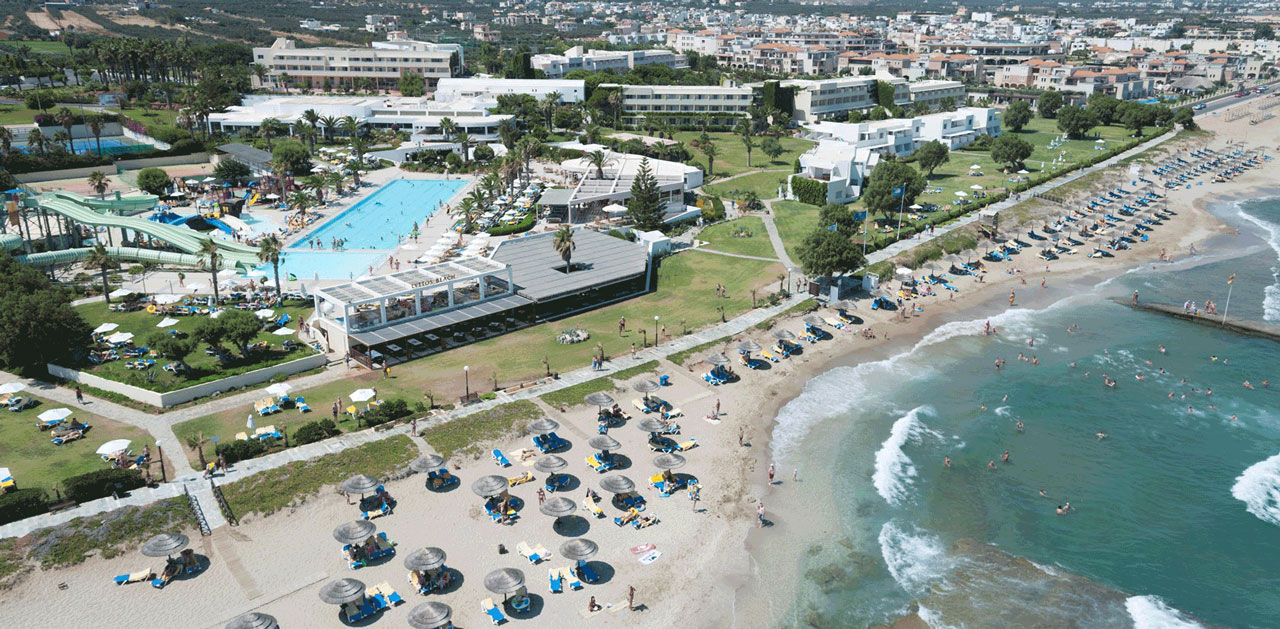 Most talked about:
Hotel Overall
Swimming Pool
Breakfast
Most satisfied with:
Bathroom size
Food price
Water activities
Guests are very happy with the Animation, entertainment, nightlife, music.

Great Family & kids friendly.

Great Atmosphere, friendliness.

"kids club"

"spa area"

"Vorzüge"

"Sportaktivität"

Swimming Pool is nice.

Guests are very happy with the Sport facilities.

Great Hotel age.

"Stoßzeiten"

"video games"

"belle terrasse"

"main pool"

Guests are very happy with the Overall CLEANLINESS.

Room cleanliness could be better.

Guests are very happy with the Bathroom cleanliness.

"Hygiëne"

"Männer"

"clean rooms"

"Grünflächen"

View could be better.

Bathroom is acceptable.

Guests are very happy with the Room size.

"sun beds"

"Kühlschrank"

"Schränke"

"Private beach"

Guests are very happy with the Breakfast.

Dining experience is excellent.

Great Alcohol.

"Früchte"

"Gläser"

"Frühstück"

"liegen reserviert"

Great Staff friendliness & competence.

Service could be better.

Animation team is excellent.

"staff work"

"bar staff"

"Schäden"

"Zimmermädchen"

value for money is excellent.

Food & drinks price is excellent.

Great Food price.

"ermöglicht"

Night life & dining is acceptable.

Distance to beach is nice.

Guests are very happy with the Shopping.

"Möglichkeit"

"Liegeplätze"

"Straße"

"Möglichkeiten"
http://www.lyttosbeach.gr/
Hugo-Peter Westeroth
on

2018-11-12
via

Google
Angenehmes Hotel mit schönem Strand.
Katharina
on

2018-11-12
via

HolidayCheck
Ein sehr schönes Hotel in unmittelbarer Nähe zum Strand, auch in der Nebensaison sehr zu empfehlen. Das Essen ist gut und die Mitarbeiter sind sehr freundlich, die Anlage ist sehr ordentlich. Die verschiedenen Poollandschaften sind gut auf der Anlage verteilt und sehr sauber.
Mandy
on

2018-11-11
via

HolidayCheck
Super schöne moderne Großzügige Zimmer , leckeres Essen in riesiger Auswahl. Kinder hatten viel Spaß auf den Rutschen und wir Eltern hatten viel Zeit zum relaxen , nächster Urlaub in diesem Hotel bereits gebucht und alle freuen sich schon sehr.
Anja
on

2018-11-10
via

HolidayCheck
Das Hotel ist eine Schöne Anlage für Familien und auch als Paar.Mann hat die Möglichkeit sich sportlich zu betätigen oder auch nur einfach am Pool oder Strand sich von der sonne wärmen zu lassen. Die Anlage wird gut gepflegt und demnächst entsteht ein Rutschenpark für die Kinder. Wir werden wahrscheinlich noch einmal dieses Hotel wählen.
Andreas
on

2018-11-08
via

HolidayCheck
Eine sehr schöne Hotelanlage mit freundlichem Personal, Sehr gutes Buffet mit viel Auswahl, guter Qualität und ausreichender Abwechslung
Andreas Kantehm
on

2018-11-07
via

Google
Hakan Aslan
on

2018-11-06
via

Google
Tolles hotel mit schöner Anlage und großem Angebot
KelseyGauci
on

2018-11-06
via

Tripadvisor.com
Just got back from a week at Lytton Beach Hotel. I had a fantastic experience as did my six year old! As we went out of season a lot was closed around the hotel but this didn't matter as there was plenty to keep us entrained in the hotel. There was a kids club that although my son didn't join they were always busy around the pool and in the club house. There's plenty of pools so that if you don't like the busy big pool with the slides you don't have to be amoung it all if you don't want to! The hotel was spotless and the rooms were cleaned to impeccable standard every morning. All the staff were friendly and helpful, the gent that showed us to our room upon arrival was brilliant with explaining where we were as the hotel complex is HUGE. Food was delicious and plentiful! The second restaurant hosted a different theme night every night. A short work down the beach there is a fantastic water sport company that provides a lot and was great fun! All in all a great holiday! Didn't want to leave!
ΜΙΧΑΗΛ ΜΑΡΚΑΚΗΣ
on

2018-11-05
via

Google
ΚΑΘΑΡΌ, ΆΝΕΤΟ, ΕΥΡΎΧΩΡΟ, ΩΡΑΊΟ ΣΈΡΒΙΣ, ΚΑΛΈΣ ΤΙΜΈΣ.
Cl B
on

2018-11-05
via

Google
Absolut tolles, modernes, sauberes Hotel, mit schöner Anlage und freundlichem Personal.
joanne S
on

2018-11-05
via

Tripadvisor.com
My husband and 2 sons stayed here end of October. Our room was very spacious and cleaned daily. Food was amazing! You were never hungry! The staff work very hard, i did not like the way the supervisors spoke to some of the waitresses in front of guests very unprofessional! The pools were great, we preferred the round pool near the sea, but there were several other pools to use also. Plenty of Sun loungers which was good. The spa area did not look inviting at all so we did not use it. The majority of the guests were German kids disco etc catered for them, no music in evening for the adults was quite boring in the evenings. The resturant managers were very arrogant did not acknowledge the guests at all, not a smile nothing! Very unwelcoming! The bar staff and resturant workers we very nice and work really hard! We did enjoy our stay but could have been better.
Linda
on

2018-11-05
via

HolidayCheck
Das Hotel hat uns sehr gut gefallen und war vor allem das perfekte Reiseziel für einen Familienurlaub. Pool, Strand und Unterhaltung haben uns sehr gut gefallen. Ein ganz besonderes Lob gilt dem Entertainment Team. Die abendlichen Shows waren wirklich beeindruckend!
MJosef
on

2018-11-05
via

HolidayCheck
Ein richtiges Paradies für Kinder, die sich hier nach Herzenslust austoben konnten. Die weitläufige Anlage direkt am Meer ist schön angelegt. Service ist einfach spitze.
Ioannis Georgizas
on

2018-11-04
via

Google
Πολύ καλό γοα οικογενειακές διακοπές.
Ulrike
on

2018-11-04
via

HolidayCheck
Sehr schöne großzügige Hotelanlage mit großem Garten und idealer Verbindung zwischen Meer und Pool. Gutes Essen und schöne Zimmer. Überall die Möglichkeit zum Verweilen. Allerdings werden die Pools nicht beheizt, aber das Meer war noch schön warm.
Reinhard Simon
on

2018-11-03
via

Google
Freundliches Personal, gute Anlage
Helenmm22
on

2018-11-03
via

Tripadvisor.com
We are just leaving Crete after a fantastic week in the sun . We stayed at Lytton beach and wow , it's got everything you could want . Beautiful golden sand beach with plenty of sun beds and umbrellas. Swimming pools placed round in between the blocks of rooms . Free towels for use on the beach as well as the pool . And you can change them through the day which is very helpful when switching back and forth between pool and beach . Fun water slides for all ages and plans for a new water park on site . An array of dishes served throughout the day , in the restaurant, taverna and snack bars . All staff are very welcoming and helpful, and we found all areas to be clean and well managed . We didn't use the kids club but there is plenty for the kids to do during the day . And our 6yr old loved the mini disco in an evening. We would definitely visit again .
Αντωνης Βολτυρακης
on

2018-11-03
via

Google
Οι περιβάλλοντες χώροι είναι φανταστικοί,τα γήπεδα τένις πολύ ωραία,αλλά δεν έχω άποψη γιατί δεν πήρα στα δωμάτια.
Theodore Chadjipadelis
on

2018-11-02
via

Google
Εξαιρετικό ξενοδοχείο. Όχι τόσο καλή ακτή
michejack
on

2018-11-02
via

Tripadvisor.com
Notre séjour dans cet hôtel nous a beaucoup plu à mon épouse et à moi-même. Cet établissement est bien situé directement en bord de mer (avec une plage surveillée équipée de transats nombreux); il est certes un peu isolé (à 5 km de Hersonissos - agréable ville touristique) mais on peut facilement utiliser les lignes de bus qui desservent très bien les alentours (arrêts à 10 min à pieds). On peut aussi louer une voiture à proximité pour découvrir sans trop s'éloigner Elounda et l'île de Spinalonga, Agios Nikolaos, Héraklion, le palais de Malia, le musée de Lychnostatis, le bourg de Piskopiano et son musée rural… Notre chambre récemment rénovée était agréable, calme, avec tout le confort (coffre-fort et wifi gratuits). La restauration était excellente, on s'est régalé avec une mention spéciale pour les pâtisseries. Seul petit bémol, le bruit parfois au restaurant principal mais il suffit d'aller à l'espace réservé aux adultes (un vrai plus). La disposition des tables est telle qu'il faut : aérée, on ne se sent pas confiné comme parfois. Le personnel est vraiment professionnel et souriant : chambres propres, efficacité au restaurant et surtout très bon accueil aux différents bars avec un bon choix de cocktails et des alcools internationaux. Bref un endroit que nous recommandons vivement !