Lyttos Beach Hotel

,
Hersonissos, Crete

,

Greece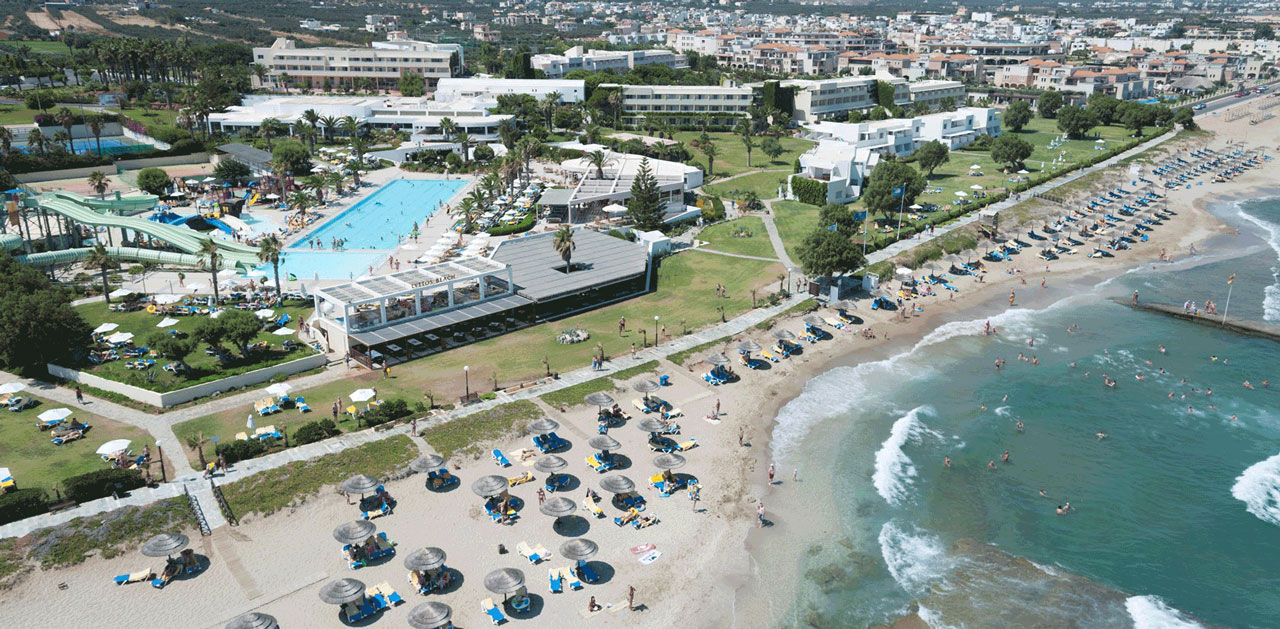 Most talked about:
Hotel Overall
Swimming Pool
Staff friendliness & competence
Most satisfied with:
Food price
TV
Meat
Great Family & kids friendly.

Animation, entertainment, nightlife, music is nice.

Atmosphere, friendliness is excellent.

"Tennisplätze"

"kids club"

"spa center"

"mini club"

Swimming Pool is excellent.

Guests are very happy with the Sport facilities.

Hotel age is excellent.

"private pool"

"pool bar"

"liegen reserviert"

"modern eingerichtet"

Guests are very happy with the Overall CLEANLINESS.

Room cleanliness is excellent.

Great Bathroom cleanliness.

"clean rooms"

"gepflegten Anlage"

"gründlich gereinigt"

"sauber und gepflegt"

Great Room size.

Bathroom is nice.

Guests are very happy with the View.

"water slides"

"ausreichend Platz"

"erklären"

"einfach alles gepasst"

Breakfast is excellent.

Dining experience is nice.

Great restaurant & food.

"direkter Strandlage"

"leckeres Essen"

"house wine"

"ermöglicht"

Great Staff friendliness & competence.

Service is nice.

Animation team is excellent.

"Lächeln"

"Türkei"

"helpful staff"

"Personal sehr freundlich"

Guests are very happy with the value for money.

Food & drinks price is nice.

Great Food price.

Night life & dining can be improved.

Great Distance to beach.

Great Neighbourhood & area.

"Nähe zum Flughafen"

"schnell erreichbar"

"direkt am Strand"

"la piscine et le parc aquatique sont top"
http://www.lyttosbeach.gr/
Anonymous
on

2018-04-24
via

Booking.com
This guest liked the facilities, comfort, and location
Dayan
on

2018-04-24
via

HolidayCheck
Sind gerade am Strand und wollten kurz Bescheid geben es ist einfach herrlich! Super Anlage, sehr viel grün, gründliche Mitarbeiter und Hammer essen!! Wir sind hier zum Tennis spielen mit unserer Gruppe, by the way ganz viele Plätze!!
Marco
on

2018-04-24
via

HolidayCheck
Tolle Lage! Unglaublich gepflegt. Leider sehr auf Familie ausgelegt mit täglicher abendlicher Kinderdisco. Das Personal ist unglaublich freundlich und das Essen mit riesiger Auswahl... auf das Gewicht aufpassen
IanDevon2015
on

2018-04-24
via

Tripadvisor.com
What a place! If you have kids (or even if you don't!) it's fantastic. There are 22 tennis courts, you have to book when you want to play, but it's all included in the price. Take your rackets and balls. Check out the photos on their website. The swimming pool and slides are just perfect - my two boys spent the entire week it seemed, in and out of the pool, coming down the slides. They certainly worked up an appetite every day.. Lovely smaller pool & slides for the toddlers too. The food was very good quality, if samey. I suppose a week all inclusive is bound to feel like that, but there was plenty of choice, it's just that the choices seemed to the same every day! The main restaurant was best for breakfast & lunch, the other smaller one by the pool was very good for the evening meal. You have to book that though, a day in advance. Room was excellent, 2 TVs, fridge, good shower & bath. Drinks - help yourself to local beer! Soft drinks too - local and branded were on offer. Location - right on the beach. Be careful though, it was quite rocky just beneath the waves... Bus stop at the end of the lane on the main road are every 20 mins and pretty cheap. Generally lovely staff too. A super holiday, ... The fact that I got pneumonia was not the hotel's fault...!!!
Barbara
on

2018-04-23
via

HolidayCheck
Wir wurden bei der Ankunft am Morgen im Hotel freundlich empfangen. Wir konnten sofort frühstücken gehen um unser Gepäck brauchten wir uns nicht weiter kümmern, es wurde auf das Zimmer gebracht. Wir waren zu zweit und hatten ein neues Familienzimmer mit zwei fernsehern mit Wasserkocher, Mikrowelle und einen schönen Meerblick. Das Personal ist überwiegend freundlich alle Bereiche im Hotel sind sauber. Die Anlage ist sehr groß (150 hektar) hier ist für jeden Platz kein Kampf um Liegen in der gesamten Anlage und am Strand. Das Essen ist sehr vielseitig und für jeden etwas dabei die Getränke sind auch in ordnung jedoch von den Cocktails waren enttaüscht, weil sie recht lieblos zubereitet werden. Das Hotel ist empfehlendswert vor allem für Familien mit Kindern. Wir kommen nächstes Jahr auf jeden Fall wieder.
Sabine
on

2018-04-23
via

HolidayCheck
Gerade mit Cocktails am Strand und können nur sagen es ist einfach herrlich hier! Sonne scheint, essen ist wunderbar vielen Dank an Herrn Bolakis für den netten Empfang, vielen Dank an das Entertainment Team für die schönen Shows (Mamma Mia, Comedy, Cabaret..) und and das gesamte Bar Personal das sie uns immer ein Lächeln zaubern!
Linda
on

2018-04-23
via

HolidayCheck
Wir sind hier als Gruppe zum Tennis spielen von 40 Personen und werden hier von allen sehr gut bedient! Das Essen ist Spitzenklasse, das Abendprogramm gefällt uns sehr, es gibt viele Aktivitäten von Sport, Fitness, Mini club für Kinder, teenage club etc.. Wir kommen garantiert mit der Familie nochmal her im sommer
Salvo
on

2018-04-23
via

HolidayCheck
Wir sind hier mit unserer Tennisgruppe und finden es spitze! Sooo viele Tennisplätze, gute Organisation, Managment hat alles im Griff (Herr Bolakis, Nikos, Rezeption, Ruslan, Melissa, Paris, Conny und alle die wir vergessen haben, großes Danke!) wir bleiben noch einige Tage und wollten uns jetzt schon mal über unser Glück äußern ;-)
Roda
on

2018-04-23
via

HolidayCheck
Sehr angenehmes hotel, wir sind gerade da und uns gefällt es super! Alle Mitarbeiter sind super höflich geben sich ganz viel Mühe!! Wir kommen garantiert nochmal wieder!
Rosa
on

2018-04-23
via

HolidayCheck
Das hotel ist super schön wir befinden uns gerade hier an der Pool Anlage. Mein Mann geht jetzt zum Bogenschiessen, ich gehe zum Yoga, die Kinder sind im Mini club! Ps. Heute 27 grad :)
Juna
on

2018-04-23
via

HolidayCheck
Wir sind super zufrieden! Wir haben nichts zu beklagen, super essen, super Getränke, super Anlage sehr nette Mitarbeiter!
Alden
on

2018-04-23
via

HolidayCheck
Es ist ganz in Ordnung! Wir sind etwas anderes gewohnt da wir gerne Urlaube in der Türkei verbracht haben.. aber es ist eine schöne Anlage mit netten Mitarbeitern.
Thomas
on

2018-04-22
via

HolidayCheck
Das Hotel ist Spitze wir haben hier sehr viel Spass das Essen im Restaurant ist sehr gut und die Getränke an der bar sehr lecker wir sind hier weil wir einen Strand Urlaub wollten und wir sind sehr glücklich über die super Lage von diesem Hotel direkt am Strand
Francesco
on

2018-04-22
via

HolidayCheck
Ein echt schönes Familien Hotel mit schönem poolbereich und sehr tolle rutschen das Hotel hat 5 verschiedene Pools und einen langen Strand... werden bestimmt wieder kommen
anne CHAUVIN
on

2018-04-22
via

Google
Hotel excellent personnels tres gentils a recommander
Alix
on

2018-04-22
via

Booking.com
-Les animateurs du baby-club ont laissés ma fille de 6 ans qui ne sais pas nager ni parler anglais sans surveillance avant l'heure indiqué à côté de la piscine ... Et le personnel ne parle que très peu français. Les jeux pour enfants sont vieillissant. La piscine principales n'est chauffé qu'en présence de guest ... +L'hôtel est propre, la nourriture bonne, les piscines et toboggans sympa. Le service est aux petits soins pour nous. Alix liked the value, cleanliness, and staff
Anonymous
on

2018-04-22
via

Booking.com
- + This guest liked the staff, value, and facilities
Darwin Schneider
on

2018-04-21
via

Google
Sehr schön. Hat Spaß gemacht dort. Gerne wieder
Anna Ricco
on

2018-04-21
via

Google
Divertimento allo stato puro e ottima cucina
Henriette
on

2018-04-21
via

HolidayCheck
Einfach fantastisch!! Wir haben uns sehr gut erholt hier auf Kreta und können gewiss sagen diesem hotel fehlt nichts. Vom Tages program an Aktivitäten bis Abendprogramm bis Freundlichkeit der Mitarbeiter ist alles super spitze! Vielen Dank an alle