Anemos Luxury Grand Resort

,
Georgioupolis

,

Greece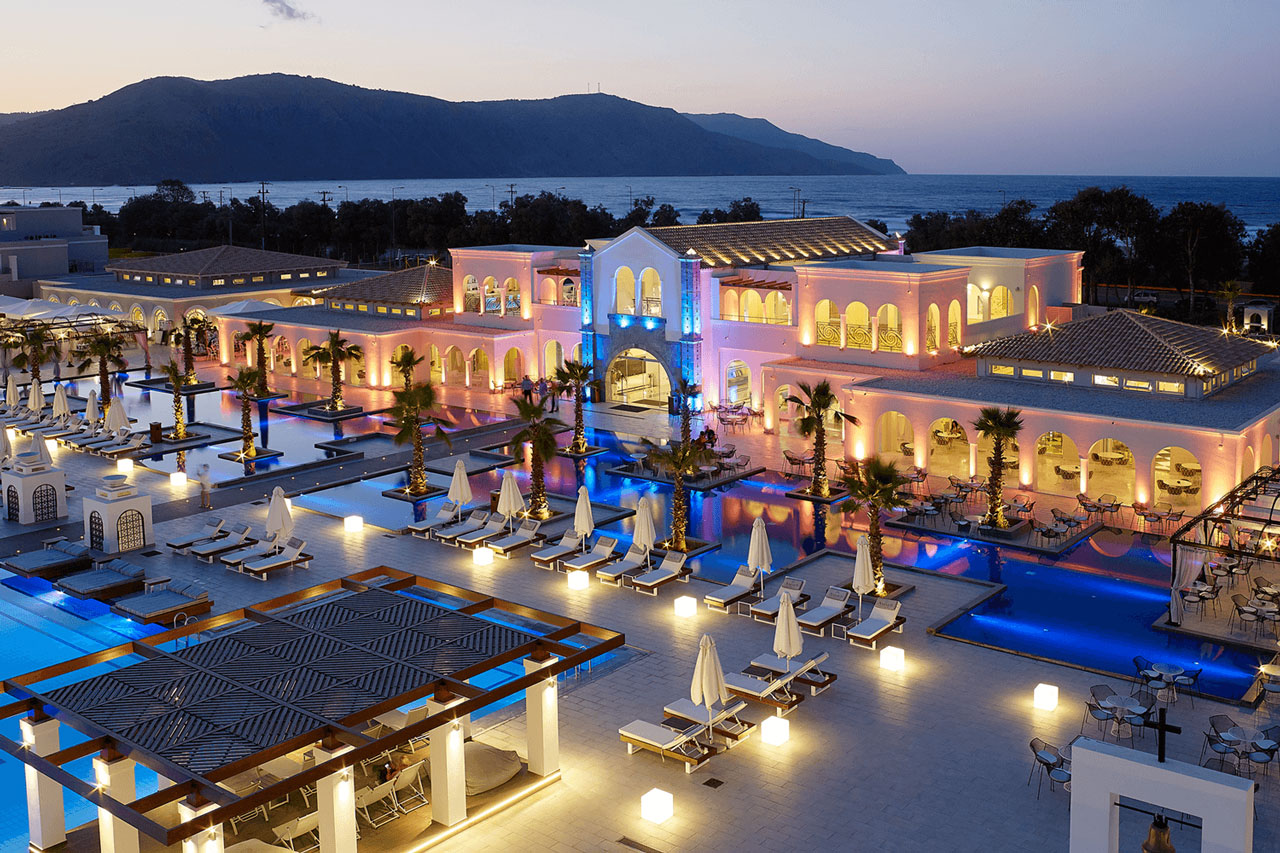 Most talked about:
Hotel Overall
Breakfast
Staff friendliness & competence
Most satisfied with:
Food & drinks price
Business traveler friendly
Room service
Atmosphere, friendliness is nice.

Average Animation, entertainment, nightlife, music.

Family & kids friendly is nice.

"freundliches Personal"

"Freundliches Personal"

"aufmerksames Personal"

"nettes Personal"

Swimming Pool is nice.

Hotel age is excellent.

Sport facilities can be improved.

"Sauberer Pool"

"modernes Hotel"

"Jahre alt"

"Stoßzeiten"

Guests are very happy with the Overall CLEANLINESS.

Great Room cleanliness.

Bathroom cleanliness is excellent.

"saubere Zimmer"

"sauberes Hotel"

"gepflegte Anlage"

"nächsten Tag"

Bathroom could be better.

Guests are very happy with the Noise.

Room size is excellent.

"befahrenen Straße"

"private pool"

"Badetücher"

"Komplette Anlage"

Great Breakfast.

Great Dining experience.

Great Pizza, Pasta, Salads, Snacks, etc.

"abwechslungsreiches Essen"

"Frühstück"

"große Auswahl"

"la carte"

Guests are very happy with the Staff friendliness & competence.

Service is excellent.

Reception is excellent.

"König"

"Nettes Personal"

"good time"

"Begrüßung"

value for money can be improved.

Average Food price.

Food & drinks price is nice.

"Leistungsverhältnis"

"bonne qualité"

"jumbo jet"

Night life & dining could be better.

Guests are OK with the Transport (taxi, car rental, transfers).

Average Distance to public transport.

"Hauptstraße"

"Ausflüge"

"Straße"

"Ausflugsmöglichkeiten"

Wifi price could be better.
http://www.anemosresort.com/en-gb
Kostas Tsapakis
on

2020-02-16
via

Google
Ένα στολίδι στον Αποκόρωνα στα χανια ίσος ότι καλητερο έχω δει ποιοτικά !!!
Sarah F.
on

2020-02-10
via

Google
Unseren bisher schönsten Urlaub haben wir hier verbracht. Unschlagbar nettes und zuvorkommende Personal. Man fühlte sich als junge Familie mit kleinem Kind absolut willkommen, sogar trotz 5-Sterne-Ambiente. Wunderbare Lage zum Strand, superleckeres Buffet, immer frisch geputzte Zimmer. Wir waren begeistert und kommen auf jeden Fall wieder.
Marie English
on

2020-02-09
via

Google
Lars Lemmens
on

2020-02-08
via

Google
Ein wunderschönes Hotel, freundliches Personal, sehr gutes Essen!
Max
on

2020-02-01
via

HolidayCheck
Sehr empfehlenswertes Hotel zum Entspannen. Großes Buffet. Sauberer Pool und schöner privater Sandstrand. Das Personal ist auch sehr freundlich. Großer Parkplatz ist auch vorhanden.
Katherine H
on

2020-01-28
via

Tripadvisor.com
We stayed here last year and we're planning to book again! I don't usually write reviews when we go on holiday, but I thought I'd make an exception for this hotel. The staff is exceptional and really went above and beyond for us. Particular thanks to the concierge who went out of his way on the last day to help us when we had a few issues with boarding passes. The food was excellent and loads of choice, even for me (and I'm quite fussy haha)! Thanks for a great stay!
Hoang Anh Nguyen
on

2020-01-26
via

Google
Our stay at anemos was very special. We celebrated our engagement and it couldnt have been better. The Staff was super friendly and always engaging. The Food was very fresh and delicious. And the hotel room was simple and comfortable. We will be for sure back again!
BenniLP
on

2020-01-16
via

Google
Wunderbar.. Essen lecker, Service gut, Zimmer schön und sehr gut gelegen
Cees Amsterdam
on

2020-01-15
via

Google
ub-reitsportbedarf ub-reitsportbedarf
on

2020-01-04
via

Google
Best Hotel on Creta ä, absolut fantastic!!!
Bettina Schaper
on

2019-12-29
via

Google
Einfach nur perfekt.... immer wieder gerne
Lutz
on

2019-12-28
via

HolidayCheck
Gutes Premiumhotel auf Kreta mit hohem Standard und guter Küche. Nur 5 min zum Strand, viele Annehmlichkeiten und a la carte Restaurants.
Marty
on

2019-12-21
via

HolidayCheck
Sehr schöne Anlage, nettes und professionelles Personal, wirklich tolle und komfortable Zimmer, das Buffet ist reichhaltig, Lage zum Strand ist nicht optimal da man erst durch einen Fußgänger-Tunnel gehen muss der unter einer viel befahrenen Straße zum Strand führt. Das Hotel Anemos Luxury Grand Resort ist empfehlenswert.
aeikit
on

2019-11-29
via

Google
Wolfi Muvi
on

2019-11-20
via

Google
Traumhaftes luxeriöses Resort auf Kreta! Nicht billig, aber jeden Stern wert!
Jens und Bettina
on

2019-11-19
via

HolidayCheck
Das Anemos Luxury Grand Resort hat alle unsere Erwartungen erfüllt. Die Hotel- und Poolanlage ist wunderschön und weitläufig. Die MitarbeiterInnen waren sehr freundlich und zuvorkommend.
Martina Walter
on

2019-11-14
via

Google
Das Anemos ist wirklich ein Luxushotel vom Feinsten! Wer sich mal richtig verwöhnen lassen möchte ist hier genau richtig. Traumhaft schöne Zimmer. Topgepflegte Anlage. Geschultes überaus freundliches Personal. Gutes abwechslungsreiches Essen auch für Allergiker oder Vegetarier. Einzig die Getränkepreise sind etwas teuer, ansonsten passt das Preis- /Leistungsverhältnis! Auch hervorzuheben ist der wunderschöne flache Sandstrand. Das ist Urlaub pur!
Martina
on

2019-11-12
via

HolidayCheck
Das Anemos Luxury Resort ist wirklich ein erstklassiges Hotel. Bisher hatten wir in keinem weiteren Urlaushotel diesen Luxus und so einen Service. Angefangen bei einer sehr herzlichen Begrüßung, über die vielen kleinen "Überraschungen" und "Freundlichkeiten" die einem zuteil wurden, bis hin zu außerordentlichen Hilfsbereitschaft bei Problemen mit dem Leihwagen oder einem leider notwendigen Arztbesuch. Man hat hier wirklich das Gefühl: Der Gast ist König!
Melanie Stalker
on

2019-11-10
via

Google
Das Hotel ist wirklich genial. Die Zimmer sind groß, blitzsauber, das Personal immer freundlich und zuvorkommend. Zum Strand sind es keine 5 Minuten. Eine Unterführung unter der Hauptstraße erleichtert den Fußmarsch. Am Strand gibt es kostenlose Liegen und Sonnenschirme vom Hotel. Das Restaurant am Strand ist gemütlich und bietet gutes Essen an, das weit über Pommes und Burger hinausreicht. Die Dorade ist wirklich empfehlenswert. Die Buffets fürs Frühstück und Abendessen sind sehr reichhaltig und abwechslungsreich. Es sollte für jeden etwas dabei sein. Nach dem Abendessen gibt s fast immer einen Raki, manchmal auch zwei. Für jeden Fuß einen. Und morgens gibt s immer Sekt und frischen Orangensaft, natürlich auch viele verschiedene Arten von Kaffee und Tee. Der Urlaub war wirklich jeden Euro wert.
Sebastian Schmidt
on

2019-11-10
via

Google
Großartiges Hotel.Tolle große und saubere Zimmer.Fantastisches Buffet. Ich habe selten so gut am Buffet gegessen.Getränke sind recht teuer.Wir kommen gerne wieder.
Anonymous
on

2019-05-22
via

reputize.com
Anonymous
on

2018-11-03
via

reputize.com
Anonymous
on

2018-11-03
via

reputize.com
Anonymous
on

2018-11-03
via

reputize.com
Anonymous
on

2018-11-01
via

reputize.com
Anonymous
on

2018-11-01
via

reputize.com
100%
100%
100%
100%
100%
100%
Anonymous
on

2018-11-01
via

reputize.com
100%
100%
100%
100%
100%
100%
Anonymous
on

2018-10-31
via

reputize.com
Anonymous
on

2018-10-31
via

reputize.com
100%
100%
100%
100%
100%
100%
Anonymous
on

2018-10-30
via

reputize.com
100%
100%
100%
100%
100%
100%
Anonymous
on

2018-10-30
via

reputize.com
100%
100%
100%
100%
100%
100%
Anonymous
on

2018-10-30
via

reputize.com
Anonymous
on

2018-10-30
via

reputize.com
Anonymous
on

2018-10-29
via

reputize.com
Anonymous
on

2018-10-28
via

reputize.com
Anonymous
on

2018-10-28
via

reputize.com
Anonymous
on

2018-10-28
via

reputize.com
50%
100%
100%
75%
75%
100%
50%
Anonymous
on

2018-10-28
via

reputize.com
Anonymous
on

2018-10-28
via

reputize.com
Anonymous
on

2018-10-28
via

reputize.com