Anemos Luxury Grand Resort

,
Georgioupolis

,

Greece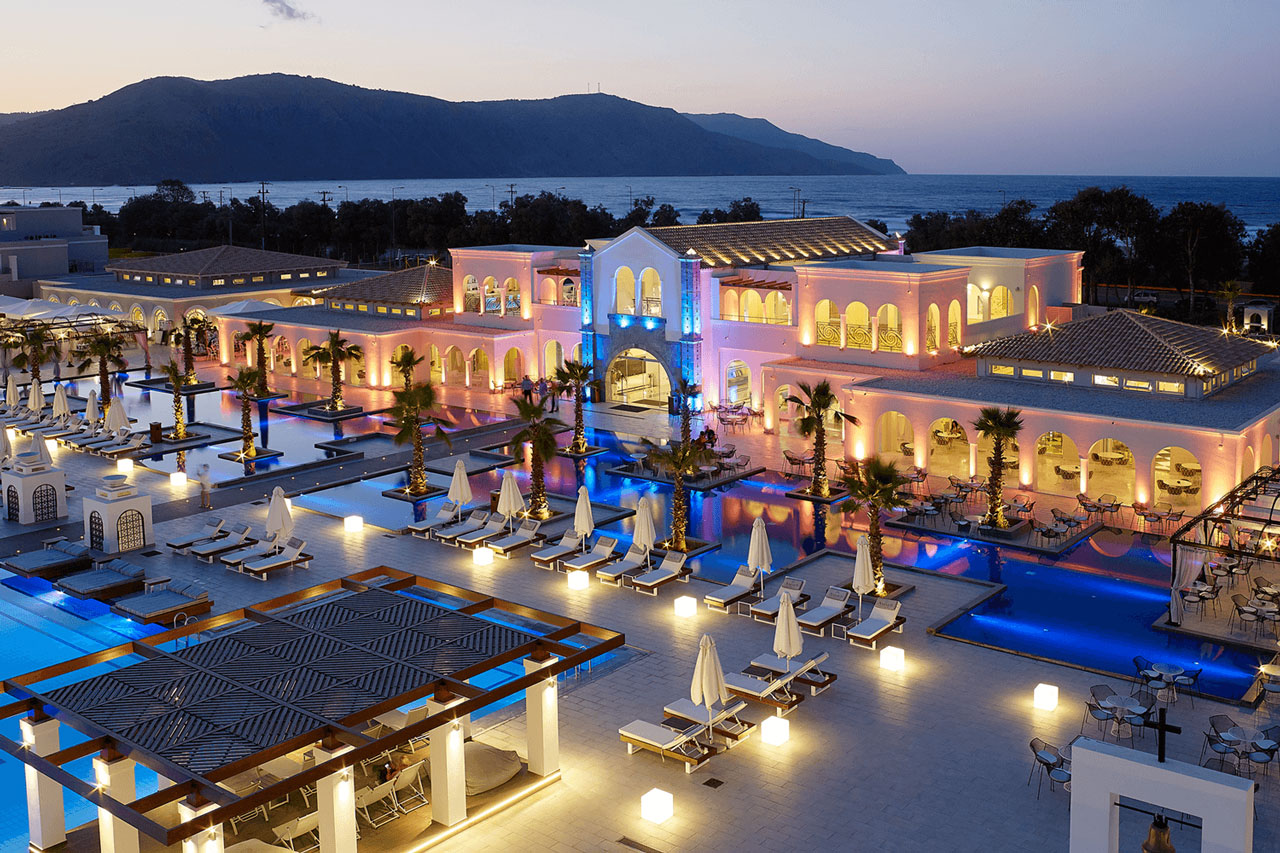 Most talked about:
Hotel Overall
Breakfast
Staff friendliness & competence
Most satisfied with:
Food & drinks price
Business traveler friendly
Room service
Atmosphere, friendliness is excellent.

Animation, entertainment, nightlife, music is good.

Guests are very happy with the Family & kids friendly.

"much fun"

"Städten"

"kids club"

"Night Shows"

Swimming Pool is excellent.

Hotel age could be better.

Average Sport facilities.

"private pool"

"beach facilities"

"tüchern"

"Tip Top"

Overall CLEANLINESS is nice.

Guests are very happy with the Room cleanliness.

Bathroom cleanliness is excellent.

"super clean"

"Hygiëne"

"Männer"

"unseren Aufenthalt"

Bathroom could be better.

Average Noise.

Room size is nice.

"mini bar"

"Straße"

"Kühlschrank"

"Badetücher"

Breakfast is excellent.

Dining experience is excellent.

Great Pizza, Pasta, Salads, Snacks, etc.

"top quality"

"Käse"

"Frühstück"

"Stück"

Great Staff friendliness & competence.

Guests are OK with the Service.

Guests are very happy with the Reception.

"attentive staff"

"friendly reception"

"Animation Team"

"friendly atmosphere"

Average value for money.

Food price is good.

Food & drinks price is nice.

"Leistungsverhältnis"

"bonne qualité"

"jumbo jet"

Night life & dining can be improved.

Transport (taxi, car rental, transfers) is acceptable.

Distance to public transport could be better.

"Ausflugsmöglichkeiten"

"Ausflüge"

"Hauptstraße"

"Möglichkeit"

Wifi price could be better.
http://www.anemosresort.com/en-gb
Marc Simonsen
on

2019-05-18
via

Google
Wir waren in unserem Urlaub mit demHotel sehr zufrieden
Svetlana Kvasova
on

2019-05-18
via

Google
Татьяна Ануфриева
on

2019-05-17
via

Google
Новый отель..в современном стиле..красивая входная группа..открыт в 2016. ..313 номеров 5 разных категорий..есть номера с бассейнами..питание завтрак..завтрак обед..полныйпансион+/очень ограниченно/пляж через тунель..бар.ресторан на пляже...пляж песчанный..лежаки.полотенца без оплаты..тренажерный зал и хаммам бесплатно
Kevin M
on

2019-05-16
via

Tripadvisor.com
This place is absolutely great. We were a family of 3 with a 21 month old girl. I won't spell everything out but the room was fabulous - upgraded to a family room. Family rooms are the same decor as standard but with an extra room and bathroom. I recommend a suite if you can afford it. The staff are amazing here. A lot of locals work here and you can tell how proud they are of this place. And the food, my god the food was fantastic. They completely undersell how good the kids centre and playground is on the website. It is great. My wife and I have been all over Greece and this is one of the best holidays you can have with a family.
dominiquemE4593NP
on

2019-05-16
via

Tripadvisor.com
Mit einem weinenden und einem lachenden Auge,verlassen wir morgen das Anemos ...... wir kamen als Gast und gehen als Freund. In der Nacht,genau um halb drei morgens, wurden sehr freundlich empfangen, der Page der uns die Koffer abnahm, der Rezeptionist der den Papier Kram machte und der Kellner der Nachtschicht hatte,wir bekamen noch was zu essen und einen guten
Hedley
on

2019-05-15
via

Booking.com
Absolutely everything. We travel a lot & by far this is one of the best hotels we have ever stayed in. We were so sad to leave & we will be back before too long. - The wines were a little pricey
AGNIESZKA GROTT
on

2019-05-14
via

Google
Jeżeli lubicie eleganckie hotele i bardzo dbacie o detale to jest to idealne miejsce dla Was. Hotel właściwie doskonały, obsługa na najwyższym poziomie. Prawdziwa 5+
37Jaguar
on

2019-05-14
via

Tripadvisor.com
Good accommodation; good location; good staff. Generally good food - and that's where our problems were. One member of our party is gluten-free (medical issue, not life-style choice) and the resort was made aware of this during booking ... and confirmed on arrival ... and it generally was not a problem. Infact, this hotel and its catering staff in the main resturant, were all clued-up on food intolerances and allegies and ALWAYS provided appropriate food. However, this was not the case in the resort's "special" resturants - the ones where you have to pre-book and are served (so-called) better food. All of these were a disappointment - either with very restricted menu choices or, on one occasion, the food arrived looking nothing like the meal ordered ... but what the chef decided (without asking) was all he could provide! Everything else in the resort was absolutely fine, and we would happily return.
Maik Rehmuß
on

2019-05-13
via

Google
693saschas
on

2019-05-13
via

Tripadvisor.com
Wir sind zum ersten aber nicht zum letzten Mal hier gewesen! Super familienfreundlich, sauber, gepflegt und sehr modern! Besonders hervorheben möchten wir den tollen Service an der Rezeption sowie im Restaurant. Besonders Yiannis der uns jeden Abend alle Wünsche von den Lippen abgelesn hat und mit seiner sehr herzlichen Art und gutem Service absolut begeistert! Danke für alles! Bis bald und liebe Grüße aus Hamburg
Hippo Happy
on

2019-05-12
via

Google
Edmund Morton
on

2019-05-12
via

Google
Excellent place, very quiet. Right on main bus routes to all main towns. Staff are top quality, very helpful, smile, great every person every day. 3 other restaurants on site and main buffet. Pool is shallow so no fear for kids.
Shane Bell
on

2019-05-12
via

Google
Even Milon
on

2019-05-09
via

Google
Architecturalement beau et très bons repas
FullerE6
on

2019-05-08
via

Tripadvisor.com
A fine , low-rise hotel set back from a long narrow sandy beach to the front and green meadows and mountains to the rear.Beautifully laid-out with easy access to the hotel pool and all the various bars, restaurants and chill-out areas. Notwithstanding its size Anemos is a haven of quiet relaxation with many options for walking and water sports ! really enjoyed our week-long stay there and will happily return!
Harald Held
on

2019-05-08
via

Google
Top Hotel auf Kreta... Alles erstklassig... Super schöne Anlage... Toller Service... Sehr freundliches Personal... Und super leckeres Essen...
Naysayerz
on

2019-05-08
via

Tripadvisor.com
We was very excited to stay at this hotel; having read a lot of positive reviews and being suitably impressed by the photos of hotel we knew we had made a good decision however there are some areas of improvement for it to truly call itself a 5* Luxury Hotel. Arrival: We arrived extremely late due to flight delays; we was made to feel very welcomed, the main core of staff had stayed late to greet us and provide us a with dinner and drive us to our room. Really great service initially being also greeted with complimentary wine. Our Room: We stayed in 4313 with a private pool. The sun loungers with the private pool rooms were a nice touch as they have a nice padded leather finish to them. The pool however met with two public heavily used staircases with very sparse foliage to prevent a look of onlookers; it did steal away the private feel however this did not bother us as it was nice to still see what was going around us. It does feel a little incomplete with a large dry mud strip to one side of the pool when we stayed. The general facilities all worked perfectly fine, the rooms give a clean and peaceful vibe. We did on occasion have to call or visit reception to get new bathroom towels as they had taken the old ones but not replaced them, no room service menu and other smaller details we had to chase for. Half Board Buffet: The food in the buffet for Breakfast and Dinner was consistent in choice and standards. There seem to be a lot to offer and generally everything we decided to eat was good. It was not advertised or nor was we informed when checking in that half board does give you a certain amount of € spend at the other on site restaurants so we missed out on that experience but eating out at Tavernas for lunch gave us good variety anyways. Drinks are not included with Dinner on the Half Board Basis so be aware for the additional costs you will come across during your stay. However coffee, orange juice and sparkling wine at breakfast is included. Fresh water is provided in the rooms free of charge too. Most mornings and some evenings when approaching the buffet area to be seated we was ignored by most of the staff who would greet other couples who had arrived later than us and who were behind us; it really made us feel not welcomed at times and a lack of care demotes this stay down to what this hotel should be classified as a 4* hotel. Spa: We went to book our complimentary 15 minute massages on our first full day at the hotel where we was met with a heavy up sell, not once but twice upon our visit to the spa that day which takes away the luxury and relaxation of why we booked this hotel. I think this may have to do with the fact the Spa is a franchise and of course would like to do well. The lady had seem to forgotten that we had spoken to her only two hours ago in person where we had already gone for a different massage later on in the week - it's the little touches like this which stole away the luxury feel considering it extremely quiet for them on this day too. However the two massages I had were very relaxing and worth the visit. Do not be afraid to speak up, even several times if you need too, if you would like a stronger more intense massage; they seem to play it on the very safe side in terms of pressure for both myself and my other half. General Atmosphere: Even though the hotel had a lot of families with little ones; the hotel has a very relaxed and welcoming atmosphere to it; which additional options to walk over to the beach if you need a new sun lounge location during your stay. Biggest Gripe: A lack of preparation for rough weather was on true display during our stay when we was met with strong costal winds at breakfast which cleared early afternoon. This was a particularly long wait at breakfast to even get the table we was shown to cleaned before we was offered any morning coffee and proceeded to be the least best day at the hotel, not a great start to my boyfriends birthday. We left the hotel to explore and returned later on once the winds had settled; our pool had a lot of debris in it as this point. Now being a 'luxury' resort we called reception to ask for it to be cleaned out so we could take a swim. No one arrived for 30 minutes so we called again; where was was informed that someone was 'right on their way' so we waited another 20 minutes and no one turned up. So my boyfriend went to reception where he was then informed no one was on site to be able to clean the pools..... Having spent time waiting around on his birthday to be able to use the service we paid for you can imagine we was not best pleased having been lied too twice on the phone about staffing and people being on their way. We eventually got to speak to the manager and could not offer that day for the pool to be cleaned but did offer us some more wines for the room. Just a total shame someone is not on site at 15:00 to clean pools out after horrendous winds coming from the beach. In Summary: I would probably have looked a little more into the area if I knew Crete well however this hotel is a safe and nice bet if you can get a good deal but do not stay if you are expecting a true luxury 5* experience. It is certainly more 4* from my experience of travelling.
NorthStar00157624706
on

2019-05-07
via

Tripadvisor.com
Anemos is a great hotel! the rooms were very clean and the stuff soo friendly! special wishes were satisfied right away and very good! had a private food explanation every evening because of a food incompatibility. food was fantastic! spa was fantastic! would always visit again!
Marianne
on

2019-05-07
via

HolidayCheck
Wunderschönes Ambiente zum Wohlfühlen. Poolbereich sensationell. Gute Betten sorgen für guten Schlaf. Einfach super zum Erholen.
Ute B
on

2019-05-07
via

Tripadvisor.com
Es gibt viele schöne Hotelanlagen, aber das Besondere an diesem Hotel ist sein Personal! Es waren alle immer aufmerksam und besorgt. Bei der Anreise steht man nicht an der Rezeption an, man bekommt sein Anmeldeformular ausgefüllt ans Sofa gebracht. Als es anfing zu regnet kam der Golfcart und hat alle am Strand eingesammelt. Im Strandrestaurant wird man herzlichst begrüßt und umsorgt und, und, und ....... Es war so ein schöner Urlaub! ευχαριστώ !
Anonymous
on

2018-11-03
via

reputize.com
Anonymous
on

2018-11-03
via

reputize.com
Anonymous
on

2018-11-03
via

reputize.com
Anonymous
on

2018-11-01
via

reputize.com
Anonymous
on

2018-11-01
via

reputize.com
100%
100%
100%
100%
100%
100%
Anonymous
on

2018-11-01
via

reputize.com
100%
100%
100%
100%
100%
100%
Anonymous
on

2018-10-31
via

reputize.com
Anonymous
on

2018-10-31
via

reputize.com
100%
100%
100%
100%
100%
100%
Anonymous
on

2018-10-30
via

reputize.com
100%
100%
100%
100%
100%
100%
Anonymous
on

2018-10-30
via

reputize.com
100%
100%
100%
100%
100%
100%
Anonymous
on

2018-10-30
via

reputize.com
Anonymous
on

2018-10-30
via

reputize.com
Anonymous
on

2018-10-29
via

reputize.com
Anonymous
on

2018-10-28
via

reputize.com
Anonymous
on

2018-10-28
via

reputize.com
Anonymous
on

2018-10-28
via

reputize.com
50%
100%
100%
75%
75%
100%
50%
Anonymous
on

2018-10-28
via

reputize.com
Anonymous
on

2018-10-28
via

reputize.com
Anonymous
on

2018-10-28
via

reputize.com
Anonymous
on

2018-10-27
via

reputize.com