Anemos Luxury Grand Resort

,
Georgioupolis

,

Greece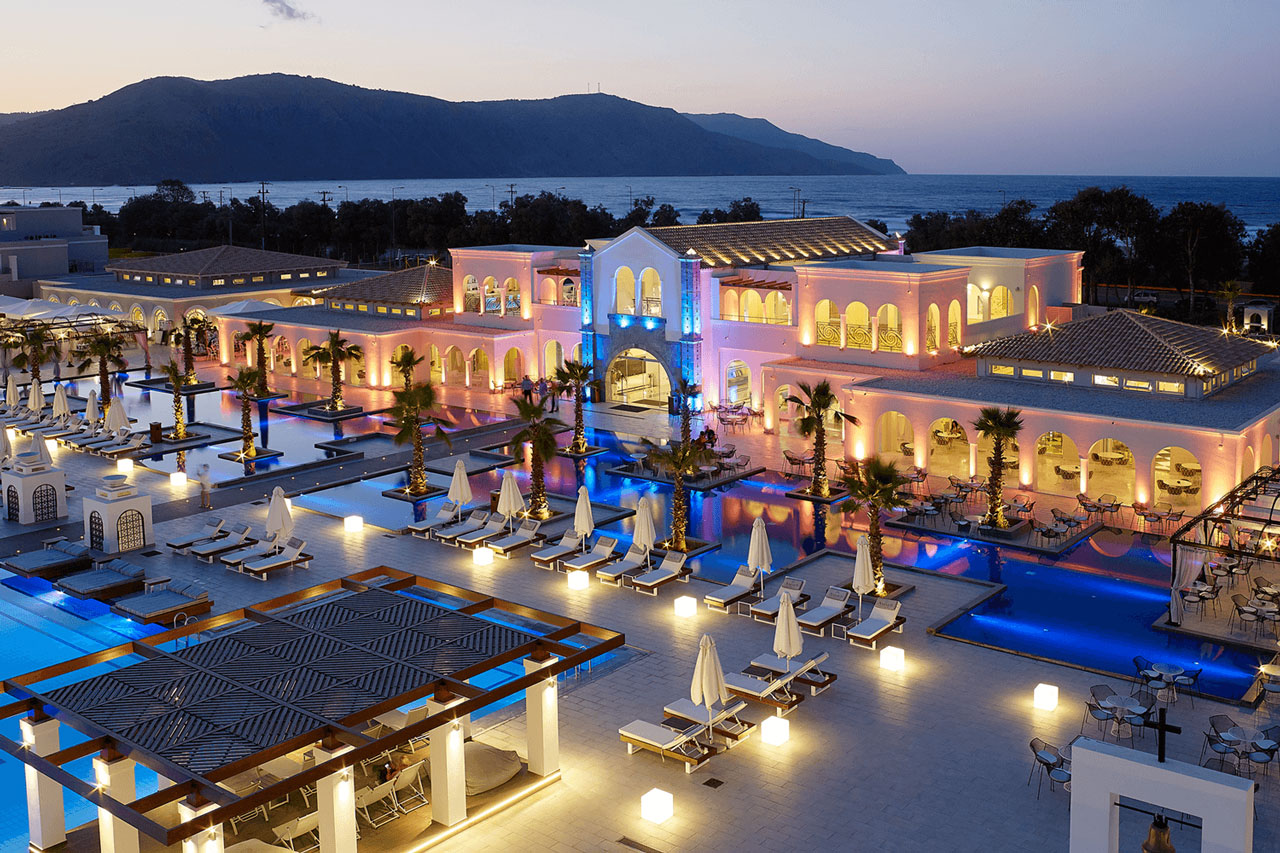 Most talked about:
Hotel Overall
Breakfast
Staff friendliness & competence
Most satisfied with:
Food & drinks price
Business traveler friendly
Room service
Great Atmosphere, friendliness.

Animation, entertainment, nightlife, music could be better.

Guests are very happy with the Family & kids friendly.

"Nettes Personal"

"zuvorkommendes Personal"

"freundliches Personal"

"Freundliches Personal"

Swimming Pool is nice.

Hotel age could be better.

Average Sport facilities.

"Ausgehmöglichkeiten"

"Sauberer Pool"

"modernes Hotel"

"Jahre alt"

Guests are very happy with the Overall CLEANLINESS.

Room cleanliness is excellent.

Bathroom cleanliness is nice.

"saubere Zimmer"

"sauberes Hotel"

"gepflegte Anlage"

"nächsten Tag"

Guests are OK with the Bathroom.

Noise is excellent.

Guests are very happy with the Room size.

"Löchern"

"befahrenen Straße"

"Stoßzeiten"

"private pool"

Guests are very happy with the Breakfast.

Great Dining experience.

Great Pizza, Pasta, Salads, Snacks, etc.

"abwechslungsreiches Essen"

"Frühstück"

"große Auswahl"

"la carte"

Guests are very happy with the Staff friendliness & competence.

Great Service.

Reception is excellent.

"König"

"aufmerksames Personal"

"nettes Personal"

"good time"

value for money is good.

Food price could be better.

Food & drinks price is nice.

"Leistungsverhältnis"

"bonne qualité"

"jumbo jet"

Night life & dining can be improved.

Transport (taxi, car rental, transfers) is acceptable.

Distance to public transport can be improved.

"Hauptstraße"

"Ausflüge"

"Straße"

"Ausflugsmöglichkeiten"

Wifi price can be improved.
http://www.anemosresort.com/en-gb
Nikos Voyatzopoulos
on

2020-06-17
via

Google
Soula Zacharioudaki
on

2020-04-16
via

Google
Το καλύτερο 5αστερω της Περιοχής.
Meier
on

2020-03-14
via

HolidayCheck
Gemütliches Hotel, nur 50 Meter vom Strand entfernt . Es ist der ideale Ort für einen angenehmen und erholsamen Urlaub.
Felix H
on

2020-03-10
via

Google
Absolut tolles Hotel. Sehr freundliche Mitarbeiter.
Steffen
on

2020-03-10
via

HolidayCheck
Dieses Hotel, auch wenn es etwas abseits des Riesentrubels liegt, ist für Kreta fast nicht mehr nicht mehr an Luxus zu überbieten ! Freundliches, aufmerksames und zuvorkommendes Personal. Ein wirklich mehr als reichliches Frühstücksbuffet, welches keine Wünsche offenlässt. Riesige Zimmer/Appartements. Wir kommen gerne wieder !
Q2759PLjuliac
on

2020-03-05
via

Tripadvisor.com
Super Hotel . Sehr sauber und toller Service . Essen sehr lecker und abwechslungsreich. Schöne Anlage und toller Strand . Nachteil : wenig Ausgehmöglichkeiten und schlechte Animation/ Show. Teure Getränkepreise im Hotel. Allerdings gibt es ein Hoteleigener Supermarkt , mit normalen Preisen.
jens jensen
on

2020-03-02
via

Google
Spændende, men der manglede en form for visuel forståelse af hvordan livet var i fortiden for de mennesker der have deres dagligdag der.
WanderMum1
on

2020-02-21
via

Tripadvisor.com
We spent five nights at the Anemos Luxury Grand Resort with our two young children. It's a very attractive looking hotel with water features and lots of faculties including pools, spa and kids club as well as evening entertainment. It's a new hotel so a little purpose built and very big. Our room was huge and we had a very relaxing time staying there. Good location close to the beach where is has sun beds to use. It is close to a main road. We hired a car to explore the surrounding areas. The hotel has plenty of restaurants to choose from. The food was ok but not very high quality - although there was plenty of it! You won't go hungry. All in all a relaxing family stay.
Kostas Tsapakis
on

2020-02-16
via

Google
Ένα στολίδι στον Αποκόρωνα στα χανια ίσος ότι καλητερο έχω δει ποιοτικά !!!
Albert
on

2020-02-16
via

HolidayCheck
Super Hotel. Tolle Hotelanlage, saubere und gepflegte Zimmer und sehr gutes Essen. Wir haben den Aufenthalt sehr genossen. Unter einer Brücke kommt man zum reservierten Stand mit Bar und Toiletten. Strand wird jeden Tag gereinigt.
Hanna
on

2020-02-16
via

HolidayCheck
Das Hotel war fantastisch. Sehr moderne und gepflegte Hotelanlage. Die Zimmer waren geräumig uns sehr gepflegt. Wir waren im hinteren Teil der Hotelanlage und von der Straße war dort nichts zu hören. Das Essen war vorzüglich und mit das Beste essen was wir in einem Pauschalurlaub bisher hatten.
Sarah F.
on

2020-02-10
via

Google
Unseren bisher schönsten Urlaub haben wir hier verbracht. Unschlagbar nettes und zuvorkommende Personal. Man fühlte sich als junge Familie mit kleinem Kind absolut willkommen, sogar trotz 5-Sterne-Ambiente. Wunderbare Lage zum Strand, superleckeres Buffet, immer frisch geputzte Zimmer. Wir waren begeistert und kommen auf jeden Fall wieder.
Marie English
on

2020-02-09
via

Google
Lars Lemmens
on

2020-02-08
via

Google
Ein wunderschönes Hotel, freundliches Personal, sehr gutes Essen!
Gast
on

2020-02-01
via

Reisen.de
Eine wunderschöne Anlage mit phantastischen Zimmern, super leckerem Essen, sehr freundlichem Personal Wir werden diese Jahr das 4. und im Okt. das 5. Mal dort unseren Urlaub verbringen.
Max
on

2020-02-01
via

HolidayCheck
Sehr empfehlenswertes Hotel zum Entspannen. Großes Buffet. Sauberer Pool und schöner privater Sandstrand. Das Personal ist auch sehr freundlich. Großer Parkplatz ist auch vorhanden.
Katherine H
on

2020-01-28
via

Tripadvisor.com
We stayed here last year and we're planning to book again! I don't usually write reviews when we go on holiday, but I thought I'd make an exception for this hotel. The staff is exceptional and really went above and beyond for us. Particular thanks to the concierge who went out of his way on the last day to help us when we had a few issues with boarding passes. The food was excellent and loads of choice, even for me (and I'm quite fussy haha)! Thanks for a great stay!
Hoang Anh Nguyen
on

2020-01-26
via

Google
Our stay at anemos was very special. We celebrated our engagement and it couldnt have been better. The Staff was super friendly and always engaging. The Food was very fresh and delicious. And the hotel room was simple and comfortable. We will be for sure back again!
BenniLP
on

2020-01-16
via

Google
Wunderbar.. Essen lecker, Service gut, Zimmer schön und sehr gut gelegen
Cees Amsterdam
on

2020-01-15
via

Google
Anonymous
on

2019-05-22
via

reputize.com
Anonymous
on

2018-11-03
via

reputize.com
Anonymous
on

2018-11-03
via

reputize.com
Anonymous
on

2018-11-03
via

reputize.com
Anonymous
on

2018-11-01
via

reputize.com
Anonymous
on

2018-11-01
via

reputize.com
100%
100%
100%
100%
100%
100%
Anonymous
on

2018-11-01
via

reputize.com
100%
100%
100%
100%
100%
100%
Anonymous
on

2018-10-31
via

reputize.com
Anonymous
on

2018-10-31
via

reputize.com
100%
100%
100%
100%
100%
100%
Anonymous
on

2018-10-30
via

reputize.com
100%
100%
100%
100%
100%
100%
Anonymous
on

2018-10-30
via

reputize.com
100%
100%
100%
100%
100%
100%
Anonymous
on

2018-10-30
via

reputize.com
Anonymous
on

2018-10-30
via

reputize.com
Anonymous
on

2018-10-29
via

reputize.com
Anonymous
on

2018-10-28
via

reputize.com
Anonymous
on

2018-10-28
via

reputize.com
Anonymous
on

2018-10-28
via

reputize.com
50%
100%
100%
75%
75%
100%
50%
Anonymous
on

2018-10-28
via

reputize.com
Anonymous
on

2018-10-28
via

reputize.com
Anonymous
on

2018-10-28
via

reputize.com