Pioneer Beach

,
Paphos

,

Cyprus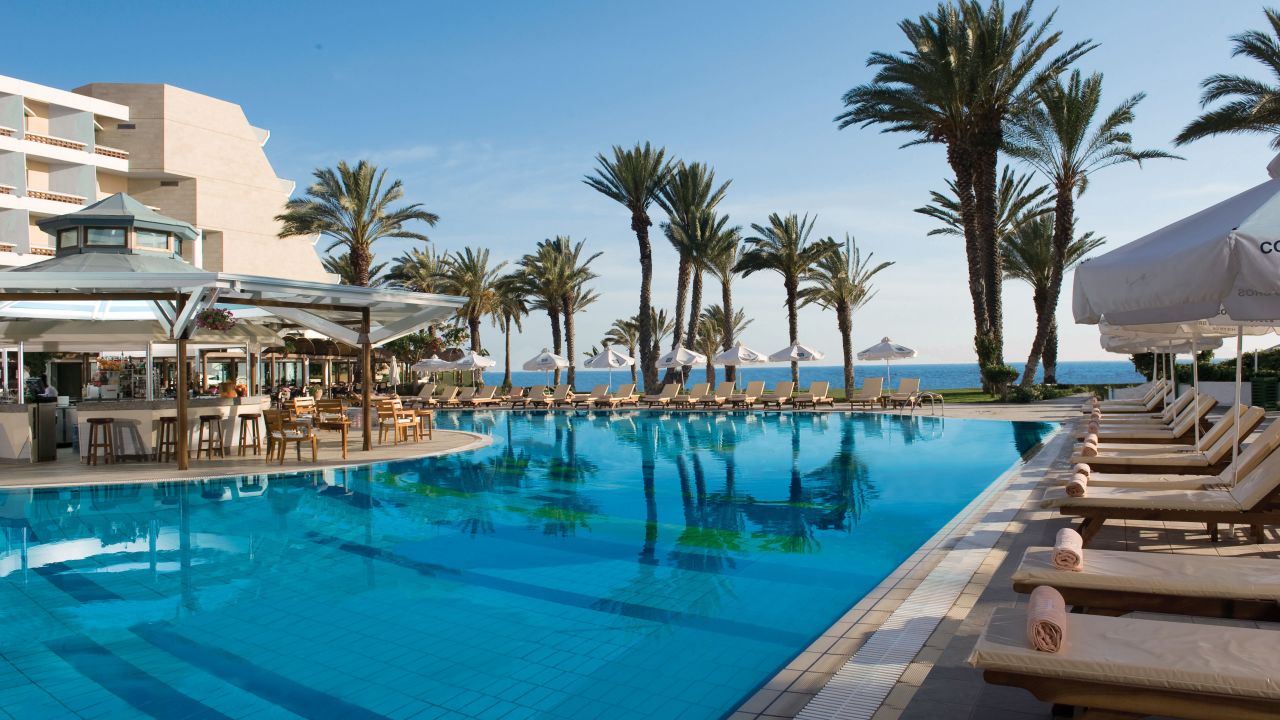 Most talked about:
Hotel Overall
Swimming Pool
Breakfast
Most satisfied with:
Distance to airport
Pool Cleanliness
Tours & excursions
Animation, entertainment, nightlife, music could be better.

Couples friendly is excellent.

Family & kids friendly could be better.

"older generation"

"young couple"

"loud music"

"background music"

Swimming Pool is acceptable.

Sport facilities is nice.

Great common areas - lobby, lifts, launge, entrance.

"comfortable temp"

"Pool bar"

"Pool area"

"pool towels"

Overall CLEANLINESS is nice.

Room cleanliness can be improved.

Guests are OK with the Bathroom cleanliness.

"mini fridge"

"clean towels"

"Tisztaság"

"Sự sạch sẽ"

Great View.

Bed can be improved.

Bathroom could be better.

"sea view"

"small table"

"room key"

"good size"

Breakfast is excellent.

Average Dining experience.

Guests are very happy with the Deserts & fruits.

"la carte"

"relaxing break"

"coffee machine"

"husbands birthday"

Staff friendliness & competence is nice.

Average Service.

Average Reception.

"staff work"

"staff couldn"

"friendly staff"

"entertainment team"

value for money can be improved.

Guests are OK with the Food price.

Food & drinks price can be improved.

Night life & dining could be better.

Distance to public transport could be better.

Guests are OK with the Neighbourhood & area.

"buffet restaurants"

"lovely walk"

"shopping mall"

"car park"

Dissatisfactory Wifi price.
http://www.pioneer-cbh.com/
Lorraine Bsrlow
on

2018-07-19
via

Google
Beautiful place lovely staff, food great, bit confusing with all different board basis.
Knut erik Hansen
on

2018-07-19
via

Google
Stort sett bra.. Men burde vært tydligere at en MÅ ha lange bukser med seg.. Og jeg føler at en blir egentlig tving til å ha all inklusiv.. At du må forhånsbestille bord for å få mat er også minus.. Men god mat og bra servic.. Rent å pent.
Katrien Van Vosselen
on

2018-07-19
via

Google
Skyeball17
on

2018-07-18
via

Tripadvisor.com
On arrival - which was rather late as we were delayed at Gatwick for a couple of hours - it could have been a little better, we were not greeted as such but herded to the reception desk, no offer of a cold drink! We felt a bit rushed with this process and the reception gentleman was dealing with 2 other couples at the same time. However-having made our way to our room (409) any concerns we had quickly disapeared! The room was magnificent situated centrally on the top floor with a fantastic uninterupted view over the pool, gardens and Med. Having arrived late we were able to get hot food and a drink before going to bed, the bed was a super king size and extremely comfortable! We also had a complimentary bottle of wine and a fruit platter left in the room. After a good nights sleep and very extensive buffet breakfast-we attended the obligatory meeting with the Tui rep. This we found concentrated far more on prospective excursions and lacked information about the hotel procedures - this hotel works on a card system which we were not familier with. After this we made our way to reception where we were greeted by Suzana, a really lovely lady who, throughout our stay, gave us her full attention and is an asset to the hotel staff. She explained fully how the booking system for the restaurants worked-any queries we had she always went out of her way to help. The food was excellent - always plenty of choice for all meals and snacks. The steaks in the Thalassa restaurant were absolutley delicious and cooked to perfection!! We mentioned that we were celebrating our wedding anniversary - Suzana again was excellent in helping us decide where to enjoy our anniversay meal - the restaurant surprised us with a cake for our desert!! We would also like to give a special mention to Veronica who, within a couple of days knew what drinks we were going to order at meal times, and Nikola in the Pool bar who made the best Mojito cocktails!! Having said this every member of staff went out of their way to be helpful and were all very polite. There were plenty of sunbeds around the pool, gardens and beach areas and the pool was the warmest we have ever swum in, truly fab!! We would also like to thank the fabulous management who, as we discovered, were aware that it was our wedding anniversary and had up-graded us to a suite - this really was the tops to our holiday!! To sumarise, a fantastic hotel, great location fabulous staff too much lovely food and wall to wall sunshine!! A perfect holiday all round. Thank you Pioneer Beach!!
Speare
on

2018-07-18
via

Zoover
most;view is beutiful least; restaurant confused us
Colin
on

2018-07-18
via

Zoover
most: food, service, drinks least: aircondition
Karel-Marian
on

2018-07-18
via

Zoover
most: food is the best, the view least: old accomodation, clean, towels arent change, just english, thry feel different, because they didnt from England
Garrie
on

2018-07-18
via

Zoover
least: pool too warm, every morning woke up about staff speaking, screaming but we will come again in adifferent room most: friendly service
Steve
on

2018-07-18
via

Zoover
most: location,clean,nice least: room a little bit old fashion, reception could be more friendly
T mason18
on

2018-07-18
via

Zoover
most: food, staff, tui activities least: dresscode for gentleman
Orta
on

2018-07-18
via

Zoover
most: staff friendly and helpful, loc.comation, courtasy room very good, beach least:pool could be bigger, morr traditional cypriot to do
Daniels
on

2018-07-18
via

Zoover
most: very personal service least:quit busy sometimes
Jeansee
on

2018-07-18
via

Zoover
most: buffe and food very good, service are very lovely, beach least; lift
Sue
on

2018-07-18
via

Zoover
most: staff, hotel location, everything are clean, food is very good least: accomodation
Luda Kvetko
on

2018-07-17
via

Google
Pat Mills
on

2018-07-17
via

Google
Brilliant hotel..been there 5 times
Vjd14
on

2018-07-17
via

Tripadvisor.com
Second visit to this amazing hotel and will definitely return again, visited last year with hubby and returned with my sister and brother in law. Emailed before going to ask for rooms near each other and when we checked in we had rooms next to each other :) great check in service in which everything was explained. We had superior rooms with inland view and again not disappointed, room lovely spacious with a lovely sized balcony with table two chairs and a bonus of a bed. Well stocked mini bar fruit and wine on arrival. Lovely buffet style meal was laid on as we didn't arrive until 9.30pm great choice and thoroughly enjoyed with a nice bottle of wine. House wine very good white and rose didn't try the red. Pool towels provided in room and not a problem if not replaced phone reception or housekeeping and they will happily bring them up. Good choice of restaurants Oydessas buffet style(amazing choice) Regina Thallaso and Christianos All lovely really enjoyed the fillet steak ,could not fault any of the eateries. We had breakfast in christianos as we had the black card which meant we had a later breakfast if wanted in a smaller restaurant, again fabulous choice. Can get sun beds in the morning so not that early morning dash. Low key entertainment which is what we wanted and you can join in as little or as much as you want. Big shout out for the amazing tui reps they were great thank you Alice, Mike and Albin for making this a truly amazing holiday. Easy to catch buses to harbour then from the harbour to the old town and market good for a mooch. Yes there is a dress code for men in the evening for trousers for dinner but this really isn't a problem as you can change after you've eaten. Entertainment good in the evening with singers etc. Great shop at hotel that stocks a great range of products and other shops only a 5 min walk away. This is a lovely hotel with very hard working helpful staff and amazing food.
pandmg
on

2018-07-16
via

Tripadvisor.com
We really enjoyed our recent stay here. It was nice and quiet with no permanent background music belting out everywhere. The whole hotel is spotlessly clean both inside and out and a credit to the staff. The fact that there were no extra charges for Wi-fi, safe or room fridge was appreciated as these often come as extras even in 4+ star hotels nowadays. The ice machines were useful too , even if they weren't always working on every floor we always managed to track one down somewhere! Always lots of beds around the pool and grass but they were crammed in pretty close and the cabanas were very underused from what we saw. Our room was a decent size with plenty of storage space and good quality linen and towels, and pool towels were changed daily. The bathroom mirrors and lighting were good enough to be able to see properly to put on make up too! The balcony of our room was a bit on the small size with just enough room for a couple of chairs and small table so no room for sunbathing but not to worry it wasn't a big deal. What we did find annoying though was that the balcony lights all went out at 11.00pm with no way of overriding it. This seems crazy when all the bars and entertainment was still going on outside, it's not a late night hotel by any means but "lights out" at 11.00 - really? We also found it odd that our request for a second room key was refused by reception for security reasons? We mostly ate in the Odysseas Restaurant but the selection, quality and presentation there was excellent, it was a joy to have hot plates to have hot and not just warm food on. The dress code was politely but firmly enforced which was good, and the sort of detail most guests check on before going isn't it? On our last day we opted to have a snack in the Regina before an evening departure but were disappointed to find many of the items listed on the menu were unavailable due to the kitchen being closed - this was at 5.00pm when they'd been open since 4.00, maybe the menu needs reviewing in that case? In summary, we enjoyed our holiday and would happily return if we were to return to Paphos.
Paul Lucas
on

2018-07-16
via

Google
Clean all around public areas shame they allow people to reserve sunbeds.
beckysmith902018
on

2018-07-15
via

Tripadvisor.com
Me and my partner have recently returned from a 11night stay at the Pioneer Beach. We were very happy with our stay here. We are in our late 20s and have stayed in Sensimar hotels before so it was everything we expected which was a relaxing, chilled, low-key entertainment holiday. There was a mixture of ages here which was nice. Yes the rooms are not modern but they are clean and have everything you need in them - lovely large comfy bed, large tv, coffee and tea machine, mini fridge, generous with their hangers, robes and slippers, lovely rain shower and a hairdryer (I would suggest taking your own hairdryer though!) Our balcony was a good size too! We paid for limited sea view and were happy with the view we got. We LOVED the beach. We spent everyday at the beach. There are plenty of sunbeds. You will need sea shoes as it is rocky to get it, but it's lovely! Our hotel definatley has the best beach compared to the other hotels along the coast line. It's a sweet cove and there is also a jetty which some people might find easier to use to get in the sea. The food is amazing!! We were never disappointed. The buffet has lots of lovely choices and we also went to the Italian and Mediterranean A la carte restaurants which were delicious and situated on the beach front which gave you lovely views! We were all inclusive and the only thing we were disappointed about with that was that the prosecco was not included in it! But as we were all inclusive we got a 50% discount on it which only made it €3.50 a glass. All the staff were friendly and helpful. Especially Christina which helped my now Fiance arrange a lovely sunset dinner on the beach so he was able to propose to me. She went above and beyond to make it the perfect evening for us. She is so friendly and VERY good at her job. The hotel are very lucky to have her. The hotel has a fun water park across the road from it, about a 10minute walk which we enjoyed going to one day! In the evenings they have a singer by the pool bar and a singer in the hotel bar. They have a pool table and darts outside by the pool and also a pool table in the sports bar. So you can make your own entertainment in the evenings! Take a pack of cards too which you can enjoy playing while enjoying a drink and music playing in the background. If you want a chilled holiday with lovely food then this is the perfect holiday for you!