Pioneer Beach

,
Paphos

,

Cyprus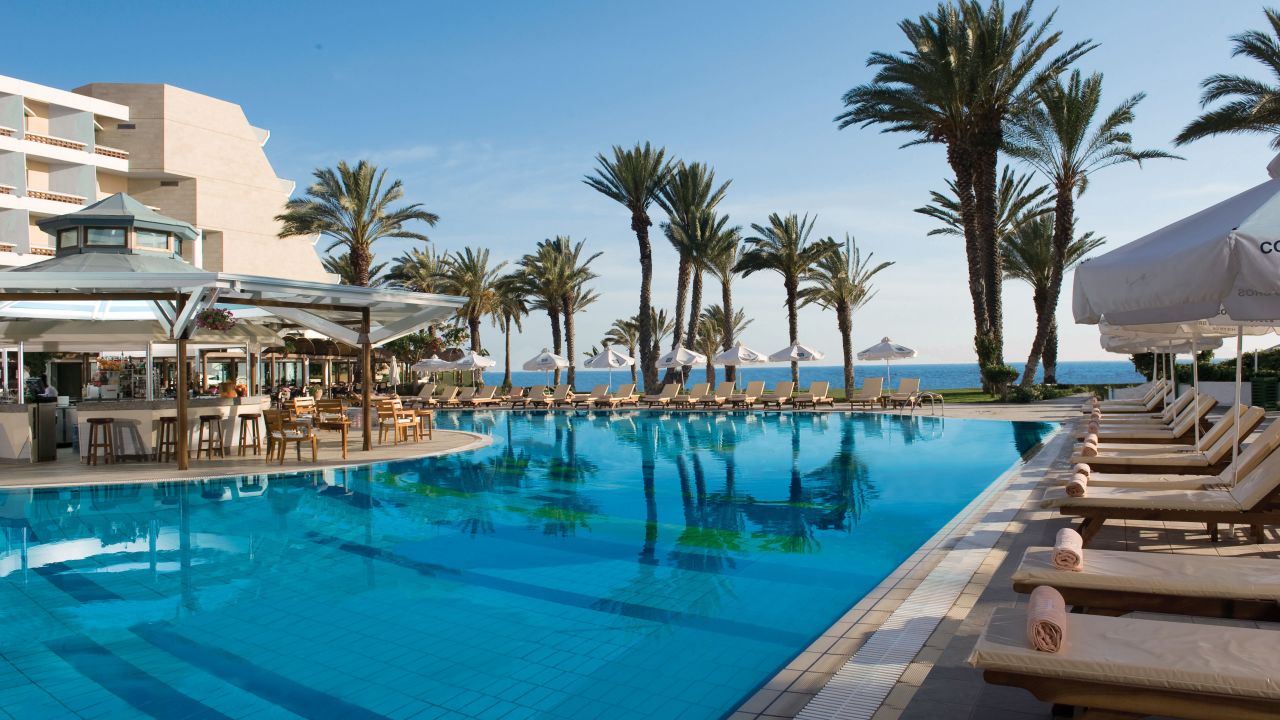 Most talked about:
Hotel Overall
Swimming Pool
Breakfast
Most satisfied with:
Design
Room interior
Pool Cleanliness
Most disliked:
Fish
restaurant & food
Animation, entertainment, nightlife, music is good.

Family & kids friendly could be better.

Great Couples friendly.

"old people"

"loud music"

"family holiday"

"older people"

Swimming Pool is acceptable.

Guests are OK with the common areas - lobby, lifts, launge, entrance.

Sport facilities is nice.

"special mention"

"main town"

"pool table"

"pool bar"

Overall CLEANLINESS is nice.

Room cleanliness can be improved.

Guests are OK with the Bathroom cleanliness.

"Tisztaság"

"Čistoća"

"dining areas"

"good order"

Bed is excellent.

Great View.

Bathroom is good.

"Large comfortable bed"

"good idea"

"excellent addition"

"sun beds"

Guests are very happy with the Breakfast.

Dining experience is nice.

Great Deserts & fruits.

"dining experience"

"la carte"

"good choice"

"breakfast room"

Staff friendliness & competence is excellent.

Service could be better.

Guests are very happy with the Reception.

"House wine"

"bar staff"

"attentive staff"

"helpful staff"

Average value for money.

Food price is good.

Average Food & drinks price.

"great value"

"extra money"

"small bottle"

"good value"

Guests are OK with the Night life & dining.

Distance to public transport is nice.

Neighbourhood & area is acceptable.

"local bars"

"small beach"

"bus stop"

"buffet restaurants"
http://www.pioneer-cbh.com/
ИРИНА ПЛЕШКОВА
on

2019-01-17
via

Google
Шикарный отель. Красивый. Богатый. Заход в море для меня не очень.
JJenRR
on

2019-01-09
via

Tripadvisor.com
A great hotel for vacation, near beach, city - great to do morning excersize in swimming pool - have breakfast outside and for adults only , bingo, live music in the evening, so much to do and tell, go and see for yourself!
Peter Jakobsen
on

2018-12-29
via

Google
Godt hotel, rigtig fin pool og populær, nær på Strand og lille hyggelig by Phaffos
Peter Bathgate
on

2018-12-19
via

Google
Lovely visit back to see our friends at the Pioneer Beach Hotel
LondonAnnwyn
on

2018-12-19
via

Tripadvisor.com
We had a relaxing stay for a week in March. It was warm enough to be outside most of the time but very cold at night. The food was good and the rooms clean and comfy. Good regular bus service stopped right outside the hotel.
michaelT6054ZB
on

2018-12-13
via

Tripadvisor.com
Well decorated room with quality fittings.Tea and coffee facilities together with separate Americano coffee machine.Public areas roomy and well furnished.Pool and garden areas very well landscaped.Food could not be faulted.Marco Polo cocktail bar too small for size of hotel, but pleasant if you could get a seat. Booked this hotel because Tui advertised ballroom dancing from 1st November, but this was not the case, but it was available at another hotel some distance away but somewhat inconvenient.Disappointing really. D
wilobel
on

2018-12-09
via

Tripadvisor.com
As a couple in our 40s we wanted a chilled out holiday and we definitely had that. The food was superb, could not fault and most of the staff very friendly at mealtimes. Very clean and tidy hotel and fantastic location. We did have an issue which was evenutally dealt with although it could have been sorted much quicker and easier than it was if it wasn't for hotel politics. If you are over 55 I'd say this is the perfect place to go but too many old people for my perfect holiday.
Bouncebacktennis
on

2018-12-02
via

Tripadvisor.com
The Pioneer Beach is located at the outskirts of Pahos, and handy for the airport. It's also on a regular bus route. This is one of the best hotels i've stayed in, for a number of reasons, but mainly because of the warmth and friendliness of the staff. The hotel is adult only and attracts many mature, discerning customers, but really nice for younger couples too. One observation - the lifts struggle to cope with a busy hotel - not an easy one to solve i guess! I look forward to my next visit!
cadeon13
on

2018-12-02
via

Zoover
most was room service and indoor pool and least was notenough disabled access rooms and batgrooma
J.J.
on

2018-12-02
via

Zoover
good friendly service- great food
Denise
on

2018-12-02
via

Zoover
Polite and friendly staff. Room upgrade :-) Would have liked a clothes drier/airer on the balcony
Gary
on

2018-12-02
via

Zoover
excellent facilities, food, friendly staff.
sue
on

2018-12-02
via

Zoover
a nice hotel.disappointed to see outdoor furniture being removed and less staff.
Tetlow100
on

2018-11-29
via

Tripadvisor.com
Fantastic weeks holiday in Paphos in this lovely hotel. Lovely staff. Good food with plenty of choices, always fresh and hot. Chinese food exceptional!, lovely well kept grounds leading to a walk along the promenade with stunning views. Trips to Coral Bay and Paphos old town not to be missed
the cambrys
on

2018-11-28
via

Zoover
Friendly efficient staff, good facilities, we will be back.
dorothy
on

2018-11-28
via

Zoover
very friendly staff tremendous selection of food and amenities
maxine
on

2018-11-28
via

Zoover
frendly staff,rooms clean and smart,lots of choices for food
oakhambloom
on

2018-11-28
via

Zoover
we so enjoyed how relaxed and friendly the hotel is and how lovely the staff are. we thoroughly enjoyed the food , what an excellent spread each evening.
sunnyside
on

2018-11-28
via

Zoover
ftiendjy,layed back very easy going; and staff very pokite and helpful
kelly
on

2018-11-27
via

Zoover
services , extra touches, hook /or coat hook in bathroom