Santo Maris Oia Luxury Suites & Spa

,
Oia

,

Greece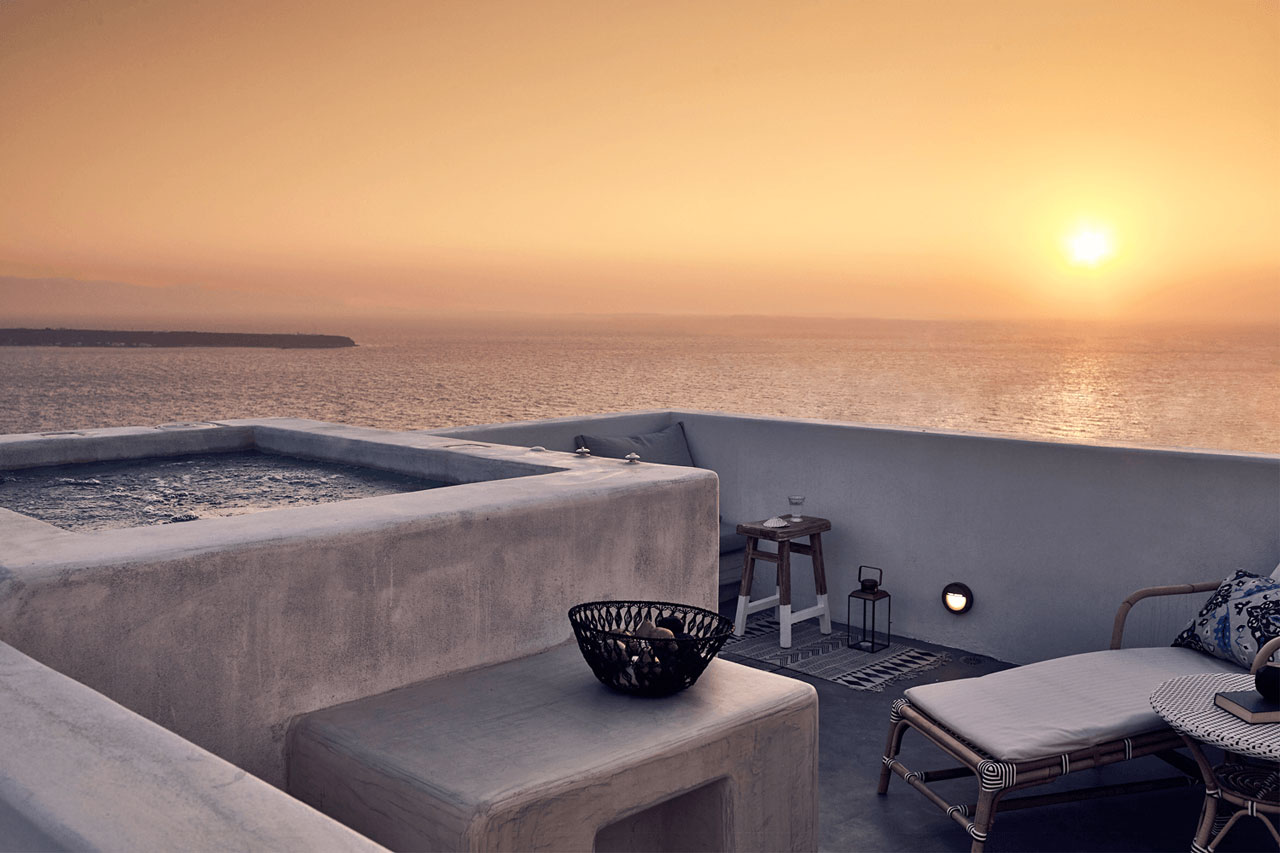 Most talked about:
Hotel Overall
Swimming Pool
View
Most satisfied with:
Kitchen
Wellness area
Animation team
Guests are very happy with the relaxation.

Great Couples friendly.

Animation, entertainment, nightlife, music is excellent.

"spa area"

"spa treatments"

"friendly atmosphere"

"single person"

Great Swimming Pool.

Guests are very happy with the Hotel age.

Guests are OK with the Sport facilities.

"pool area"

"pool bar"

"main pool"

"infinity pool"

Overall CLEANLINESS is excellent.

Average Room cleanliness.

"Sự sạch sẽ"

"Hygiëne"

Great View.

Great Noise.

Bed is nice.

"beautiful view"

"amazing view"

"sunset view"

"best sunset view"

Guests are very happy with the Breakfast.

Dining experience is good.

Guests are OK with the Alcohol.

"restaurant menu"

"free bottle"

"breakfast buffet"

"birthday cake"

Great Staff friendliness & competence.

Service can be improved.

Guests are very happy with the Reception.

"friendly staff"

"entire staff"

"helpful staff"

"hotel staff"

Food price is good.

Average value for money.

Food & drinks price is excellent.

Guests are very happy with the Neighbourhood & area.

Shopping is excellent.

Guests are OK with the Night life & dining.

"bus stop"

"Oia town"

"Ammoudi Bay"

"steep hill"
http://www.santomaris.gr/oia/en-gb
Angélica
on

2017-09-24
via

Booking.com
Nayla H
on

2017-09-23
via

Tripadvisor.com
My husband and I visited Santorini as part of our honeymoon trip and we were completely floored by how incredible Santo Maris Oia was! From the moment we walked through the reception doors, we were welcomed by the hotel staff who I cannot begin to give enough credit for in terms of their enthusiastic warmth and hospitality! The hotel can only be described as truly one of the most beautiful resorts we have ever visited. Situated close to the Oia center (app. 7 min walk up the path from the hotel), the views alone from this hotel are postcard worthy. The layout of the hotel from the pool area, to the bar and different suites is perfect enough that there is almost no reason to leave the hotel itself! Our hotel room was a luxury suite that was beautifully and cleverly designed with 3 separate rooms all gorgeously decorated to reflect the Santorini style. Our suite had a stunning terrace with a direct view of the sunset and an outdoor jacuzzi where I can promise you, you can spend entire days in enjoying the view while sipping on refreshing cocktails and wines! But above all else, what has made my husband and I convinced we will be back to Santo Maris is just how amazing the staff at the hotel was. Everyone from housekeeping to the barman and restaurant staff were truly exceptional in how warm, hospitable and friendly they were. Santo Maris really felt like a luxurious escape for us and I cannot recommend this hotel enough!
Rose Y
on

2017-09-23
via

Tripadvisor.com
We visited Santorini on the last leg of celebrating our 25th wedding anniversary. We arrived at Santo Maris and from the beginning we were in paradise. The staff were very attentive and can not express how perfect our stay was. I would highly recommend this hotel, not only for the staff, the beautiful rooms, but for the location to the town of beautiful Oia and for the most amazing sunset views from the sunset bar you'll ever see!
yankees3791
on

2017-09-21
via

Tripadvisor.com
We came here for our honeymoon in the middle of September and stayed for 5 nights. The hotel is amazing and the facilities are incredible. We enjoyed the short walk to town yet having the feel of a resort. We made our reservations through the hotel concierge who were unbelievable. We ate at: Strogili, Lotza, Sunset Tavern in Amoudi, Ambrosia, and Kastro. We enjoyed the meal at every restaurant. We also did Santorini Sailing while here and had a great time! Would definitely come back!
A verified traveler
on

2017-09-21
via

Expedia
impeccable service, friendly staff, a room with an outstanding view. We wanted a relaxing and luxurious vacation and we got it!!
Cons: i can t think of any
Pros: the place is new and very well kept and the entire staff are outstanding, who strive to make your stay a memorable experience
Location: located in Oia, Santorini. 5 min walking to Oia town center but it feels like miles away due to the quiet environment and the architecture design.
Mehmet F
on

2017-09-20
via

Tripadvisor.com
My wife and I stayed here for a week during our trip to Santorini, and it was just perfect. Our suite was very spacious, beautifully designed in the traditional Santorini style - domed ceilings and white microscreed with tasteful modern touches. Staff were attentive but not intrusive. We enjoyed the spa and made use of our outdoor private jacuzzi and pool. An added bonus were the daily massages by the pool with freshly cut aloe vera infused cream and oils. The hotel grounds are well kept and very picturesque, with great views of the sea and sunset. The hotel is located just outside Ia (Oia) town centre away, from the crowds and selfie sticks but just a short 5 minute walk away, along a private, well lit path. Breakfast was plentiful, with a decent choice of nicely prepared and presented food - champagne on tap was a nice surprise. Lunch and dinner were a little expensive for what was on offer (€20 for a hamburger) - we preferred to venture into town where there lots more to choose from and great views to enjoy. All in all a perfect hotel for our first experience of Santorini. We will definitely be back if we come to the island again.
Dianna H
on

2017-09-19
via

Tripadvisor.com
We visited Santorini on the last leg of our honeymoon. We arrived earlier than the check in time due to our flight, however we were welcomed with refreshments. We stayed in the Junior deluxe Suite with the sea view. It was beautiful. The staff were very friendly and helpful throughout our 4 nights stay. We also did the Honeymoon Spa treatment which was definitely worth it at the Spa within the property. The location is also perfect. We were only a 5-7 min walk to Oia Village, a 5 min buggy/quad ride to Amouddi Bay and a 30min quad ride to Fira. I can't recommend it enough and we will be back :)
rajbabyb
on

2017-09-18
via

Tripadvisor.com
We stayed here for 5 nights and overall would say it is a lovely hotel. Staff are very helpful and friendly (Dora and Thomas were especially great and very helpful). Rooms were spacious and well laid out...however the bathrooms could have been a bit better. It is a great location and only a 5 minute walk from the main strip of restaurants/hotels/shops and away from the hustle and bustle of Oia and its narrow streets. We ate out most meals as the hotel only had one restaurant for lunch/dinner and although lunch was good, dinner certainly did not have a lot of options and compared to the other restaurants we dined at, we felt the hotel could do better in terms of food. We also had some issues at breakfast where on 2 occasions they mixed up the order and forgot an item and on one morning we had ordered poached eggs which were cold when they arrived. The spa was very good. We had massages, scrubs and facials and the therapists were very good. The sunset view the hotel has it very nice although the power lines going across the horizon, which we had no idea of, somewhat spoil the view! Nothing that can be helped here. In summary, if you want a luxury, peaceful and quiet stay in Oia, which is only a stones throw away from the bustle of the town, then this is the place to stay. Would recommend to stay here. Special mention to Dora at the Pool, Thomas at reception, Maria and the two therapists we had. All are an asset to the hotel.
Alex H
on

2017-09-18
via

Tripadvisor.com
My husband and I stayed in the Santo Maris right near Oia center for 9 days. The luxury suites are brand new and the property is gorgeous. The rooms are very private and spacious. The staff is beyond pleasant and attentive. Not to mention the hotel location could not have been better. In less than a 5 minute walk you are in Oia center for shopping, dinner, views of Ammoudi Bay and more. The best part is, that although you're just steps from the beautiful town of Oia the hotel feels very private and secluded and only visitors of the hotel are coming in and out of the property. The hotel has wonderful amenities including a world class spa, we took advantage of for amazing deep tissue massage. We also took advantage of their new gym with state of the art equipment. The pool is a huge gorgeous infinity pool overlooking the water and landscape. There's a pool bar serving delicious drinks and lunch. The hotel's restaurant is also five star and we hate to admit because we went to many amazing restaurants in the town of Oia, but the hotels restaurant was one of the best most delicious restaurants we've ever dined in.Breakfast was also included each morning prepared to order and was delicious. We absolutely loved our stay in the Santo Maris and cannot wait to book our next trip back. Word of advice, at the end of the evening sit by the bar with out new friend Cristos who was so attentive and made us so many creative local drinks. He was a pleasure to talk to and made our experience all the more enjoyable. While we took advantage of many relaxing pool days we also set out for multiple excursions. We did a catamaran cruise with Santorini Sailing where they took us around the island showed us all the beached and prepared a delicious authentic Greek meal at the end of the trip. We also did an outstanding wine tour with wine tours Santorini through Santorini Day trips where we also combined a morning adventure exploring the ancient ruins of Akortiri with a very knowledgeable tour guide. On one occasion we took the local bus for about a $1 to the larger city Fira and walked back to Oia to see the amazing views. It was about an 8 mile hike where we climbed Skaros Rock along the way and had an amazing adventurous day. The Santo Maris took such great care of us helping to coordinate all of our excursions and making all of our dinner reservations in Oia. I highly recommend the Santo Maris for their impeccable service, attentiveness and amazing facilities. We will definitely be going back! We miss it already!
Claire B
on

2017-09-17
via

Tripadvisor.com
We just returned from Santorini last week and had the most lovely time in this hotel. Its not the traditional Oia hotel built into the white cliffs. Its just North of Oia, and as a result is a more spacious hotel with lots more room for suites and pools. The hotel arrange a complimentary transfer to pick you up from the airport, and we had a warm greeting from the front desk. Our suite was a junior seaview suite (north facing so no sunset). The suite was gorgeous, really big bed and spacious. The bathroom was nice, with a rainforest shower. They also had a little kitchen area which looked like something out of Mamma Mia! The balcony was big, with 2 x sunbathing loungers and 2 x chairs/table. Plus an outdoor jacuzzi. The hotel had 4 pools in total (3 smaller pools and 1 x main pool). We always went to the main pool by the restaurant and it had plenty of sun loungers (never busy) to chose from.As some suites overlook the smaller pools, it felt like everyone was spread out so no pool was too busy (which was nice!). The breakfast was lovely, they have a small cold buffet with fruits, cereal, cakes, meats etc,,, And then provide a menu for the hot food. The menu was a good choice, pancakes, eggs benedict, poached egg, scrambled egg, pies etc... The breakfasts were amazing!! Lunch was also a favourite part of the day, as they had a great menu and their chips are a must try!! Overall the staff were brilliant, very attentive and friendly. The concierge recommended some great restaurants. You can see the sunset from the hotel, which was amazing. By the main pool they have a pool bar which has some lounge seating overlooking the sunset. Location was good, it was about a 8 minute walk to Oia, The only thing I would say is that part of the walk on the track, doesnt have any lighting so at night it is dark for a little bit of time. When you eventually reach Oia you are in the less expensive area... but close to the famous Oia Castle where hundreds of people gather to take pictures. Overall I would say this is a fabulous hotel to stay at in Oia, more of a modern greek decor. Cost wise, its more reasonable for a 5* compared to the white cliff hotels in the centre of Oia. I would highly recommend this hotel as a place to stay!
Jodie4444
on

2017-09-16
via

Tripadvisor.com
We stayed for 4 nights for our honeymoon and loved our stay at the Santo Maris, our room was lovely and quite and balcony with Jacuzzi was very private with views out to the ocean. The hotel is very luxury resort and was ideal for us as during the days we wanted to just chill and there are a few pools with lots sun beds with shad to use and it's very quite, away from the businesses of Oia. They have a nice pool bar area offering lunch and drinks all day and Dora who was amazing and very attentive to your needs. We also used the spa area, the treatment are amazing, offered a really good honeymoon package. The hotel is a short walk up to Oia which we didn't mind as we enjoy a short walk before and after dinner however it is a little dark on the way back as the path isn't lit at the top so make sure you have a torch on your phone. The only reason I haven't given the hotel 5 stars is because it lacks atmosphere in the evening, it has the most beautiful view of the sunset but they aren't making anything of it. The lady who is serving from the romantic bar at that time is also rude, on the first evening I asked for some crisps with our cocktails whilst we watched the sun go down and she said no only the restaurant menu is available. Then on our last evening I asked them to reserve me a sofa table so we could watch the sunset, we where having spa treatments before hand and I wanted to make sure I had sofa table to come to (there is only 3 of these otherwise it's normal table and chairs or sun beds), we wanted to order some champagne and then have dinner in the hotel (as we'd be to the spa and very chilled and relaxed, didn't fancy showering and changing to go to Oia) but she let our table go, saying you can't reserve tables, so this upset me and I ended up having a bottle of water whilst I watched the sunset and then going for dinner in Oia. I couldn't see any reason why she couldn't of held the table for us,the area wasn't full of people and plenty of higher tables available and we did arrive 45 mins before the sunset. Saying that overall this is a lovely hotel, one other lovely touch is they give you free bottled water all day long, really lovely in the hot sun.
Nalini S
on

2017-09-16
via

Tripadvisor.com
Very quiet, beautiful, clean and comfortable resort. It is in a quieter part of Oia. You did not have to climb too much to the rooms and buggies were available on request to take you up and down. Very friendly and helpful staff. They even gave us rides in their cars sometimes! Selection of food was minimal and quality and taste average!
Rkprinz
on

2017-09-14
via

Tripadvisor.com
My wife and I stayed at the Santo Maris over Labor Day weekend 2017. It was the most luxurious hotel I have ever stayed at. We had a suite with a sunset view and a private jacuzzi. The room was incredibly spacious and the bed was very comfortable. The pool is gorgeous and relaxing. It wasn't cheap, but I definitely feel like it was worth the money. The best part of our stay was the hotel staff, especially Evie in guest services. Evie helped plan our entire itinerary giving us excellent recommendations for restaurants and activities. We started emailing with her before we even arrived. She even picked up our ferry tickets from the offices in Fira so that we could sleep in longer on the day of departure. Every single staff member went above and beyond to make sure everything was perfect. We were only there for three nights, but everyone from the front desk staff to the housekeeper knew our names and wanted to make sure that we had the best time. The hotel is only in it's second season. The only thing we didn't realize before arriving was that the hotel is not actually on the cliffside like many other hotels in Oia. It's about a 5 minute walk from the main pedestrian road with shops and restaurants. Initially we wanted to be on the cliffs, but didn't realize those hotels do not have a direct view of the sunset. Also, they look way more cramped and congested. We completely lucked out and couldn't recommend this hotel more.
tlee515
on

2017-09-11
via

Tripadvisor.com
My husband and I recently stayed at the Santo Maris and we loved it. We wish we could have spent more time there. The staff, grounds, service, food, room and everything was wonderful. We had a sunset junior suite and it was perfect! The pool was amazing and the service was excellent as well. They were constantly providing a cold bottle of water which was nice. The hotel itself is situated right outside Oia so we liked how it was a little secluded and away from all the tourists. If we ever come back to Oia, we will definitely be staying at the Santo Maris!
Anonymous
on

2017-09-11
via

Booking.com
-Nothing +Everything but the breakfast need some variety
maddy994
on

2017-09-10
via

Tripadvisor.com
This hotel is amazing! The rooms and pools are stunning, the staff so helpful, happy and friendly, nothing was too much trouble, and the food delicious - we particularly enjoyed the breakfast each morning! A welcome sanctuary from the very busy Oia, which we found an easy walk away for dinner in the evenings. We also visited the spa for one of the best treatments i've ever had. We'd highly recommend the Santo Maris and can't wait to return again one day soon!
Michael
on

2017-09-09
via

Booking.com
-That i had to leave +A short walk from oia but away from the cruise ship groups. Perfect view of sunset and tranquil.
gsingerman
on

2017-09-09
via

Tripadvisor.com
I stayed here for 3 nights, and I CANNOT say enough about this stunning hotel. The accommodating staff, the hotel grounds, the pool, the service, the rooms and even the spa are all 5 stars. We will most definitely be back to do it all over again!
bcmlawer
on

2017-09-09
via

Tripadvisor.com
My husband and I took a trip to Greece including a few nights in Santorini and we stayed at the Santo Maris Spa. Our room was lovely and well maintained. The staff couldn't have been any nicer. Highly recommend this resort.
Zannon
on

2017-09-07
via

Booking.com
+Everything! This is a must!!