Asimina Suites

,
Paphos

,

Cyprus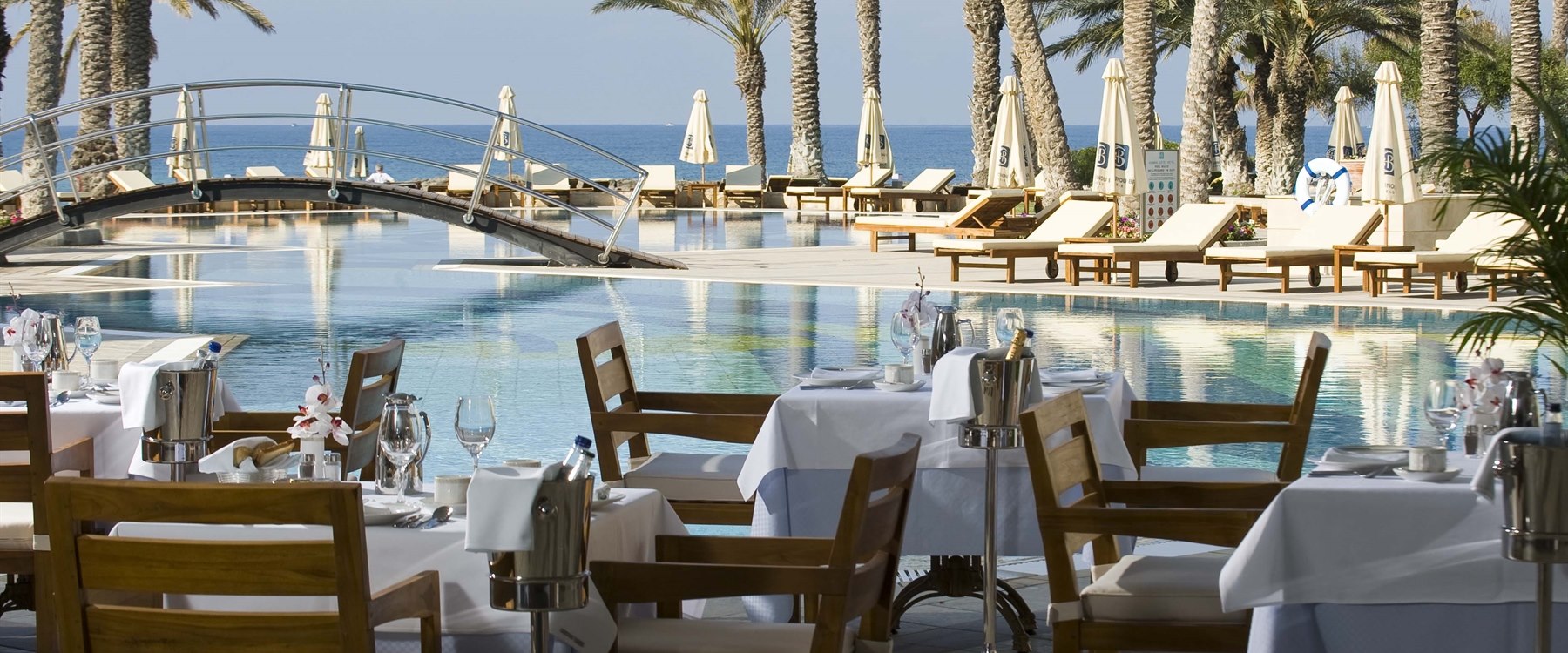 Most talked about:
Hotel Overall
Swimming Pool
Breakfast
Most satisfied with:
Sport facilities
Tours & excursions
Meat
Animation, entertainment, nightlife, music is good.

Guests are very happy with the Family & kids friendly.

Great Couples friendly.

"pure relaxation"

"live music"

"lounge bar"

"enjoyable stay"

Great Swimming Pool.

Hotel maintenance is acceptable.

Hotel age could be better.

"min walk"

"indoor pool"

"fantastic pool"

"pool towels"

Overall CLEANLINESS is excellent.

Room cleanliness is excellent.

Guests are very happy with the Bathroom cleanliness.

"Tisztaság"

"Čistoća"

"Sự sạch sẽ"

"clean towels"

Bed is nice.

Bathroom is good.

Guests are very happy with the View.

"comfortable bed"

"big thank"

"sun beds"

"separate bedroom"

Great Breakfast.

Great Dining experience.

Great Deserts & fruits.

"great choice"

"la carte"

"evening buffet"

"la Carte"

Staff friendliness & competence is excellent.

Service can be improved.

Reception is excellent.

"extra mile"

"helpful staff"

"restaurant staff"

"friendly staff"

Food price can be improved.

Guests are very happy with the Food & drinks price.

Breakfast price is good.

"free bottle"

Night life & dining is good.

Neighbourhood & area is excellent.

Distance to public transport is good.

"old town"

"long way"

"Lovely walk"

"good walk"
http://www.asimina-cbh.com/
Nick Baker
on

2019-01-12
via

Google
Very smart hotel complex. Everything you need is there.
mrstephenmills
on

2018-12-14
via

Tripadvisor.com
Here for 3 nights and have to say the setting, service, food and all around ambiance was excellent. Rooms are nice and big with large bathroom suites. Lots/too many sunbeds around is my only on positive comment.
sdcman
on

2018-12-04
via

Tripadvisor.com
What a wonderful hotel we stayed at the asimina mid november this was second year we have stopped in cyprus at this time the weather is perfect we stayed in suite 120 which was perfect our own swim up pool with a great view of the sea only critism of the pool was it was not heated so pretty cold till you got in but did not hinder our enjoyment.The suite was really spacious and a very large bathroom where there was seperate bath & showers. From the moment we checked in at check in lounge where you was welcomed with a drink of your choice we were made really welcome and for a five star hotel prices of drinks were quite reasonable the breakfasts were lovely we enjoyed eating the breakfasts on the terrace the restaurant was never full . We stayed the previous year at the five star colombia beach at pissouri which we found stuff and overbearing here we felt perfectly at home from the start and will definately stay here again there is a lovely promenade to walk into paphos and the harbour which we did several times it was a perfect stay that was over far too quick.
KristinaEkaterinburg
on

2018-12-02
via

Tripadvisor.com
Ресепшн так такого нет, есть комната ожидания, где каждого угощают шампанским, фруктами и закусками. Выселение, если вылет поздний, можно в 20:00, без доплат! Есть несколько баров, в одном из которых каждый день меняется программа, можно и потанцевать и караоке попеть, и музыку послушать - очень классное место. Другие бары просто релакс. По типам питания читать внимательно в описании отеля нужно, так как FB даже двух видов. Мы жили на расширенном, это все включено по-русски)) Единственное, что приносят чеки с нулевым счетом, за которые надо подписаться. Питание в отеле очень классное. Лучше, чем в Elyzsium в разы. Море есть расчищенный вход, есть пирс. Территория хорошая, большая, ухоженная. Номера классные. Выйти из отеля есть куда. Рекомендую всем, кому позволяет бюджет :)
Elisabeth
on

2018-11-28
via

HolidayCheck
Super Hotel für hohe Ansprüche. Grosszüge Suiten und Bad. Grosse Liegewiesen mit vorzüglichem Gartenservice mit sehr freundlichem Personal. Mittagrestaurant am Strand, abends im Hotel mit Aussen und Innenbereich. Sehr schöne Promenade zum spazieren
Bob M
on

2018-11-27
via

Tripadvisor.com
Visited for a travel conference and the staff and food were excellent. The rooms are large if a little dated, but the view is great and the beds are comfy - and the location is quiet and right on the bay. It was November and 24 degrees - perfect - and only 15 minutes from the airport.
Dominykas Dilys
on

2018-11-22
via

Google
I work here, so I know it from inside out. Believe me the staff is genuinely nice and empathetic. It s a bit pricey here for singles and perfect for couples i suggest.
thomaj
on

2018-11-22
via

Tripadvisor.com
Recently returned from yet another great stay at the Asimina. We usually manage two visits each year to this hotel just because it's so good. This latest visit was no exception..... Mr Yiangos is a "star" as is Miruna and the Reception staff . So grateful to them when I needed an emergency dentist during our stay for a minor problem...as soon as I explained the problem, they were straight on the phone....booked an appointment for an hour later....even asked if I wanted someone to go with me to hold my hand.... absolutely brilliant! While the fragrant Daisy is always on hand in the Estia restaurant should we need anything and Marios and his team in the Kymata restaurant are always ultra professional. It goes without saying that the facilities and food are exceptional which is why we continue to return to this hotel year after year. See you next year. J &A.
L0ul0um0u
on

2018-11-21
via

Tripadvisor.com
I often state that it's much easier to write a review on a 5* hotel as you are paying more for the luxury and service. Although is applies to the Asimina Suites the hotel is so much more than a luxury hotel. It's an oasis, it's a haven for pure and deserved indulgence and it's one of the best 5* hotel's I've ever had the pleasure of staying in. The most professional and friendly staff deserve the highest praise. Always pleasant but faultless in their dedication to their job. Our seaview suite was impeccable. I loved the little extra's like the expresso machine and the supplied daily coffee. My little treat after my morning swim in the crystal clear sea or our beloved coastal walk from the hotel down to Paphos harbour. Like most hotels' of this standard you have the option of dining in the main buffet restaurant or their A La Carte restaurant. We chose the buffet every evening and just solely because the food was utterly fantastic. We loved the variation and the standard of same was very high. A 'foodies' paradise!. I used the gym most mornings and again it was perfect. Fresh water and fruit was supplied everyday and the equipment was modern. We used the indoor pool and indulged in the sauna and steamroom. Dressing gowns and slippers were always provided and everything was just luxurious. I would highly recommend this 'Adults Only' hotel for honeymooners or any concerning client who enjoys a great hotel and holiday experience.
Brian Crossley
on

2018-11-14
via

Google
First class service and accommodation. Expensive but you get what you pay for.
JoPa21
on

2018-11-12
via

Tripadvisor.com
A well appointed hotel with excellent staff always willing to go the extra mile. The relatively small number of guests provided for a relaxed atmosphere throughout the public areas and grounds. Plenty of sunbeds with ample space between them (unlike adjoining hotels) in the beautifully kept gardens.
legioneks
on

2018-11-11
via

Tripadvisor.com
Отличный отель с отличным сервисом . Внимание везде и во всем . Особенно запомнились замороженные виноградинки на пляже и кусочки арбуза , которые раздавали сотрудникам в течение дня . В жару просто отлично освежает и я дома эту идею использую теперь частенько. Хорошее качество Wi FI, постельного белья и кровати из которых не хочется вылезать . На завтрак всегда малосоленая семга и вкуснейшие блинчики. Иногда и шампанское . Ужинали не всегда в отеле , но когда оставались на ужин , нежнейшая баранина нас очень порадовала. Единственный минус это вход в море . Но мы были к этому готовы . И очень хорошо что отель только для взрослых. Если хочется побыть вдвоем, этот отель лучшее !
Ken_and_Jane_13
on

2018-11-09
via

Tripadvisor.com
Our first visit to this beautiful,adults only, hotel. All the staff are top class, from the reception right through to the boys and girls in the sunbathing area. Being right on the beach made the daily swim easy and very pleasant in the warm sea. Dining was well arranged with an A La carte option available, at no extra cost, providing you gave 24hrs notice. Wifi worked all over the hotel and gardens, also free. We will be returning.
Andrew R
on

2018-11-07
via

Tripadvisor.com
Returned to Asimina again, and had another great stay. Some old faces and many new, but the standard of service from the staff is the best. Yet again the scales creaked when we left having enjoyed the excellent food.
Vacation36529911110
on

2018-11-07
via

Tripadvisor.com
everything was to our expectations and we thoroughly enjoyed our stay which we wish had been a lot longer.we will definitely return in the very near future.a great thank you to all the staff who made our holiday very memorable.
janeoo07
on

2018-11-06
via

Tripadvisor.com
Had a wonderful holiday here in August with my 17 year old son. The suite arrangement was perfect , giving us each our own space. But what really made this particular hotel special was the attentiveness of the staff, welcoming, friendly and helpful. I think a return trip is highly likely.
summerhillCumbria
on

2018-11-06
via

Tripadvisor.com
All the staff at Asimina Suites were very polite and friendly, obviously enjoying their work and taking great pride in their hotel. The result was a very relaxing atmosphere in immaculate surroundings with superb food and as near perfection as it is possible to find.
treelady
on

2018-11-06
via

Zoover
In particular, the staff are ALL amazing. So efficient and yet also so friendly and approachable - nothing ever seems to be to much trouble, even when they are busy.
Jacquelyn C
on

2018-11-04
via

Tripadvisor.com
Gorgeous hotel situated a 30 min walk from centre - we used regular/frequent public bus service when we didnt want to walk or when we wanted to get to old town. Superb outside pool (interesting shape and plenty of room to swim), breakfast was great too. However the best part of this hotel is its staff who are a credit to it. Every member of staff throughout the week; the cleaners, breakfast and reception staff went the extra mile to smile/speak and made us feel welcome. We travel a lot and can easily say this is the best service we have experienced.
PATRICK B
on

2018-11-03
via

Tripadvisor.com
Whatever you do don't get a taxi from the airport, we were charged 40 euros for the short trip had we of known as on return the local shuttle bus costs only 1 euro 50 per person for the 30 minute journey, and stops outside of the hotel. Alternatively pre-book through the hotel as they can arrange it for you and it would cost 30 euros. On arrival we had a private check in and a drink with an explanation of the packages available if we wanted to upgrade. We were given a complimentary upgraded from a junior suite to a one bedroom suite (due to us emailing our room requirements to the reservations manager Yiangos E. Yiangou, who was very helpful) which was a good size although would have benefited from being a seaview room. We booked on a b&b package and were amazed at the extensive choice on offer at breakfast easily plenty to keep you going all day. We must mention all the staff who were so attentive friendly and helpful throughout our entire stay, we have stayed in Sandals resorts and the staff here are trained to at least if not above the Sandals standards. The peace and quiet of this resort was really what ticked all the boxes for us, so if you're looking for nightlife and entertainment then this is probably not the hotel for you! We did the walk in to Paphos harbour which did take at least 40 minutes but it is an easy stroll, although we found the bus service outside the hotel was just as easy to use and very frequent and cheap. Everything in the resort was to a high standard all areas spotlessly clean and tidy.