Novus City Hotel

,
Athens

,

Greece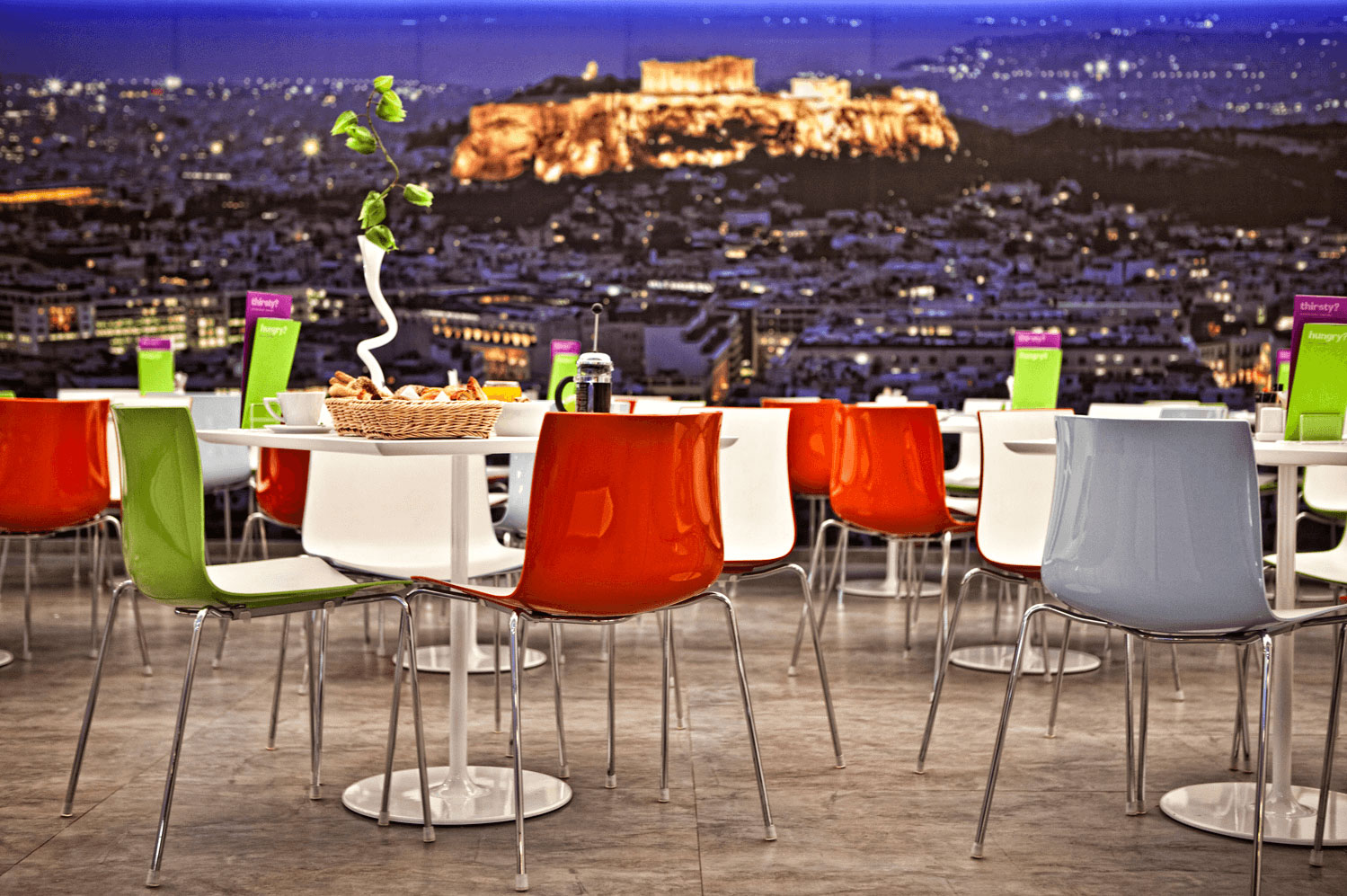 Most talked about:
Hotel Overall
Breakfast
Swimming Pool
Most satisfied with:
Breakfast price
Deserts & fruits
Alcohol
Animation, entertainment, nightlife, music is good.

Family & kids friendly is nice.

Couples friendly is good.

"loud music"

Guests are very happy with the Swimming Pool.

Great Hotel age.

common areas - lobby, lifts, launge, entrance is good.

"best area"

"Roof top bar"

"rooftop pool"

"Swimming pool"

Overall CLEANLINESS is nice.

Room cleanliness is nice.

"clean room"

"little dirty"

"great size"

"sauber und ordentlich"

View is nice.

Guests are very happy with the Bathroom.

Average Bed.

"remote control"

"spacious room"

"comfortable bed"

"ear plugs"

Breakfast is nice.

Average Dining experience.

Coffee is nice.

"Frühstück"

"breakfast buffet"

"La cena"

"breakfast staff"

Guests are very happy with the Staff friendliness & competence.

Reception is nice.

Average Service.

"friendly staff"

"Friendly staff"

"helpful staff"

"late check"

Great value for money.

Breakfast price is excellent.

Great Food & drinks price.

"complimentary breakfast"

"Great value"

"Good value"

Great Neighbourhood & area.

Great Distance to public transport.

Transport (taxi, car rental, transfers) is acceptable.

"metro station"

"Petit bémol"

"main Street"

"major sites"
+30 21 1105 3000
http://www.novushotel.gr
Virginie
on

2018-04-24
via

Booking.com
Virginie liked the comfort, value, and cleanliness
Μαρία
on

2018-04-23
via

Booking.com
Μαρία liked the value, staff, and facilities
Antoine Taupignon
on

2018-04-23
via

Google
Une grande chambre avec lit double et douche italienne. Pas eu l occasion d essayer la piscine car elle n était pas encore ouverte, mais le toit est très agréable pour boire un verre avec le coucher de soleil sur l Acropole !
Ekaterina
on

2018-04-22
via

Booking.com
Ekaterina liked the comfort, location, and staff
Anonymous
on

2018-04-20
via

Booking.com
-Fenster lassen sich nicht öffnen.. This guest liked the cleanliness, location, and facilities
B J
on

2018-04-19
via

Tripadvisor.com
L'hôtel est bien situé, juste à côté du métro Metaxourgeio, mais le quartier n'est pas génial. Le personnel est vraiment attentif. Les chambres sont simples mais assez grandes. Elles sont confortables et propres. La terrasse du bar est agréable, avec vue sur l'Acropole.
France
on

2018-04-19
via

Booking.com
-- Le quartier +- La proximité du métro (Metaxourgeio) - La gentillesse du personnel - Le bar et sa terrasse avec vue sur l'Acropole
Klaus
on

2018-04-16
via

Booking.com
+Frühstück war Griechisch / Amerikanisch und passte. Lage mitten in der Stadt und nah an der Metro. Garage für große Autos (7 Sitzer) etwas eng aber kein Problem.
Kostas Paliokaritis
on

2018-04-11
via

Google
Φιλόξενο και ευγενικό προσωπικό, καθαρά δωμάτια, εξαιρετικό πρωινό και καλή κουζίνα. Ρουφ μπαρ με εξαιρετική θέα την Ακρόπολη
Inbal
on

2018-04-08
via

Booking.com
-היה עובש במקלחת, מיטה מחולקת ל2 מזרונים שיודעים שזוג מגיע, המרפסת בלי כסאות לשבת, +חדר גדול ומעוצב, יש מרפסת, מים חמים במקלחת, מיקום טוב Inbal liked the staff, comfort, and location
Alain
on

2018-04-07
via

Booking.com
-L'hôtel n'est pas loin du centre mais le quartier n'est pas très agréable. +Le petit déjeuner était très varié et assorti de mets locaux: un régal!!
Isp_Callaghan
on

2018-04-06
via

Tripadvisor.com
Hotel in posizione quasi centrale e vicinissimo alla nuovissima e comodissima metro utile per spostarsi in 3 o 5 fermate nei luoghi di maggiore interesse. Appena arrivati una piacevole sorpresa: la nostra tripla executive era stata upgradata a suite, e questo nella settimana di Pasqua con "tutto esaurito". Complimenti al personale, sempre gentilissimo. Ricca la colazione comprendente dolce e salato, sia mediterranea che con specialità locali. Facendo paragoni con lo standard italiano, l'hotel assomiglia più ad un 3 stelle superior, che ad un 4 stelle, ma con un prezzo della camera più basso di un nostro 4 stelle.. La nostra suite al 7° piano era comoda, silenziosa, pulita, con 2 stanze (una camera doppia più un salottino dove era posto il terzo letto della bambina), mobili semplici, nuovi e moderni, e con una ampio e pulitissimo terrazzo con tavolino e sedie dove riposarsi in tranquillità. Gradevole anche il bagno, moderno con vasca idromassaggio. Prese elettriche europee. Bella la vista notturna (meno la diurna) dell' acropoli dal bar/ristorante sul roof. La piccola piscina, al 02/04, non era ancora funzionante. perchè fuori stagione. In definitiva, un hotel con un ottimo rapporto qualità / prezzo. Lo consiglio
Tanya
on

2018-04-06
via

Booking.com
+Great location! Very nice and clean rooms, the staff it's very friendly and helpful, I definitely stay there again!
david
on

2018-04-04
via

Hotels.com
the hotel was very good clean and close to metro Verified Hotels.com guest review
Leonard
on

2018-04-03
via

Booking.com
-Nichts - ich habe selten einen Aufenthalt gehabt, bei dem es an so wenig gefehlt hat! +Das Personal, besonders an der Rezeption, war auffallend freundlich und extrem kompetent. Ob es nun eine kleine Frage zum Hotel war, oder gleich die Reiseplanung auf die nahe gelegene Insel Ägina - alles wurde unglaublich höflich, schnell und kompetent beantwortet. Auch beim Frühstück fehlte es an nichts - sogar frischer griechischer Kaffee war verfügbar. Der Blick auf die Akropolis von der Dachterasse aus, ist einfach ein Genuss.
Gaspare
on

2018-04-02
via

Booking.com
Gaspare liked the comfort, staff, and value for money
Costas1958
on

2018-04-01
via

Tripadvisor.com
Modern, very clean, free WiFi, free parking and most of all... EXCELLENT staff with no exceptions. Every time I visit I feel at home and welcome. Breakfast for all tastes and a fantastic view from the roof-garden,
Ruth
on

2018-03-29
via

Booking.com
+המלון בעיצוב צעיר וצבעוני...נקי...ארוחת בוקר מצויינת...הצוות בלובי נחמדים ומסבירי פנים...מיקום המלון מצויין מומלץ מכל הלב.
Μαρια
on

2018-03-28
via

Booking.com
+Το δωματιο ηταν πραγματικα πολυ μεγαλο, οπως επισης και το κρεβατι!
Duncan C
on

2018-03-28
via

Tripadvisor.com
A quick weekend break, did not disappoint in this centrally located hotel. The rooms were quiet and spacious and there is a great rooftop bar on the 8th floor, with amazing views over Athens and the Acropolis. F&B wise, included in my rate was a sumptous buffet breakfast, with a great choice of hot and cold food. I had dinner in the restaurant one evening and the portion size was huge, and delicious. The hotel is a 2 minute walk from the metro, which is 4 stops from the Acropolis. I would definitely recommend this hotel.