Athena Royal Beach

,
Paphos

,

Cyprus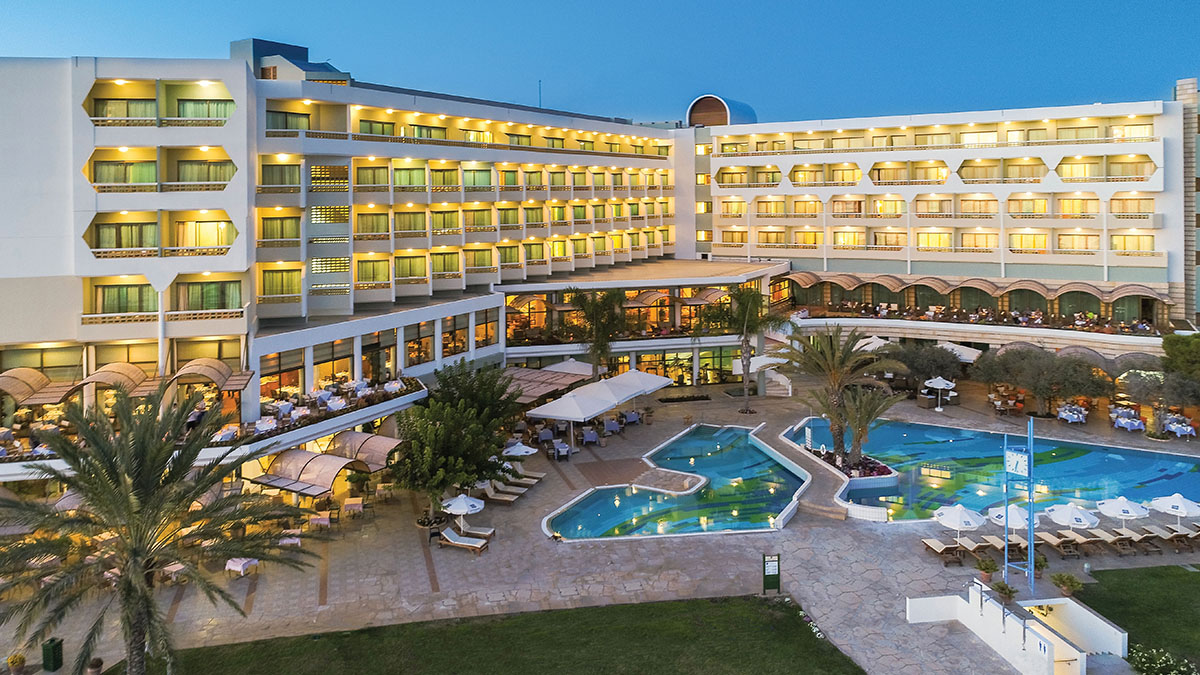 Most talked about:
Hotel Overall
Swimming Pool
Breakfast
Most satisfied with:
CLEANLINESS
Room service
Design
Average Animation, entertainment, nightlife, music.

Family & kids friendly is acceptable.

relaxation is excellent.

"friendly atmosphere"

"lounge bar"

"older generation"

"good entertainment"

Swimming Pool is nice.

Guests are OK with the Hotel age.

Guests are OK with the common areas - lobby, lifts, launge, entrance.

"indoor pool"

"door area"

"bar area"

"pool area"

Guests are very happy with the Overall CLEANLINESS.

Room cleanliness is excellent.

"Čistoća"

"room carpet"

"Tisztaság"

"Sự sạch sẽ"

Guests are OK with the Bathroom.

Guests are very happy with the Bed.

View is excellent.

"table tennis"

"amazing view"

"only negative"

"sea view"

Guests are very happy with the Breakfast.

Dining experience is nice.

Wine is nice.

"coffee shops"

"good choice"

"bottle of wine"

"evening meals"

Great Staff friendliness & competence.

Guests are OK with the Service.

Great Reception.

"hotel receptionist"

"helpful staff"

"friendly staff"

"Friendly staff"

value for money is nice.

Guests are OK with the Food price.

Food & drinks price can be improved.

"complimentary fruit"

"good value"

Night life & dining is good.

Great Neighbourhood & area.

Distance to public transport can be improved.

"bus stop"

"local restaurants"

"harbour area"

"local shops"

Wifi price could be better.
http://www.athenaroyal-cbh.com/
mark.g
on

2019-01-16
via

Zoover
fantastic service. very attentive.
dancers
on

2019-01-16
via

Zoover
the friendliness and good servicee
gaynor
on

2019-01-16
via

Zoover
the staff are very helpful and nothing is too much trouble
DaveCraddock
on

2019-01-15
via

Tripadvisor.com
Holiday weather was worst I have ever encountered. The hotel saved the holiday. Excellent food, excellent drinks in all inclusive hotel ( international brands ) and also unusually good beer for a all inclusive hotel. Never a problem getting a table in restaurant and service was brilliant with the staff always at hand to clear your table. Plenty of sun loungers at the side of the pools. The staff at the hotel are all very pleasant and efficient and nothing is too much trouble. I will definitely be returning probably at a time of year when the weather is better. Well done Royal Beach.
paulbirtwistle7
on

2019-01-15
via

Tripadvisor.com
Okay. Obviously the management responses to reviews are somewhat churlish so, as a seasoned traveller let me tell it how it is. The bar and catering staff, food and drinks are exceptional. Martha on the bar, Maria, Mouana and Davina in the restaurant are worth mentioning. The Al a carte is OK, nothing more. Reception staff are average in fact quite dismissive. The entertainment lady, name escapes me was superb. She told us that she had put in her recommended programme as requested by management but this had been rejected so she had to use the existing one that just did not work. The weather was not good so all they needed to do was bring the table tennis, darts and pool indoors (they have masses of space) and then guests could at least enjoy some exercise during the bad weather. They advertised chess in a meeting room only to find there was another meeting going on. Management had failed to communicate with entertainment. Guest had actually organised some dancing classes themselves as again management had failed to respond to the poor weather and lack of entertainment. Had a massage with Katarina which was very good. The temperature in the pool jacuzzi and steam room were mostly 5-10 degrees below standard. Not good. The private jacuzzi was broken as was the sauna on a couple of days which meant we had to share with the nude sauna (need I say more) On 16th December the Christmas decorations were still up. On 14th January we were awoken at 7am by the cleaning staff shouting and arguing with each other. Evenings entertainment is farsical. Poor singers, out of key. A couple were OK but nowhere near what one expects from a 4+star hotel. Such a shame because guests would be much happier with a little entertainment. Clearly this is a management issue that needs to be addressed.
lonely2014
on

2019-01-15
via

Tripadvisor.com
This is the first time I have stayed at the Athena Royal for many years ,but the standard is still very high and visitors have every thing they could want . Although I had booked over the phone only a couple of days before hand when I arrive late at night ,all the paper work was waiting for me and a nice glass of orange juice ,plus a good welcome .The food in the restaurant is superb with a fantastic choice and I found many single people on their own.If one wants to go to visit the harbour area or one of the villages there is a bus stop very near the Hotel
Joyce
on

2019-01-13
via

Booking.com
Although the hotel is dated, everything is in excellent condition. The cleanliness is to be commended. The staff are efficient and helpful. The breakfasts are a feast and hats off to the Chef. Rooms are elegant, roomy and extremely well kept. - Difficult to pin point anything however if you have to nit pick I would recommend change of aluminium.
Uri
on

2019-01-13
via

Booking.com
מקום נקי צוות אדיב ארוחת בוקר וערב מעולה שפע שפע שפע .כל אחד יכול למצוא את מה שאוהב.המלון מוגדר 4 כוכבים אבל מרגיש 5 כוכבים.
jeandA2998XU
on

2019-01-13
via

Tripadvisor.com
We celebrated our Golden Wedding Anniversary at this hotel in early January as well as celebrating New Year here. We were upgraded to a Junior Suite which made our anniversary very special so many thanks to the hotel for this. The views from all the rooms with sea views would I am sure be great but with the larger balcony our view was spectacular! You are so near the sea here you can hear it even with the windows closed. Sadly the weather wasn't so good but certainly interesting! We would highly recommend this hotel for a relaxing stay at any time of the year. The food is excellent and with the all inclusive you get to visit the a la carte restaurant twice a week, though both the a la carte and buffet restaurant serve wonderful food so you eat well wherever. Our thanks to the head chef for the wonderful food! Also big thanks to all the staff at the hotel who make you most welcome and were very attentive throughout our stay. We look forward to returning for hopefully a longer stay next time as we noticed that many couples were there for 3 weeks - a big compliment to the hotel to have returning visitors who opt to stay for longer spells. Many thanks once again for making our anniversary so special!
Trevor Ashby
on

2019-01-12
via

Google
Great hotel, great staff. Lovely island
Carol Godfrey
on

2019-01-12
via

Google
jessgriffy
on

2019-01-12
via

Tripadvisor.com
Came to Cyprus on my first holiday from the UK all through JET2HOLIDAYS. I stayed in room 1150! Arriving at the hotel it was dark as I arrived so late, the hotel receptionist was wonderful but didn't catch her name. Went to the restaurant then headed to my room which was perfect exactly as described! Room. Very spacious and super clean! And the cleanliness kept this standard through my whole stay! Had a balcony overlooking the sea and the other hotel which was still an amazing view! Facilities in the room were superb a little fridge and a complimentary wine went down a treat! Food. The breakfast and the dinner restaurant are amazing such a wonderful choice of food and I tested it all well and can assure you the food is amazing. The restaurants are set out beautifully as a solo traveller I didn't feel strange or alienated sitting in either restaurants. All staff were lovely the lady named Sofia I found very friendly. However all staff looked smart and were welcoming. The staff from housekeeping to waiters/waitresses and even grounds man were lovely and ever so friendly and polite. Hotel The whole place absolutely amazing clean and tidy well looked after and every member of staff always so happy and friendly! The outside area is well looked after as well you'll meet some friendly kittys who are all friendly as well! Spa and gym Well looked after and staff are all lovely and friendly. Definitely book in for the massages or treatments they offer they are completely relaxing! I had one with a lady called Marianna I think but I'm not sure apologise! I went in January so both the gym and pool were quite quiet. Location. You are right on the costal path just outside the hotel and it's amazing to walk on suggest walking to Paphos harbour were there's restaurants, coffee shops and little shops. Everyone is very friendly on this path and says good morning! Overall an amazing experience felt very welcomed and looked after by all staff, Thank you very much! I will be back soon!
Jim and Lyn
on

2019-01-12
via

Zoover
Everything was exactly as we had wishes. there are no criticisms we would make and our only tip we would off is keep doing what you are doing.
John
on

2019-01-12
via

Zoover
very clean and staff very helpful. activity promotion unclear at begining.
derek
on

2019-01-12
via

Zoover
friendly and helpful staff, nothing negative
Myrark
on

2019-01-12
via

Booking.com
Tish
on

2019-01-11
via

Zoover
Fantastic staff and service. Lovely food.
Davidst916
on

2019-01-10
via

Tripadvisor.com
This is our second visit to the Athena Royal Beach and we are enjoying the first class service and food. The location by the beach and close to PAPHOS centre is ideal. The all inclusive package is excellent with high quality drinks. Staff are very efficient and friendly.
Anonymous
on

2019-01-09
via

Booking.com
Everything about the hotel was fantastic, the food was brilliant and the all inclusive drinks choice was the best we have ever had. The suite was large and comfy, with a super king bed and a walk in shower and bath, luxury!! - Nothing
Cliff & Jean.
on

2019-01-09
via

Zoover
Excellent selection of food in restaurant. Beautiful hotel in a lovely position.