Nana Beach Hotel

,
Crete

,

Greece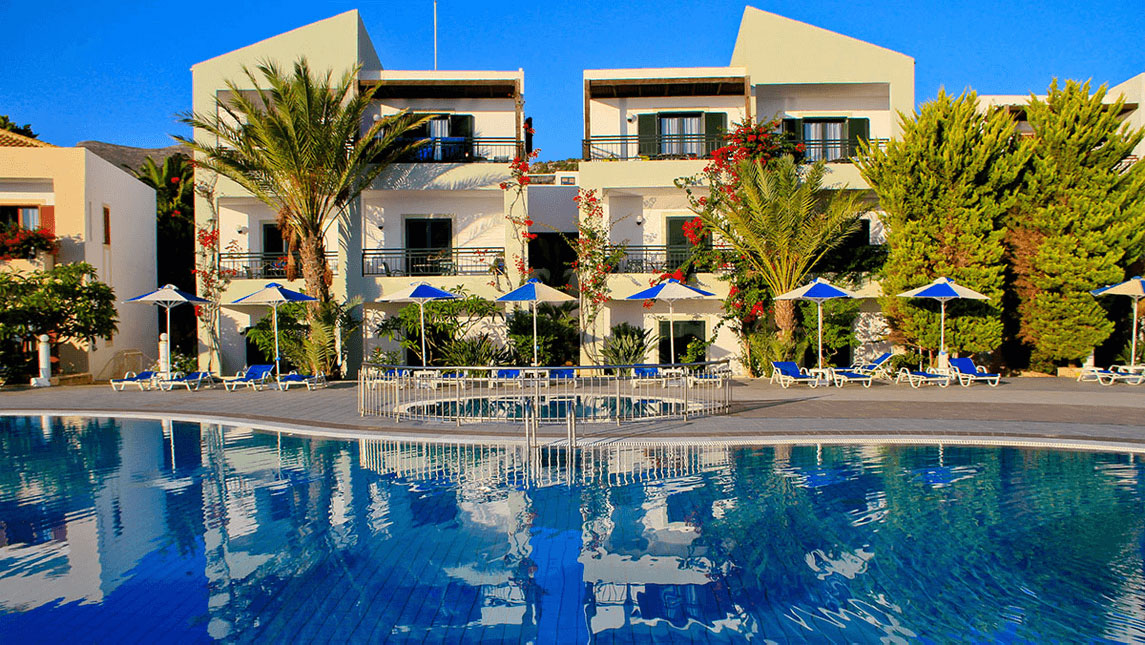 Most talked about:
Hotel Overall
Grounds & exterior
Swimming Pool
Most satisfied with:
Kitchen
CLEANLINESS
Design
Guests are very happy with the Family & kids friendly.

Animation, entertainment, nightlife, music is excellent.

Guests are very happy with the Atmosphere, friendliness.

"new people"

"great fun"

"kids club"

"young family"

Swimming Pool is excellent.

Hotel age is excellent.

Average Hotel maintenance.

"main pool"

"Beautiful grounds"

"lovely touch"

"golf buggy"

Great Overall CLEANLINESS.

Room cleanliness can be improved.

Guests are not happy with Bathroom cleanliness.

"clean hotel"

"Tisztaság"

"room area"

"bath towel"

View is excellent.

Bathroom can be improved.

Room size is excellent.

"water sports"

"sun beds"

"Gebäuden"

"Gäste"

Guests are very happy with the Breakfast.

Dining experience is excellent.

Pizza, Pasta, Salads, Snacks, etc could be better.

"various locations"

"la carte"

"fresh salad"

"vast majority"

Staff friendliness & competence is excellent.

Service could be better.

Reception can be improved.

"bar staff"

"towel service"

"reception area"

"accueil chaleureux"

value for money is acceptable.

Great Food & drinks price.

Food price is excellent.

"Essen Das Essen"

"Familien das Rundumpaket"

"kostenlos essen und trinken"

Night life & dining is good.

Guests are very happy with the Shopping.

Great Distance to beach.

"Athena restaurant"

"Italian restaurants"

"site shop"

"buffet restaurants"

Wifi price is below average.

"free WiFi"

"WLAN kostenpflichtig"

"Safe und W-Lan kostenpflichtig"

"Kostenpflichtiges Internet"
0030 2897030100
http://www.nanabeach.gr/
Maarten d
on

2018-12-11
via

Google
1 van de beste hotels / resorts tot dus ver
Martin Reich
on

2018-12-09
via

Google
+ Insgesamt stimmige Anlage für Familien mit Kindern+ Vor Wellen geschützter Hotelstrand mit geringer Einstiegstiefe- Kindersitze in Restaurants sind, obwohl sehr zahlreich vorhanden, mangelware in Spitzenzeiten- Im September waren die Pools nicht gut temperiert und für Kinder definitiv zu kalt.
Josef
on

2018-11-26
via

HolidayCheck
Ideal für Groß und Klein. Weitläufige, gepflegte Anlage mit div. Themenrestaurants, abwechselnd Fels- und Sandstrand. Durch Mole beruhigten Meerzugang.
sarahmD4288YQ
on

2018-11-24
via

Tripadvisor.com
Superb break, 2 lovely bars and good choice of restaurants. Wine was in abundance and notbing was too much trouble. The gym is dated but we only used this on a cloudy day. The beach bar is fantastic Constantina runs it single handedly, remembering everyone's drinks order and doing food... Despite the length of the queue she never flustered. A very nice hotel with plenty to offer. I always say that i will never go back to the same hotel as there is so much to explore but i think this may break the rule.
Findlay5
on

2018-11-23
via

Tripadvisor.com
Our family (including two children aged 11 and 7) returned to Nana Beach this July having previously had a wonderful holiday there in 2016. Beautiful grounds, excellent facilities and clean, well-appointed rooms. The selection of pools is great - from quiet adult-only pools to splash pools for the kids to the main pool with lively activities and swim-up bar. The food choice was very good and of a very high standard - particularly the Poseidon fish restaurant (managed and hosted by the wonderful Ramos). The water sports on the beach (pedals, paddle boards, etc) were mostly included in the package - with only jet skis and the banana boat costing extra. We had hoped to take lessons at the dive school, but windy weather mid-holiday shut the school for a couple of days. We were instead entertained by the waves crashing into the rocky foreshore next to the hotel and the sea spray shooting up out of the purpose-built slate chimney stacks built onto the rocks. Very clever design feature! We were there for two weeks, which for our family is a long time in one place, despite the range of activities. We hired a car one day and explored the mountain villages and east coast of Crete. Highly recommended! Finally, the fantastically friendly staff at the hotel were the icing on the cake. The pan-European animation team were excellent and also made sure that those who wanted to watch the World Cup were catered for - the games were shown on three different screens including a cinema screen in the conference room - with team members on hand to serve beer and wine! All in all a wonderful holiday which we have recommended to friends and would recommend to anyone. We'll be back!
Dörthe Lehmann
on

2018-11-19
via

Google
taty Ta
on

2018-11-15
via

Google
Ho soggiornato con mio marito e mio figlio di 5 anni a fine settembre.Resort molto grande,clientela internazionale in prevalenza russi ed inglesi,italiani pochi.Per chi non parla inglese forse è un pò problematico farsi capire anche perché il personale non parla un minimo di italiano.Il buffet è abbastanza buono,cibo vario qualcosa per noi italiani si trova,ottima la carne fatta sul momento.Per le cene ai 4 ristoranti occorre prenotare non appena arrivate.Sono stati così carini che per il mio compleanno mi hanno fatto la canzoncina con tanto di torta..davvero un bel gesto.La spiaggia: per i bambini è ottima in quanto ti permette di lasciarli tranquillamente giocare,ci vuole un po prima che si arrivi al largo diciamo che è stata creata artificialmente quindi chiusa dalle correnti..la nota dolente è che le piccole imbarcazioni e moto d acqua sono parcheggiate proprio là..quindi bisogna prestare attenzione.Il resort offre un altra piattaforma dove ci si può rilassare sulla scogliera attrezzata e dove si può praticare lo snorkeling,qui il mare è spettacolare.Mi sono dovuta lamentare per la pulizia della stanza,praticamente inesistente,visto le 5 stelle dovrebbe esserci più attenzione.Nel complesso un ottima struttura sopratutto ben organizzata per i bambini.
Y2092DZstephanier
on

2018-11-15
via

Tripadvisor.com
Mijn partner en ik waren hier van 11 tot 18 september. We kregen een (te) kleine kamer op de begane grond met verschillende gebreken. We hebben dan ook bij de receptie gevraagd of er nog iets anders beschikbaar was. Zonder aarzelen mochten we direct in een andere, hele ruime en nette, centraal gelegen kamer met zeezicht. Het hotel had een behoorlijke bezetting. De gasten bestonden voornamelijk uit hele vriendelijke en aangename Duitsers en Britten, waarvan veel gezinnen met kleine kinderen. Het resort is heel ruim opgezet, met meer dan voldoende zwembaden, bars, snackbars en restaurants. Ook ligbedden, parasols en handdoeken zijn er voldoende bij de zwembaden, op de rotsen en aan het strand. Ook zijn er 'adults only' gedeeltes. Voor de a la carte restaurants kan je het best zsm reserveren. Het eten in het buffet restaurant is goed geregeld. Daar staat iemand klaar om je te ontvangen en naar tafel te begeleiden. Aan tafel word je direct van drank voorzien. Op het eten is niets aan te merken en de bars schenken lekkere cocktails. De minibar die moet je zelf vullen, maar met zoveel faciliteiten is dat geen probleem. Het personeel was ontzettend vriendelijk en niets was te veel gevraagd. Hier hebben ze gastvrijheid uitgevonden! Zowel in als om het hotel is er genoeg te zien en te doen. We hebben al veel goeie (all-in) vakanties gedaan en willen er nog veel doen, maar hier zouden we zo nog eens terug naartoe gaan!
cool boy gamer
on

2018-11-12
via

Google
MAC2014a
on

2018-11-11
via

Tripadvisor.com
We visited nana beach mid May 2018 for 2 weeks. After reading some of tge coments about the staff I felt I should right this review. We had a really lovely time the staff were very good made us feel very welcome. Demetri in the Greek restaurant was brilliant nothing was too much trouble. A young waitress in the Pella restaurant was very pleasant and very helpful. Every time she saw us she always came over and ask if we were ok and if we needed anything. I really hope she goes far. She has a very nice way about her. The bar staff were always so busy but still when we were passing said hello and made a special effort giving us ouzo (if that's the way it's spelt) The whole atmosphere of this hotel was a lovely place to relax for a few weeks. Would definitely recommend. We will be booking this hotel definitely for next year. Thank you to all the staff. Xx
Jutta
on

2018-11-08
via

HolidayCheck
Uns hat ganz besonders die wunderschöne Architektur gefallen. Mit den vielen verschiedenartigen Pflanzen kamen wir uns vor, wie im botanischen 'Garten.
Rain Liiber
on

2018-11-06
via

Google
Super place to visit with children
Venture03452318527
on

2018-11-06
via

Tripadvisor.com
I visited nana beach with my 5 year old son and my partner in the October half term. After reading some reviews from other people saying that staff were rude and unhelpful etc I was feeling a little bit worried.. however I did not experience this once! Every member of staff had a smile on their face and would always go out of their way to help you and they were amazing with my son, always interacting with him. The animation team were brilliant, even though it was end of season and the hotel was getting empty and no one wanted to join in much but they were always upbeat and smiling and had so much energy. The food was okay most days, could be a little samey but they have to cater for everyone and there was always plenty on offer. We ate at the Italian restaurant one night and it was amazing!! The gentleman that served us was running around like crazy as there were only 2 members of staff serving, we did think this was a little unfair as they did have to take orders/clear tables/seat people/bring the food out etc but up at the Athena restaurant there were always loads of staff and mainly just to clear plates etc.. but with that being said we still got served quickly, didn't feel rushed and he had an amazing attitude even though he was busy (after reading reviews of people being rushed etc.. I did not find this was the case at all.) The grounds were lovely. So pretty and always clean. Pools were freezing so we spent a few days at the beach which was lovely. Water sports were brilliant.. we went out on the pedalos which were free to use for half an hour and the sofa boat which was amazing (€15 each but was totally worth it) although I don't think my son enjoyed it as much as us! Rooms could do with a bit of updating as they were pretty basic and would expect more from a 5 star hotel. But I can't fault the hotel.. the service we received was second to none. They even let us stay in the room free of charge as our bus didn't leave until 4.45 and no new people were arriving. Thought this was a lovely touch. I would definitely return however I wouldn't return in peak time eg. School summer holidays as I imagine it would be really crowded and even though we didn't have to fight for sun beds or in the restaurants, I imagine it would be a different story if we came in August. Thank you nana beach we had a lovely first holiday to crete!
dusanov1989
on

2018-11-06
via

Tripadvisor.com
Очень хороший отель! Похож больше на маленькую греческую деревушку))) Есть свой шарм. Очень чистый, зеленый. Есть пляж с песком и вход со скал (более спокойно на скалах, меньше детей). Кормят очень вкусно, свежее и много)))) всё очень понравилось. Отдыхали с семьей 3 года подряд, потом захотели в новое место.
Renate
on

2018-11-05
via

HolidayCheck
Sehr schöne, gepflegte Anlage, die aus vielen einzelnen Gebäuden besteht. Insgesamt sechs Pools. Sogar eine kleine Kirche gibt es. Jeder findet hier seinen Lieblingsplatz, ob ruhig oder mit Animation. Es handelt sich zwar um ein "Family-Hotel", aber meiner Meinung nach trotzdem für Paare genauso geeignet. Transfer 30 Minuten.
Karl894
on

2018-11-04
via

Tripadvisor.com
We have just returned from a lovely family holiday at the hotel, having travelled with my wife, daughter, son-in-law and two grandchildren. The hotel is exactly as described in the brochure and made up of villas and apartments located around the main hotel building, the grounds in which the accommodation is located are beautiful with lovely colourful flowers and plants set out in the style of a Cretan village. It took a day or two to familiarise ourselves with the layout of the site in order to locate the many varied pools, restaurants and facilities that were on offer. The Athina is the largest restaurant and could get very busy for breakfast, lunch and evening meals, however the staff were always able to accommodate our party of 6 with a table throughout our stay. The food on offer was plentiful, varied and catered for all requirements. Similarly, the Thalassa restaurant is much smaller and located on the beachfront and provided lovely views of the bay and small harbour. Again, the food here was exactly the same as that in the main hotel, although unlike the Athina it was only open for breakfast and evening meals. Lunch was also catered for in the La Pergola restaurant located adjacent to the main pool area which provided a good selection of food and was well attended. There are 4 A La Carte Greek (Zorbas), Asian (Nami), Italian (Firenze) and Seafood (Poseidon) restaurants and we were fortunate to be able to eat in each one of them during our stay and found the food provided to be excellent and the experience of eating in these restaurants was an added bonus to our holiday. I would just like to mention how hard working the staff were throughout the hotel in the restaurants and bars, nothing was too much trouble for them and they provided excellent customer service and always found time to amuse our grandchildren, which was greatly appreciated. The animation team were excellent and are one of the best teams that we've encountered during our many varied holidays and the entertainment provided in the outdoor amphitheatre during the evening was varied and very good. There are bus stops located directly outside the hotel and we took the opportunity to visit both Hersonissos one day and Agios Nikolaos on another, having also walked into Stalis which was only a 20/25 minute leisurely stroll from the hotel and provided lovely sea views. All in all, a lovely holiday in a lovely location and one which provided many happy memories for us all, can totally recommend Nana Beach to provided everything needed for a family holiday.
CISP MM AG S
on

2018-11-04
via

Tripadvisor.com
We stayed at the Nana Beach Hotel for a week during the October half term holiday. It is a very clean hotel with excellent catering and there was a great deal of choice at the buffet every night. My wife is coeliac and food allergens were always displayed with gluten free alternatives such as deserts available. The Greek restaurant was particularly good - excellent lamb. The hotel is within walking distance to the beach and canoes and pedaloes are available at no extra cost. The beach is very clean, however, it would have been nice to have a no smoking area on the beach. The staff were very friendly and helpful and the beach food outlet was very good with all meals cooked fresh to order. My only concern is that we were fortunate to go to the hotel during a quiet time and I think that the hotel may struggle during peak times to accommodate larger numbers of guests, in relation to the number of restaurants, bars, food outlets and general room on the beach. Maybe turn the disco area (that was particularly empty every time we went past it) into another restaurant? Just a suggestion. Also, the hotel needs updating, some areas look a bit worn out. However, the garden areas and walkways at the hotel are kept to a very high standard. In my opinion, if the hotel can make these changes, then we are definitely looking at a 5 star rated hotel. But still a very good 4.
Averil L
on

2018-11-04
via

Tripadvisor.com
Had another fab holiday at Nana Beach my 4th visit there gets even better had a room over looking fish restaurant lovely location.met up with friends from the first time we visited we try and meet up every year. The staff make you feel welcome and remember your face Efi Karali made our holiday in the main restaurant lovely smile and a very warm greeting was sad to see her leave on her last day at Nana Beach hope she will return next year we looking forward to meeting her again.. about the hotel the grounds and gardens are beautifully kept and very tidy,the rooms lovely and spacious very clean the made did a excellent job keeping our room very tidy leaving us flowers and sweets keep up the good work.Everyone made our Holiday very welcoming even down to Alex n Manager we where sorry to leave the beautiful hotel.Hope to see you all next year and thank you all at Nana Beach you all do a very good job!!! Xxxx
Anonymus
on

2018-11-03
via

HolidayCheck
Die Anlage ist groß und wirkt durch die kleinen "Gassen" wie ein kleines Dorf in mitten einer Grünanlage. Nur der epische Kampf um die Liegen ging einem enorm auf die Nerven. Man hat das Gefühl, dass sobald die Sonne aufging die Liegen wie von Zauberhand belegt werden. Ein negativer Eindruck ist hängen geblieben; die enorme Müllproduktion. Für alles außerhalb der Restaurants werden Pappteller, Pappbecher, Einweggeschirr, Strohhalme und Einwegflaschen verwendet - aus Sicherheitsgründen. Hier sollte sich die Leitung aber wirklich was zeitgemäßes einfallen lassen.
Tobias Slawik
on

2018-11-02
via

Google
Das Hotel an sich ist super. Es ist eine große Anlage wo man sich wirklich toll erholen kann. Das Personal ist super freundlich allerdings für ein 4 Sterne Hotel lässt die Sauberkeit etwas zu wünschen. Wir haben es uns toll erholt. Auch mit Kindern kann man hier schön baden, es gibt auch Animation für Kinder