Nana Beach Hotel

,
Crete

,

Greece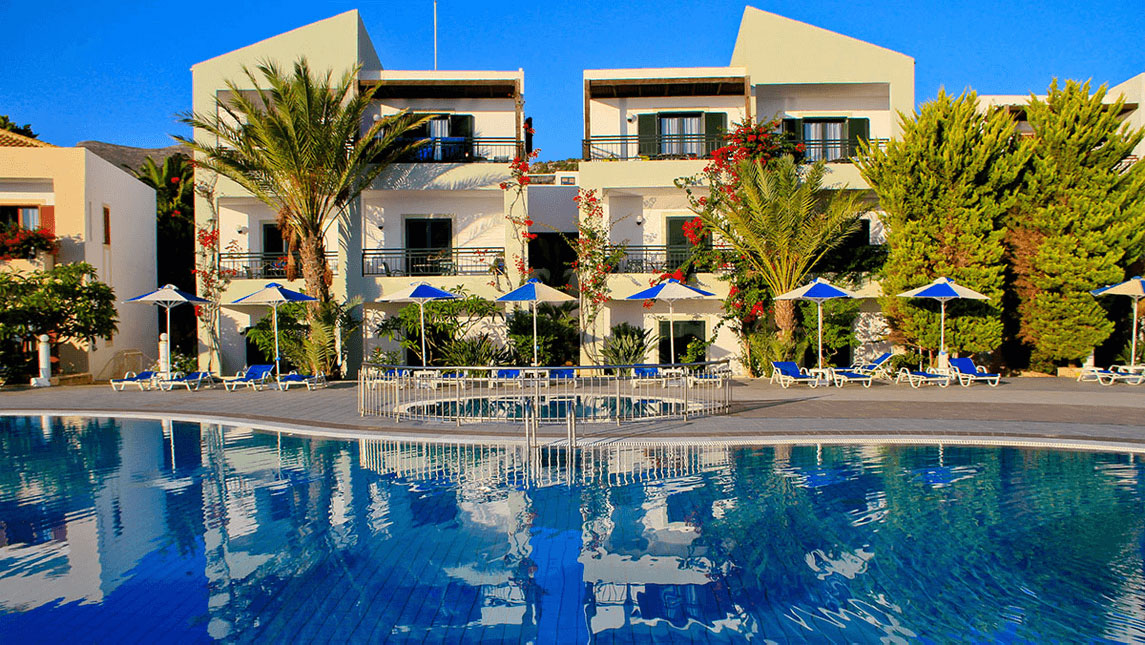 Most talked about:
Hotel Overall
Grounds & exterior
Swimming Pool
Most satisfied with:
CLEANLINESS
Kitchen
Design
Most disliked:
Bathroom cleanliness
Family & kids friendly is nice.

Animation, entertainment, nightlife, music is nice.

Great Atmosphere, friendliness.

"nettes Personal"

"Männer"

"little child"

"ganze Familie"

Guests are very happy with the Swimming Pool.

Hotel age is nice.

Guests are OK with the Hotel maintenance.

"swimming pools"

"main pool"

"main building"

"special mention"

Overall CLEANLINESS is excellent.

Average Room cleanliness.

Guests are not happy with Bathroom cleanliness.

"gepflegte Anlage"

"saubere Anlage"

"komplette Hotel"

"Mini fridge"

Guests are very happy with the View.

Bathroom is acceptable.

Room size is nice.

"neues Zimmer"

"ground floor"

"Gäste"

"moderne Duschen"

Guests are very happy with the Breakfast.

Guests are OK with the Dining experience.

Pizza, Pasta, Salads, Snacks, etc is acceptable.

"schönes Plätzchen"

"letzten Jahren"

"la carte"

"fresh fruit"

Staff friendliness & competence is excellent.

Average Service.

Guests are OK with the Reception.

"management team"

"hotel staff"

"t mind"

"friendly staff"

Average value for money.

Food & drinks price is excellent.

Great Food price.

"fruit basket"

"Essen Das Essen"

"Familien das Rundumpaket"

"kostenlos essen und trinken"

Night life & dining is good.

Guests are very happy with the Shopping.

Guests are very happy with the Distance to beach.

"direkte Strandlage"

"Athena restaurant"

"Hälfte"

"Direkte Strandlage"

Wifi price is below average.

"free wifi"

"free WiFi"

"WLAN kostenpflichtig"

"Safe und W-Lan kostenpflichtig"
0030 2897030100
http://www.nanabeach.gr/
Thomas Tamanini
on

2020-05-17
via

Google
carine a
on

2020-04-02
via

Tripadvisor.com
mes meilleures vacances , un endroit magnifique , plein de fleurs , un vrai petit village à lui seul, personnel super , propreté , animations, piscines nombreuses par les uns contre les autres , vraiment l'endroit idéal dont je ne saurais me passer
Ludmila Beshkareva
on

2020-03-10
via

Google
Классный семейный отель. Очень красивая территория с потрясающими видами. Питание - было всё (кальмары, мидии, большой ассортимент мяса, рыба, сладости, разнообразие фруктов и овощей). Номера комфортабельные. 2 пляжа: каменистый - подходит для спокойного отдыха без детей, есть организованные спуски в воду, а вот второй подходит для детворы, т.к. он песчаный и с пологим заходом, но по нему маленький момент- буквально метра 2 в глубь дно каменистое! По вечерам развлекательная программа. Кстати, если вы любите кальян, в этом отеле его делают очень круто! За 20 минутах можно дойти до центра, где разнообразие всей инфраструктуры. Для любителей ночной жизни - рекомендую NEW YORK, PALM BEACH, CLUB SENSATION.
raum67
on

2020-03-05
via

Tripadvisor.com
Отличное расположение.замечательный пляж,предупредительный персонал,современные и удобные номера!Питание выше всяких похвал!Много ненавязчивых мероприятий .тихие и активные зоны в отеле разделены.будет интересно как молодежи,так и людям в возрасте.Всем рекомендую!
Ronny Grosch
on

2020-03-05
via

Google
Immer wieder ein Erlebnis! Tolle Location, tolle Belegschaft! Super Service!
Nightmxre _
on

2020-02-29
via

Google
Omg the food is outstanding the animation team are so helpful the weather is amazing periodt
taramK1364SU
on

2020-02-29
via

Tripadvisor.com
Came for our third visit in July 2020 for one week to celebrate my 21st birthday with my mum. Unfortunately we were placed in one of the blocks that hadn't been refurbished yet, and it was looking extremely dated however everything worked perfectly inc. air conditioning so we were happy enough. I am looking forward to returning in the near future and seeing the new rooms. Every single member of staff we encountered was lovely, and always made us feel so welcome. The adults only pool is usually fairly quiet which was ideal for us, although some people did bring their children in who were splashing around and being quite noisy. Didn't take long for the parents to notice the glares from everyone around though, so they usually shifted! Would be good though if there was a staff member ensuring that there was only adults there just occasionally throughout the day. My favourite part of the entire resort though has to be the a la carte restaurants. I think that the Italian is my favourite, the food is just divine! But all three of them are excellent, and the views from the Greek restaurant are absolutely unbeatable. The food in the main restaurant is also good quality, but if you can get into all of the a la carte restaurants, I strongly recommend it. Also, Dina at the beach bar makes lovely food for lunch and she is the most wonderful lady. She has been working there for all three of our visits and it is great to have such a brilliant member of staff working for the hotel, they should be very proud. We didn't leave the hotel at all during the trip, one because it was too hot but also because it is just such a lovely place. Going down to the beach, or onto the little rocky areas with sun loungers makes a nice change from the pools, and it is often quieter over there too. The entertainment has gone significantly down hill since we came the last time - previously all of the entertainment team would put on real shows, learning lines or even improvising on stage. Now it seems to be just lip-syncing, though that seems to be the case at hotels everywhere, which is unfortunate. However, it didn't matter too much to us as we spent most of our evenings at Panorama, which is just lovely. The bar tenders there are great and make delicious drinks! We didn't want to leave, and we will definitely be back again soon. We first came in 2012, then 2014, and we have come with my younger brother both of those times so we have seen the hotel from both the family aspect and the adults aspect. In both respects it is absolutely enjoyable and I would recommend it to anyone who gets the opportunity to visit!
Deraxious Dread
on

2020-02-29
via

Google
Omg the food is outstanding the animation team are so helpful the weather is amazing periodt
Алексей Голубкин
on

2020-02-28
via

Google
Хороший отель. Есть пляж с песком. Он плохой. Купаться лучше со скал. Имеются лестницы. Очень удобно. Отель советую.
Devrim
on

2020-02-25
via

HolidayCheck
Wir waren zu dritt in der Zeit vom 18.10. bis 30.10.2019 im Nana Beach. Da wir einen Mitreisenden im E-Rollstuhl dabei hatten, haben wir ein Bungalow mit Meerblick gebucht. Das Zimmer war absolut rollstuhlgerecht. Der breite E-Rolli konnte sich dort gut bewegen. Das Badezimmer war riesig. Die Dusche ebenerdig und ohne störende Türen. Die Toilette hatte Haltegriffe. Leider hab ich am Rande mitbekommen, dass das Hotel saniert werden soll und dass die Überlegung da ist, dieses eine rollstuhlgerechte Zimmer abzuschaffen. Ich finde bei so einem großen Haupthaus und so vielen Bungalows ist es doch ganz wichtig, dass ein Zimmer welches rollstuhlgerecht ist, bestehen bleibt. Zusätzlich waren die Zimmer sehr sauber. Es wurde jeden Tag gereinigt. Alle Angestellten im Hotel sei es an der Bar, im Restaurant oder an der Rezeption waren super nett, hilfsbereit und immer freundlich. Ich hoffe, dass das rollstuhlgerechte Zimmer bleibt. Wenn es so ist, werden wir auf jeden Fall dort nochmal Urlaub machen wenn auch nicht in diesem oder im nächsten Jahr
ladytrevi63
on

2020-02-24
via

Tripadvisor.com
Bellissimo resort sul mare composto da più edifici di diverse dimensioni. Vari i bar e ristoranti, da provare il Poseidon una chicca, ma serve la prenotazione (da fare assolutamente appena arrivati) buoni anche gli altri! Nella zona centrale si trova anche un piccolo spaccio dove è possibile trovare anche le sigarette. Graziosa la piccolissima Chiesetta Ortodossa di San Nicola. Curatissimi i vialetti pieni di piante e fiori muniti di Codici QR x scoprire i nomi e le caratteristiche. Varie sono le attività sportive e escursioni che si possono organizzare. Dislocate in punti strategici delle stupende piscine, da quelle super affollate con musica a palla, a quelle silenziose, rilassanti e con idromassaggio! Sono disponibili gratuitamente i teli mare presso le piscine. Piccole piazzole sugli scogli accolgono ombrelloni e lettini, e bene munirsi di scarpette da mare anche se l'ingresso in acqua avviene tramite scalette in acciaio. È possibile accedere anche ad una piccola spiaggia privata di sabbia e attrezzata, vicinissimo c'è oltre a un ristorante, una pizzeria/paninoteca x uno spuntino veloce! Tutto molto pulito e curato. Le camere: noi avevamo a disposizione una stupenda camera doppia (stanza con letto matrimoniale + stanza con 2 letti singoli) super confortevole con un bellissimo terrazzo con vista mare che ci ha regalato tramonti meravigliosi . Wi-Fi disponibile in tutto il villaggio. È possibile affittare un'automobile presso la hall, anche perché fuori dal villaggio nn vi è granché, il primo villaggio dista 10/15 minuti a piedi. La capitale si trova invece a 20/30 minuti dal Nana Golden Beach. Personale sempre sorridente e gentile, una menzione speciale al direttore del ristorante Poseidon che ci regalato con le sue prelibatezze serate indimenticabili.
Саша Юренков
on

2020-02-23
via

Google
Хороший отель где можно отдохнуть
Matt_RJ87
on

2020-02-22
via

Tripadvisor.com
Overall: highly recommend, would stay again. Pros: Friendly & attentive staff. Gregoris at the Asian Restaurant is a credit to the hotel! Excellent food & drink. Plenty of choice & can take bottles of wine back to room when bar closes if you want a nightcap. Animation Team were brilliant & great with the kids. Pro shows also great. Pro-environmental was pleasing to see. Good access to local areas which were also awesome. Criticisms: electrics hard to fathom in room & air con wasn't great. Had an ant problem but staff sorted it. Occasional queues for breakfast. Expect a room tax and safe charges. Bit of a wait to get to room on arrival.
Maxinom uwu
on

2020-02-02
via

Google
m p
on

2020-01-30
via

Google
Sergiy Minesenko
on

2020-01-23
via

Google
Karsten Röhrs
on

2020-01-19
via

Google
Sehr schöne Abage. Das Reinigungspersonal war nur manchmal sehr laut.
Oleksandr Virga
on

2020-01-10
via

Google
Excellent hotel! Very big and wonderful territory with many swimming pools, areas to relax and have fun, delicious food, good offers for drinks. What was not very good is a beach - it is too small for all people. Also, it was windy sometimes and it was not very hot at the end of September.
Сергей Ванютин
on

2019-12-26
via

Google
I like it. it was cool.Μου αρέσει. ήταν υπέροχο.
Grieb S
on

2019-12-26
via

Tripadvisor.com
We spent 1 week at Nana beach in July with our 2 years old daughter. It was over our expectations. The hotel is very family friendly, there is a lot of things to do for adults and children. Clean rooms and pools, special pools for children, very good food and drinks. It was totally relax period for us. It was our first holiday in Greece, but surely not the last. We can say that it was one of our most beatiful holiday. Many thanks to the great staff that make this possible. We have no experienced negative things during that 7 days so we highly recommend this hotel especially for families with children.