Sun Beach Resort Complex

,
Ialyssos

,

Greece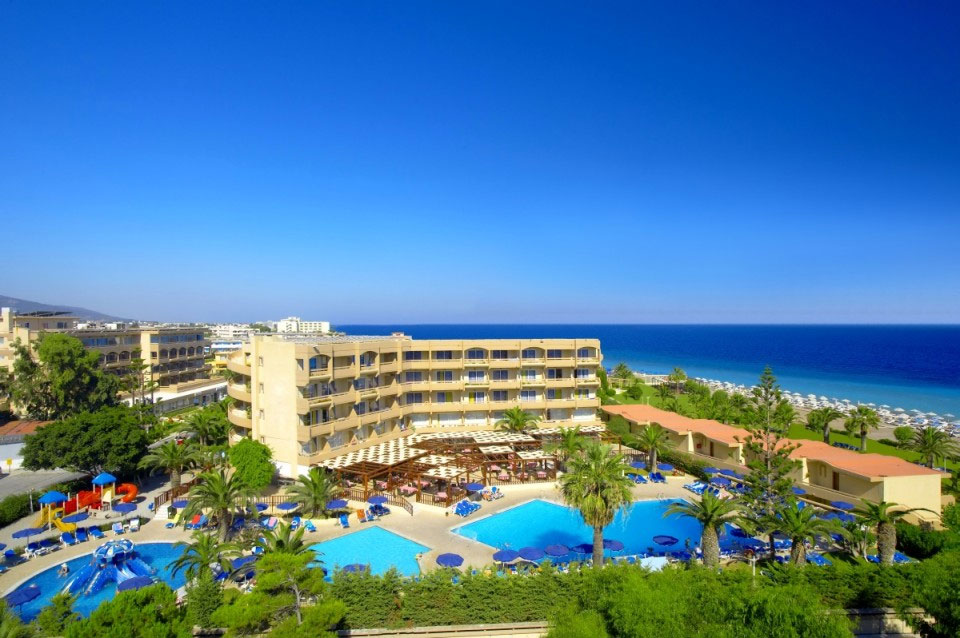 Most talked about:
Hotel Overall
Swimming Pool
Family & kids friendly
Most satisfied with:
Management
Amenities
Business traveler friendly
Most disliked:
Room amenities
Distance to airport
Family & kids friendly is excellent.

Guests are very happy with the Animation, entertainment, nightlife, music.

Guests are very happy with the Atmosphere, friendliness.

"teenage boy"

"younger children"

"family trip"

"personal sehr freundlich"

Guests are OK with the Swimming Pool.

Hotel age can be improved.

common areas - lobby, lifts, launge, entrance is good.

"direct access"

"pool area"

"sun lounger"

"pool areas"

Guests are very happy with the Overall CLEANLINESS.

Room cleanliness is nice.

"Hygiëne"

"Sự sạch sẽ"

"clean towels"

"Tisztaság"

Bed could be better.

Average View.

Bathroom is acceptable.

"sea view"

"Les transats"

"bed apartment"

"ground floor"

Breakfast is excellent.

Guests are OK with the Dining experience.

Guests are OK with the Deserts & fruits.

"breakfast menu"

"buffet Minus"

"dinner Taking"

"evening buffet"

Great Staff friendliness & competence.

Average Service.

Reception is good.

"Friendly staff"

"hotel staff"

"friendly staff"

"younger waiter"

Great value for money.

Guests are OK with the Food price.

"extra money"

"complimentary fruit"

Night life & dining is acceptable.

Shopping is excellent.

Transport (taxi, car rental, transfers) is excellent.

"Rhodes Town"

"good restaurants"

"street restaurants"

"surfing station"
http://www.sunbeach-rhodes.gr/en/
Jolanda Jacobs
on

2017-10-21
via

Zoover
What kind off rooms you have
Marcel
on

2017-10-21
via

Zoover
Nice beach en beach volleyball, en nice staff.The least part was the state of the fitness equipment (they promised to fixe that next year)I have been in this hotel for the 5th time, so that says i5 all!
Baard-Erik Fossen
on

2017-10-20
via

Zoover
Elsker beliggenheten og folket !Kjøkken-delen kunne vært bedre utstyrt !
Николай М
on

2017-10-16
via

Tripadvisor.com
Как бы первая линия, но своего пляжа нет - общественный. Неплохая, хотя не слишком разнообразная еда. Корпуса (их шесть, кажется) разделены дорогой. Приехали рано, были заселены в номер другой категории, менять не просили, а сам отель и не напомнил. Интернет в моем номере (крыло Зевс) был от слова никакой. Единственный вариант - идти на ресепшн, хотя и там не всегда нормально работал. Заявлена бесплатная парковка. На деле мест свободных почти не бывает - как говорят на ресепшт, они принадлежат менеджменту, который даже несколько блокираторов поставил. Место для парковки арендованной машины придется поискать.
Portlandfarm
on

2017-10-15
via

Tripadvisor.com
Just got home. Facilities are excellent. Mosquitos are biting, food ( for the one meal I had in the resort) was ok, but needed a little more creativity on main dishes. Maid service top notch, clean, and most importantly, comfy beds. Would I recommend? Certainly, both as a resort, and as an Island to visit. Take insect repellant though, and lather it on !
Anonymous
on

2017-10-14
via

Booking.com
+Bekväm lägenhet. För kallt i poolen.
Ronit
on

2017-10-14
via

Booking.com
-Not very comfertable for public transportation +2 rooms. Comfertble kitchen.
Dave P
on

2017-10-13
via

Tripadvisor.com
Hotel check in and reception were helpful and friendly, and it was easy to talk to them when we needed to, which wasn't often.  Room service was good,  came every day and kept the apartment clean and tidy. Safe was €18 for 2 weeks, we felt really safe the whole time we were there but we always get a room safe these days, just in case. We didn't use any of the hotel restaurants or bars except for trying 'happy hour' a couple of times.  The cocktails and long drinks where pricey so the 2 for 1 deal just brought them down to the same price as the other bars We had a low floor self catering apartment (0103) in the block nearest the sea, so we had a sea view and shade from the mid 20's sun which was lovely, nice to watch the ferries and cruise boats passing.  Self catering isn't really possible apart from very simple stuff, with a 2 ring hob and a microwave, but there is a kettle and a good coffee percolator.  Additionally, none of the local supermarkets had much in the way of meat or veg to buy. The room had aircon but it struggled to get the overnight temperature below 20°C.  We also had problems with bites,  bring your mosquito repellent,  there are less than there were but it won't help much! Pool was cold but bearable, bit of a rush for the sunbeds in the morning if you wanted a good place but there were plenty around.  The poolside music gets repetitive after 2 days, especially if you don't like rap.  At least the animation team where trying to get people going. Location is good,  with plenty of bars and restaurants nearby plus souvenir shops for those essential gifts.  We ate out every night and most lunches and would particularly recommend Pezouli and Osiris for food and service at decent prices. Also worth going to Bar Royal or Kavalieros for an evening drink and a laugh whilst watching the world go by.  Very little in the way of evening entertainment and the whole area was quite by 10:30pm ish. Bus to Rhodes Town picks up outside the hotel in the morning and it's cheap.  Definitely worth a visit to Rhodes Town, but be prepared to be ripped off,  it's pricey.  Watch out for 'a boot of lager', it can be expensive.  They'll try to entice you in to the bars by approaching you as you pass,  ignore them and pick one with seats in the shade. Loads of car, ATV, scooter and cycle hire available around Ialyśos.  We got a car from the hotel (Sun Cars) which was good, had a couple of days touring the island.  We also rented an ATV from a local place and had a good day out sightseeing. Local beach is pebbles/stones but there are sunbeds available for around €4 per day.
TonHoofddorp
on

2017-10-12
via

Tripadvisor.com
Prima kamer met twee een persoonsbed naast elkaar, een tafel met stoelen, tv en koelkast keukentje en apart toilet met bad. Op eerste etage met een balkon zat gunstig met de zon op het balkon. Was inclusief ontbijt, uit eten in de avonduren mogelijkheden genoeg, maar je kan ook compleet hotel nemen inclusief ontbijt en lunch. Is de voorkeur, ontbijt prima maar ja uit eten heeft dan mijn voorkeur.
Renate
on

2017-10-10
via

HolidayCheck
Wir waren schon sehr oft in diesem Hotel, es gefällt und immer noch sehr gut.Eswird auch ständig modernisiert und neu renoviert im Winter, so daß es immer auf dem neuesten Standard ausgerichtet ist
Frida L
on

2017-10-06
via

Tripadvisor.com
Rent og fint hotell, med nydelig frokost! Hyggelig betjening. Internettet var veldig av og på. Nærme stranda og gøye aktiviteter for de små. Blåser mye, men er bare deilig når varmen er sånn som den er!
alainaim
on

2017-10-06
via

Tripadvisor.com
hôtel idéalement situé, dans le village de lallyssos avec beaucoup de petits commerces et de loueurs de voiture, quad, buggy et autres. l'hôtel est partagé en deux (quand on est dans le n°1 il faut traverser une route pour aller à la plage). Grande chambre, propre et un peu ancienne. La nourriture variée mais Basic. Accueil de l'ensemble du personnel du site, parfait. Deux bémol: le vent et la mer agitée et pratiquement personne ne parle français. Malgré tout je recommande vivement cet hôtel car on s'y sent bien dès que l'on y arrive
minispouns
on

2017-10-05
via

Tripadvisor.com
Nous sommes partis en famille avec notre fille de 3 ans. Nous avons passé des vacances formidables! Merci à l'équipe d'animation qui a fait le maximum pour rendre notre séjour inoubliable! Un grand Merci!
sybo71
on

2017-10-04
via

Tripadvisor.com
On parle surtout anglais à Rhodes. Bâtiments pas terribles mais bien entretenus. Il y a un bâtiment côté champs Sun Beach 2 et l'autre en face Sun Beach 1 avec accès direct sur la mer. Plage avec galets (prévoir chaussures) et mer toujours agitée (baignade dangereuse beaucoup de courant) et du vent toujours du vent : horrible. Transats payants : 3 € / pers. Avions qui passent jour et nuit au-dessus de l'hôtel tellement près que l'on peut lire le nom des compagnies aériennes. Mais on s'y habitue et on les oublie. Chambre confortable et spacieuse. Décoration sommaire. Climatisée. Très propre. Serviettes de bain changées tous les jours et ménage bien fait tous les jours. Pas d'écran plat comme annoncé par le TO, mais une petite télé ancien modèle avec TV5 monde, seule chaîne française et qui ne fonctionnait pas bien du tout. Il y a des ascenseurs de partout, accès facile parfait pour les personnes à mobilité réduite. Personnel discret et efficace, courtois et sympathique avec des tenues propres. Animations correctes pour enfants et adultes. Restaurant principal : nourriture fraîche, variée et abondante, (porc, boeuf, poulet, agneau, poisson / tous légumes cuits et crus / soupes / pâtes, riz, boulgour / plusieurs variétés de pain, fromages, yaourts, confitures, fruits frais, pâtisseries excellentes, mousses chocolat, fraise..... Restaurant piscine : les snacks sont moyens mais appréciables et bien frais. Bar : correct mais cocktails AI infectes. L'eau en bouteille payante. Aller au supermarché de l'hôtel - 50 %. Piscines magnifiques et très propres. Autour de l'hôtel, magasins, bars, restaurants et pharmacie. Soirée typique grecque avec chanteurs chez Semis, en sortant de l'hôtel n° 2 à gauche, le samedi de 20 h à minuit, excellente cuisine et peu chère. Super. Avec les bus locaux, ne pas manquer la vieille ville de Rhodes, la merveilleuse Lindos. L'idéal est de louer une petite voiture au village (98 € la semaine) et de visiter toute l'île de long en large : une merveille tellement c'est beau. Excursions à faire avec les agences locales (- 50 %) et non avec l'hôtel car très chères. Chiens et chats errants. Village pas très propre. Hormis les éléments négatifs, c'est un très bon hôtel que je recommande pour tous de 7 à 77 ans. Bonnes vacances
lucygL2279FS
on

2017-10-03
via

Tripadvisor.com
Accommodation was amazing, spotlessly clean, although self catering maid came in every day to clean and make beds, sheets were changed regularly too!! Sea view with direct access from apartment to beach and 2 minutes to the pool. Entertainment Team were very engaging and fun, constant activities if required !! Would I return, definitely, with two 17 year old in tow who didn't not want to leave, says it all. Totally chilled out relaxed Holiday, Rhodes Town was full of surprises and well worth the visit.
OREN_B
on

2017-09-30
via

Booking.com
-WIFI לא ממש עובד, מספר מקומות חניה מצומצם. +ארוחת בוקר וערב טובות, צוות טוב כולל הפעלות לילדים, 3 בריכות כולל בריכה קטנה לילדים, בסך הכל מלון נעים עם חדרים מרווחים
meandutrips
on

2017-09-29
via

Tripadvisor.com
Three of us stayed in a one bedroom apartment. This was a return visit having stayed here a couple of times a few years ago. We were not disappointed. This time we were in Orfeus building and apartment was exactly as previous visits in Helios building. Bright spacious rooms and although the bathroom could do with an update (couple of cracked tiles and shower fitting bit wobbly - although loads of hot water) thoroughly enjoyed our holiday. Staff were all friendly and helpful and maid service excellent. Had a lovely view from our balcony. We hope to return.
allanmiller2
on

2017-09-28
via

Tripadvisor.com
The more I read reviews and write them I have come to realise that it is all about what you personally want and expect.We booked a studio apartment with a sea view.Ok the sea view was a bit limited by a canopy roof right outside our balcony but we still enjoyed sitting there having breakfast and lunch with the Turkish coastline in the background .The studio was certainly not 4*but the beds were really comfortable the shower despite being over the bath was really powerful and always piping hot.The complex is right on the beach and there is a choice of pools ....it's a short stroll to some amazing restaurants and tavernas and the local wines are brilliant.So all our expectations and needs were fulfilled
Bernhard
on

2017-09-25
via

HolidayCheck
Super Hotel, auch für Kinder bestens geeignet. Ausgezeichnete Küche und sehr freundliches Personal. Immer wieder gerne!
outi t
on

2017-09-24
via

Tripadvisor.com
Olimme varanneet huoneen Olympos-osasta, mutta saimmekin upean Deluxe Suite Apartment- huoneiston ylimmästä kerroksesta upeilla merimaisemilla. Huoneessa oli korkeatasoinen kalustus. Siistit pinnat ja siivous tehtiin päivittäin. Siivouksen jälki oli hyvä! Perheessämme on kolme tieni-ikäistä lasta ja joku kommentoija oli todennut ettei teineille ole hotellissa tekemistä, niin korjaan, kyllä heille on tekemistä, mm. Hotellin syvät altaat soveltuu isompien lasten uintiin, merenranta antaa sopivasti haastetta isommalle lapselle vaikka tuulisemmallakin kelillä, kuntosali, kaupat lähellä (uskaltaa antaa heidän itse kierrellä kauppoja) ja animaatiotiimi järjestää monenlaista ohjelmaa, osa niistä on hauskoja myös isommille lapsille. Pienen pieni pettymys oli se, että parvekkeellemme ei paistanut kuin aamuaurinko (klo 11 saakka). Kaikki rannan suuntaan olevat parvekkeet olivat siis suurimman osan päivästä varjossa. Hotellin edustavat valokuvat on otettu arvatenkin heti aamusta. Lisäksi meidän parvekkeelle tuli iltaisin runsaasti hyönteisiä. Hotellin kattovalot houkuttelivat ötököitä. Onneksi ovet ovat erittäin tiiviit ja ylimmässä kerroksessa hyttysverkolliset ovet, joten ongelma ei siirtynyt sisälle. Koko viikon aikana näimme vain yhden torakan. Sekin oli ulkoportaissa. Altaille aurinko paistoi neljään-viiteen saakka. Sen jälkeen aurinkoa saa vielä rannalla. Aurinkotuolit maksoi 6€ / 2 tuolia ja varjo. Kuitin säilyttämällä samana päivänä sai vielä palata takaisin, jos lähti välillä pois. Altailla aurinkotuoleja oli ihan riittävästi, erityisesti Helioksen puolella. Osa tuoleista kyllä tosi kuluneita ja jopa rikkonaisia. Olympoksen allasalue pienempi, vähemmän tuoleja ja suojaisampi tuulelta. Taste-ravintola kalliin oloinen. Drinkki maksoi 7€. Muutenkin kaikki ruoka & juoma hiukan kalliimpaa kuin muissa alueen ravintoloissa. Lentokoneet ei juuri häirinneet meitä, vaikka muutamana yönä niiden ääniin heräsinkin. Herkkäunisille voi olla iso miinus. Huoneen ilmastointi oli todella tehokas. Jopa niin tehokas, että öisin palelsi. Jos sen jätti laittamatta päälle, ilma tuntui loppuvan ja hiki tuli välittömästi. Lisävuode oli nojatuolista kyhätty peti. Epämukava aikuisenkokoiselle lapselle. Muuten sängyt ja tyynyt olivat hyvät, mutta peitteenä lakana ja viltti. Itse toivoisin korkealuokkaiselta hotellilta oikeita pussilakanoita. Viltti oli kuitenkin laadukas, inhottavampiakin on ollut muissa hotelleissa. Todella ystävällinen henkilökunta. Hyvin palvelualttiita ja hymyileviä. Animaatiotiimin henkilöt vaikuttivat oikein mukavilta, vaikka emme kovin moneen ohjelmaan osallistuneet. Pienille lapsille tarkoitetut leikkitilat, Bamse-kerhon tilat ym näyttivät viihtyisältä. Hotelli sopii oikein hyvin perheille. Viikon aikana oli pari todella tuulista iltaa, silloin parvekkeella ei voinut istua ja ravintoloissa (ulkona) piti olla pitkähihainen paita. Muuten lämmintä riitti! Taste-ravintola oli ainoa, jonka palveluja käytimme, joten muista en osaa sanoa mitään. Aamupalalla näytti välillä olevan ruuhkaa. Autovuokraamo on vastaanoton tiloissa. Vuokrasimme auton yhdeksi päiväksi, josta jäi pelkästään positiivinen kuva. Työntekijät erittäin ystävällisiä, puhuvat hyvää / selkeää englantia ja kaikki sujui äärimmäisen hyvin. Vuokrahinnat lähtee noin 40€ ylöspäin. Vuokraamamme auto oli siisti ja uusi. Sillä oli helppo käydä tutustumassa saaren toiselle puolelle. Lähtöpäivänä huone luovutettiin klo 12. Laukut jätettiin säilöön ja muut hotellin palvelut vielä käytössä loppuun saakka. Mahdollisuus käydä lopuksi suihkussa. Suosittelen hotellia omien kokemusten perusteella niille, jotka hakevat perushyvää hotellia, aurinkoa ja lapsille tekemistä. Tähtiluokitusta miettiessäni, voisin antaa 3,5 tähteä, mutta koska puolikkaita tähtiä ei voi antaa... huoneemme oli korkealuokkaisempi, enkä nähnyt muita huoneita (kuluneempia) annan neljä tähteä.