Sun Beach Resort Complex

,
Ialyssos

,

Greece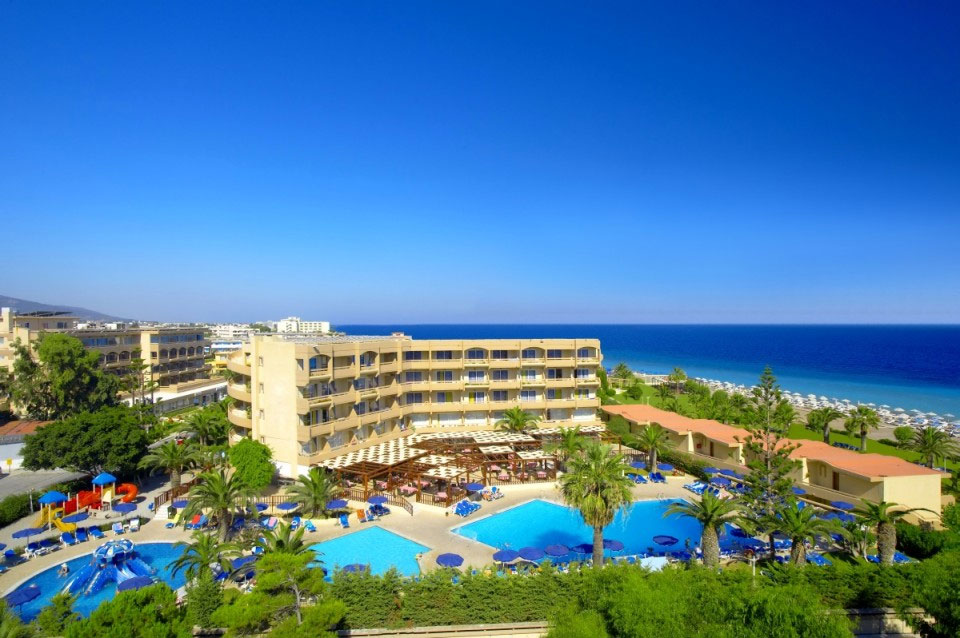 Most talked about:
Hotel Overall
Swimming Pool
Family & kids friendly
Most satisfied with:
Management
Pool Cleanliness
Comfort
Most disliked:
Distance to airport
Room amenities
Air conditioning
Family & kids friendly is excellent.

Animation, entertainment, nightlife, music is acceptable.

Guests are very happy with the Atmosphere, friendliness.

"Good fun"

"entertainment team"

"mini club"

"teenage boy"

Swimming Pool is good.

Hotel age can be improved.

Sport facilities can be improved.

"Pool bar"

"pool areas"

"great pool"

"cold water"

Overall CLEANLINESS is excellent.

Guests are OK with the Room cleanliness.

"Clean hotel"

"Clean room"

"standard double room"

"clean rooms"

Guests are OK with the Bed.

View is acceptable.

Bathroom can be improved.

"nice view"

"sea view"

"sun beds"

"main road"

Guests are very happy with the Breakfast.

Average Dining experience.

Guests are OK with the Deserts & fruits.

"huge selection"

"evening buffet"

"good breakfast"

"Süden"

Great Staff friendliness & competence.

Service can be improved.

Reception is excellent.

"restaurant staff"

"Reception check"

"friendly staff"

"Friendly staff"

value for money is excellent.

Food price can be improved.

"extra money"

"complimentary fruit"

Night life & dining is good.

Shopping is nice.

Guests are OK with the Transport (taxi, car rental, transfers).

"Car hire"

"Rhodes town"

"local shops"

"Rhodes city"
http://www.sunbeach-rhodes.gr/en/
Lena Edfeldt
on

2019-06-18
via

Google
Teemu Siukola
on

2019-06-15
via

Google
Александра Кирюшкина
on

2019-06-14
via

Google
Хорошее место. Чистое и комфортное.
Sonja Nauska
on

2019-06-14
via

Google
Siisti hotelli, hyvät sängyt, ystävällinen ja avulias henkilökunta. Ruoka puffassa hyvät ruoat ja jälkiruoka pöytä upea. Voisin tulla uudestaan
Phillip P
on

2019-06-12
via

Tripadvisor.com
Pleasant staff. Clean hotel. Clean room everyday. Kids entertainment was great. Selection of food was brilliant and different everyday. My only not so good comment is the food temperature. The food was not hot on any meal I had. Also the toaster is terrible in the morning. It takes 4 goes to slightly brown your bread. Other than that... excellent place
eLiaS
on

2019-06-12
via

Google
zupergurkan_94
on

2019-06-12
via

Tripadvisor.com
Genuinely nice and pleasant staff. The buffet (breakfast, lunch and dinner) is high class. The rooms meet all our requirements, though they could have been a bit more elegantly designed considering the fact that it is a 4 star hotel. Very good evening entertainment for all ages. Many services are provided by the hotel. The three pool areas are splendid.
Petra
on

2019-06-10
via

Agoda


Teilweise abgewöhnt und renovierungsbedürftig, das Personal versucht indess wirklich alles um den Urlaub so schön und unvergesslich zu machen. Sehr gute Lage, viele preisgünstige Tavernen in wenigen Minuten erreichbar. Liegen am Strand müssen bezahlt werden. Das waren wir in Griechenland nicht gewohnt.
Bernard Wheeler
on

2019-06-10
via

Google
Very good hotel not to busy plenty of staff around to help you, good quality of food and plenty of choice.
Bob
on

2019-06-10
via

Booking.com
Excellent housekeeping. Comfortable room and bed. Good balcony with nice view. - Hotel restaurant ( buffet) could have been better. Food not all as fresh as it could have been.
Companion10392519650
on

2019-06-09
via

Tripadvisor.com
We stayed at the Sun Beach Resort Complex in Rhodes the last two weeks in May 2019 on the half board basis. We found the hotel excellent – very clean and well appointed. The large variety of buffet food in the Artemis restaurant was well prepared and delicious. There were other cuisines but mainly a nice amount of Greek dishes. We found all the staff – in both receptions, housekeeping, car hire, and shop – extremely helpful and friendly. Roussos Giannis, the Maitre D Hotel in the restaurant and all of his staff could not have been more polite, efficient and friendly, going over and above to make you feel welcome and looked after.
Zacki budol
on

2019-06-07
via

Google
Mycket vackert resort och anpassar alla människor top best services tre olika pool strand precis utanför hotel nära alltid
Tasos Migkos
on

2019-06-05
via

Google
Very good choice! Great sea view!
Luc
on

2019-06-05
via

Booking.com
la posizione, lo staff, i servizi - Niente
Lainey M
on

2019-06-03
via

Tripadvisor.com
We have stayed in this hotel multiple times in the past 17 years and are never disappointed. Very friendly, helpful staff, (particularly Nicos , Michael and Yannis who seem to go above and beyond), the rooms are always comfortable and very clean. The pool area is lovely and the resort is only a short walk away from the beach, bar and restaurant areas. We would definitely recommend for couples and families and we will definitely be visiting again.
Martin Olsson
on

2019-06-02
via

Google
Mysigt Hotel med trevlig personal
Edeltraud Steinbach
on

2019-06-02
via

Google
4* Anlage direkt am langen Kiesstrand. App. O k . Wurde jeden Tag gereinigt. Wir hatten ohne Verpflegung gebucht.Einflugschneise z Airport ging direkt über uns hinweg. Wenn s nicht stört, der ist hier gut aufgehoben.
Naomi
on

2019-06-01
via

Zoover
Erg mooi, schoon en modern hotel, zeer vriendelijk personeel die bereid zijn je met alles te helpen. Leuk voor gezinnen met (jonge) kinderen door de kinderbaden en mini club. Wel ligt het hotel precies onder de aanvliegroute van de luchthaven (die daar dichtbij ligt) dus je hoort en ziet wel telkens vliegtuigen over vliegen, dus als je hier gevoelig voor bent kun je misschien beter een ander hotel uitkiezen. Goede ligging, aan het strand en met veel restaurantjes en winkeltjes in de buurt. Wat we wel jammer vonden is dat er geen airco is voor 1 juni (is centraal geregeld), wij waren er eind mei en vonden slapen met 24 graden 's nachts toch best warm. Toen we er naar vroegen werd er wel een ventilator/aircooler aangeboden. Diverse entertainment 's avonds voor de liefhebbers. Hotel heeft kleine supermarkt die wel enorm duur is maar goed dat heb je overal. Goede prijs/ kwaliteit verhouding. Al met al voor ons zeker een aanrader!
Antti Poikelus
on

2019-05-31
via

Google
Tilava huoneisto (kaksio). Näkymä merelle ja ranta 100 metrin päässä. Miellyttävä ilmapiiri, myös sään puolesta. Lentoliikenne Ixian yli aika vilkasta, ei isommalti häirinnyt.
tygo elshoff
on

2019-05-31
via

Google
Goed hotel met leuke en gastvrije mensen. En het begin van het seizoen is er helaas nog weinig te beleven