Sun Beach Resort Complex

,
Ialyssos

,

Greece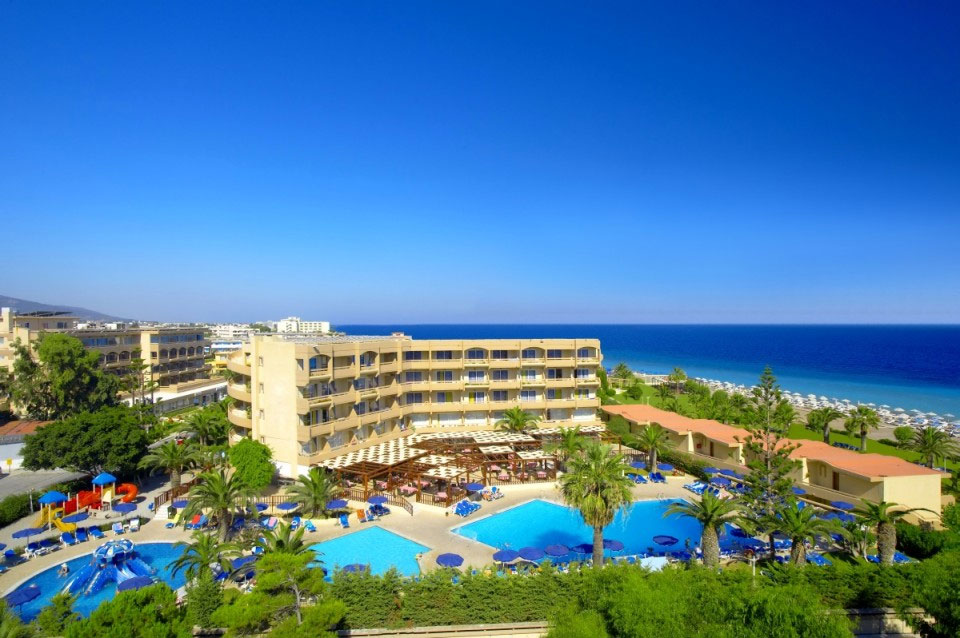 Most talked about:
Hotel Overall
Swimming Pool
Family & kids friendly
Most satisfied with:
Management
Pool Cleanliness
Parking
Most disliked:
Room amenities
Distance to airport
Air conditioning
Family & kids friendly is nice.

Average Animation, entertainment, nightlife, music.

Guests are very happy with the Atmosphere, friendliness.

"Good fun"

"entertainment team"

"mini club"

"teenage boy"

Average Swimming Pool.

Guests are OK with the Hotel age.

Guests are OK with the Sport facilities.

"Pool area"

"special mention"

"pool area"

"pool bar"

Guests are very happy with the Overall CLEANLINESS.

Great Room cleanliness.

"Chambre propre"

"Hygiëne"

"Sự sạch sẽ"

"clean towels"

Bed is good.

Average Bathroom.

View is acceptable.

"sea view"

"sun beds"

"main road"

"sun bed"

Great Breakfast.

Dining experience could be better.

Deserts & fruits is acceptable.

"huge selection"

"evening buffet"

"good breakfast"

"Süden"

Staff friendliness & competence is excellent.

Guests are OK with the Service.

Great Reception.

"Reception check"

"friendly staff"

"Friendly staff"

"Les transats"

value for money is excellent.

Food price is good.

"extra money"

"complimentary fruit"

Guests are OK with the Night life & dining.

Shopping is excellent.

Transport (taxi, car rental, transfers) is acceptable.

"Rhodes town"

"local shops"

"Rhodes city"

"bus stop"

Guests are OK with the Wifi price.
http://www.sunbeach-rhodes.gr/en/
Nisse Skogman
on

2019-03-05
via

Google
Nico A
on

2019-02-12
via

Tripadvisor.com
Séjour d'une semaine, dans cet hôtel. L'ensemble est correct, l'avantage de ce complex, est que vous pouvez aller dans tous les bâtiments du complex, 5 au total me semble t-il. Nous sommes parti en All Inclusive, la petite déception de ce coté la, les cocktails qui étaient déjà tous pré-préparé, du coup, alcool bas de gamme, pas de petit biscuit apéritif. L'autre inconvénient passé une certaine heure 23h de mémoire, tous les cocktails sont payant même pour les client All Inclusive. Sinon personnel accueillant, lingerie de lit changé régulièrement (tous les jours ou les 2 jours) A goûté également leur alcool local le ouzho qui ressemble fortement au ricard ou pastis que nous connaissons par chez nous. Nous avons également loué une auto afin d'aller jouer les explorateur sur l'ile assez sympathique de jolis paysage à voir. Pour les excursions préférer aller voir en dehors de l'hôtel, car les prix sont beaucoup plus abordable. 50% sur une visite de l'île de symi magnifique au passage. Puis pour finir cette semaine nous avons été mangé dans un restaurant le Cavo Italiano Restaurant qui à été excellent !
OnAir65714886331
on

2019-01-18
via

Tripadvisor.com
Good ackommodation and food,rooms were so clean and fresh.pool facilities not the best lovely and friendly personel. Not a very good location but acceplable and safe. wonderful activities for kids. i would not reccomend the pool activities for a learner.
Silent Silent
on

2019-01-05
via

Google
Sehr nettes Personal besonders nett zu Kindern. Buffet große Auswahl.
Allan B
on

2018-12-29
via

Tripadvisor.com
Vi boede på Helios Superior delen af hotellet, det er den der vender ud mod havet. Vi havde en super lækker lejlighed med udsigt til hav og pool området. Stor 3 rums lejlighed hvor vi snildt kunne være 3 voksne og 2 børn. Fin rengøring og skifte interval af håndklæder og sengelinned. Desværre et alt for lille køkkenbord, ja det var faktisk ikke eksisterende. Men alt ialt et sted der bare fungere.Vær opmærksom på at hotellet ligger lige under indflyvningsruten til lufthavnen. Vender gerne tilbage en anden gang.
siru_2 HD
on

2018-12-25
via

Google
Aurinko jäi aina iltapäivisin vähän sinne talon taakse ja silloin tuli kylmä mutta huoneet altaat sekä ruokala oli hyvät. Suosittelen myös mini dicsoa perheen pienimmille.
Nigel Lees
on

2018-12-14
via

Google
Good range of facilities. Good food and drink. Nice town and reasonable for sightseeing.
panosdiy
on

2018-11-23
via

Google
Miika Koivisto
on

2018-11-19
via

Google
Anouk
on

2018-11-19
via

Zoover
Wij komen hier al 20 jaar ,elk jaar weer!Een geweldige accomodatie,ligging en service!
A.J. Dusza
on

2018-11-17
via

Google
Mooi resort met goede kamers en appartementen. Kindvriendelijk.
john ketting
on

2018-11-07
via

Google
Super leuk ben er 1 week geweest en heb me er goed Kunnen vermaken ondanks de regen
Bengt E
on

2018-11-02
via

Tripadvisor.com
We enjoyed the stay from the beginning to the end. Everything was just perfect for us and we would very much like to come back to the Sun Beach sometimes. Extra plus for the nice cleaning woman. Thanks for this time.
Ezra
on

2018-11-02
via

Zoover
Super hotel met heel vriendelijk en behulpzaam personeel. Zeker aan te raden.
Andrea D
on

2018-10-30
via

Tripadvisor.com
We enjoyed our trip to Rhodes and the resort. It is convenient to the beach and the town of Rhodes. It is a relaxing atmosphere and the staff are helpful and friendly.The beds were very hard, so it was difficult to sleep, but the rooms were nice, as well as the pool and other services. The beach is full of pebbles, so it is difficult to walk on, but lovely to look at. There are plenty of restaurants within walking distance and the hotel has a shuttle to town so you can see the medieval town, which is wonderful.
Alice
on

2018-10-28
via

Booking.com
Rien La grandeur des chambres et l'ameublement. Belle cuisinette et grande salle de bain tout rénovée.
Inspiration626458
on

2018-10-26
via

Tripadvisor.com
Very clean and beautiful resort, very close to the sea. The staff speaks good English, were quite friendly and helpful. The kitchen is quite basic. We stayed in a 1 bed apartment which is really spacious and can conveniently sleep 4. The apartment has 2 toilets and bathrooms, we were lucky to be given a ground floor sea view apartment which was awesome with stunning view, the beach was about 50m. Lots of nice restaurants nearby and shops.
Johann Schönauer
on

2018-10-24
via

Google
Ich bin sehr zufrieden: Freundliche Bedienung, humane Preise an der Bar und im Restaurant, saubere Zimmer, gute Reinigung. Was will Gast für diesen Preis mehr? Ein herzliches Dankeschön !
raghildj
on

2018-10-23
via

Tripadvisor.com
Very pleasant stay in Sun Beach Hotel, Helios building. The hotel was a very comfortable and pleasant place to stay. We had a two room appartement with seaview, spaceous and well kept. Service was friendly, and the Food very satisfactory. Plenty of shops nearby, and intertainment for children in the pool area. Very pleased with calm atmosphere, and friendly staff.
Dimos Agathos
on

2018-10-22
via

Google
Δημοφιλές ξενοδοχείο με υψηλό επίπεδο εξυπηρέτησης και επαγγελματικό προσωπικό. Αρτια δωμάτια και πεντακάθαρα.