Sun Beach Resort Complex

,
Ialyssos

,

Greece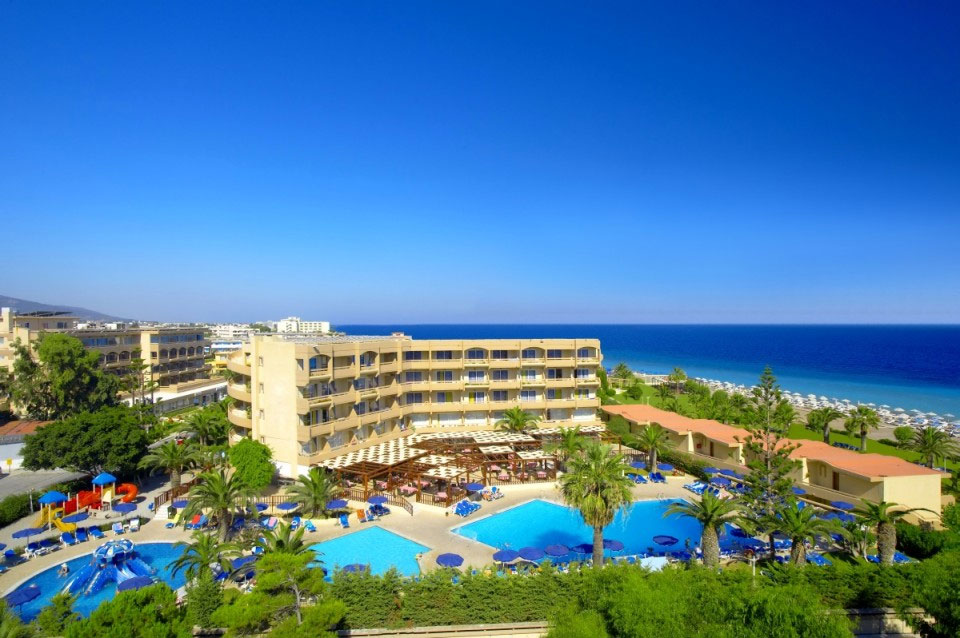 Most talked about:
Hotel Overall
Swimming Pool
Family & kids friendly
Most satisfied with:
Pool staff
Management
Pool Cleanliness
Most disliked:
Air conditioning
Guests are very happy with the Family & kids friendly.

Guests are OK with the Animation, entertainment, nightlife, music.

Great Atmosphere, friendliness.

"family holiday"

"kids club"

"entertainment team"

"Old City"

Great Swimming Pool.

Hotel age can be improved.

Great Hotel maintenance.

"août"

"swimming pool"

"bar area"

"pool area"

Overall CLEANLINESS is excellent.

Room cleanliness is excellent.

"room cleaning"

"clean sheets"

"Čistoća"

"clean hotel"

View is nice.

Guests are OK with the Bed.

Bathroom is good.

"sun beds"

"small kitchen"

"small shops"

"quiet area"

Breakfast is nice.

Average Dining experience.

Deserts & fruits could be better.

"Petit bémol"

"buffet style"

"restaurant area"

"bottle of wine"

Guests are very happy with the Staff friendliness & competence.

Service could be better.

Reception is good.

"bar staff"

"waiting staff"

"much trouble"

"t mind"

value for money is nice.

Guests are very happy with the Food price.

Guests are very happy with the Food & drinks price.

"extra money"

"complimentary fruit"

Night life & dining is acceptable.

Great Shopping.

Transport (taxi, car rental, transfers) can be improved.

"Rhodes Town"

"pebble beach"

"Rhodes city"

"main road"
http://www.sunbeach-rhodes.gr/en/
Börni Peters
on

2020-02-09
via

Google
Für Familien zum pauschalen
Leif Juselius
on

2020-01-29
via

Google
Alexandre MASSON
on

2020-01-25
via

Google
Séjour fin août. Le climat était quelque peu décevant avec beaucoup de vent pas forcément chaud... à 19h nous avions limite froid aux bords des piscines. Au niveau du complexe, chambres correctes et propres. Les piscines sont biens avec une taille et une température acceptables. L'accès direct à la mer Egee est plaisant (chaude+++ mais agitée) : prévoir des petites chaussures de plages car galets. Le buffet était de qualité avec diversité des produits proposés. Petit bémol pour les viandes rouges (je suis français
Familie met kind 9 jaar
on

2020-01-21
via

Zoover
we waren in augustus 2019 in dit hotel. FANTASTISCH hotel! SUPER lekker eten, zelfs beter dan buiten het hotel. We hadden een zee zicht kamer op de begande begrond, gerenoveerd met kitchenette en inloop regen douche. Zeeschonen zijn wel nodig, kiezelstrand.
Julia Kozlenko
on

2020-01-11
via

Google
Довольно старомодный отель. Инфрастркутура хорошая, ест свой пляж.
Sylvia Johnson
on

2019-12-31
via

Google
Love this hotel.great location close to the beatifull beach.room was lovely!spacious clean and very comfortable.the staff were lovely and helpfull.over all a great hotel and wonderfull family environment..we had a great holiday.
Thomas Gourdin
on

2019-12-06
via

Google
Bon hôtel, un peu vieux mais bien entretenu. Service de bonne qualité et très bon accueil. Chambre et repas très bons. Snacks au bord de la piscine excellents.
Sideways Nismo
on

2019-12-06
via

Google
Staff very nicely, services were also good. Pools were kept clean and sun beds were kept under control. Staff were very well knowedged and always had answers to your questions aswell as were very willing to work with you to help find solutions. However, gym facilities could do with some major improvements and there could have been a wider range of foods available. Overall would recommend for a 1 week affordable trip to the sun
mawa1971
on

2019-11-20
via

Tripadvisor.com
Åkte med familjen på november/läslovet. FANTASTISKT ställe, om än lite trist då det visade sig att det här var sista veckan anläggningen höll öppet, vi var bland de sista gästerna att lämna hela området. Vilket visade sig i stängda butiker, stängda restauranger osv. Men vad gör det när de restauranger och butiker som höll öppet var superba! 50 meter till stranden, härliga pooler vid hotellet, UNDERBAR frukostbuffé. Rekommenderar ett besök på Casa Italia - kan absolut vara den godaste pasta och pizza jag ätit! Missa heller inte The cake box, ett fantastiskt konditori med glass, smörgåsar, bakelser och allt annat gott man kan tänka sig, till ett jättebra pris dessutom! Vi köpte härliga tonfiskmackor och tog med oss till stranden, riktigt nice. Tog taxi in till Rhodos stad där i alla fall jag kunnat spendera en hel dag i gamla stan, lätt! Ett jättefint hotell, fina pooler, nära strand och shopping, nära Rhodos stad. Jag kommer att åka tillbaka, med mina systrar nästa gång!!
Ольга Ф
on

2019-11-06
via

Tripadvisor.com
У нас был комбинированный тур, который начинался в Афинах, поэтому отель искали по вменяемой цене и отмели сразу все пятизвездочные отели. Комплекс довольно большой, корпуса расположены на первой, второй и третьей береговой линии. Много бассейнов и хорошая ухоженная территория. Мы взяли номер по акции и попали на третью линию, но совершенно не были расстроены. Отличный чистый номер со всем необходимым и с собственной кухней, где даже можно готовить. В номере есть чайник, кофеварка, тостер и вся необходимая посуда. Хороший приветливый персонал. Номер убирали каждый день. До пляжа рукой подать, очень тихое место для спокойного отдыха , когда есть желание убежать из мегаполиса.
DAvid Pablo Rossi
on

2019-11-06
via

Google
Un Hotel con una vista maravillosa a la playa lastima que cierra respetando el año escolar el 1 de noviembre. Un solo día nos hospedamos allí y fue muy bueno volvería por el trato del dueño; no así de sus recepcionistas
tarrii
on

2019-11-05
via

Tripadvisor.com
Ihana henkilökunta 10+ . Hyvä huone . Rauhallinen paikka eikä kaukana mistään--linja-autolla tai taksilla pääsi minne halusi. Hyvä oli vuokrata hotelliltakin pyörä,auto tai skootteri. Tulevaisuudessakin haluan tähän hotelliin. Kiitos ihanasta kahden viikon lomasta.
Ingar Moe
on

2019-11-04
via

Google
LouiseAmbler
on

2019-11-03
via

Tripadvisor.com
After many years of staying in Rhodes Town late October, we booked Sun Beach Resort due to our usual hotel closing early season. The hotel is superb, made even better with some of the best staff you'll find in any hotel. They all go the extra mile - from reception, waiters, bar staff, animation and cleaners. The Greeks are known for their hospitality...but this staff team exceed all expectations! Our room (0501) was absolutely stunning with beautiful sea views. The room was spotlessly clean, and contained a kitchen area with toaster, kettle and coffee machine, a hairdryer and an iron. We stayed HB and found plenty of choice with the meals (plenty of vegetarian and gluten free too). It's the biggest hotel that we've stayed in. Set over three hotels with several bars, places to eat and each block having its own pool area. There is also a gym, spa and car hire. We used the latter, and took a small car to Rhodes Town and several beautiful beaches like Anthony Quinn Bay and Tsampika Bay. Lalyssos isn't Rhodes Town! But it is friendly and welcoming with many bars and restaurants. Walk past the tourist places and you'll come to the small town centre. Visit the beautiful church just past the square and wander through the little streets where elderly locals will stop and chat to you. We had some great food in town. My husband enjoyed the gyros at a local place opposite the police station, and we used the bakery several times. Fantastic Greek pies! Sun Beach Resort is right on a pebble beach. The sea was often calm and we swam several times...even on our last day which was 2nd November. This hotel has everything you need, and the staff will ensure that you have a fantastic stay.
Sam C
on

2019-11-03
via

Tripadvisor.com
We stayed for a week in Sun Beach 2, all inclusive and had a lovely time. The children really enjoyed kids club, especially Kelly and Kasey. They were extremely helpful. The beach was clean but very pebbly so you will definitely need sea shoes. The sea is lovely and warm, a lot warmer than the pools but there is a 3 euro charge for the sunbed. Lovely hotel, brilliant staff and good good choice too.
Travel21025
on

2019-11-02
via

Tripadvisor.com
Visited this hotel, last week of the season, 2019. Cannot fault this hotel, Rooms cleaned daily, Meals good, Reception very helpful, direct beach access. My only complaint, regards some of the waiting staff. I was on holiday with my daughter, whom is 25, and i am mid 50's. The reason for this is my wife, her mother died. Certain members of staff, i think, thought the relationship status was different. Eventhough the next bit is a bit petty, as a customer, i am being charged for this. I don't drink, alchol, and prefer a pot of coffee with my meals. Anybody else ask for a pot of coffee, they got it. I get a cup of luke warm coffee, with no milk, or sugar, so spend the next 10 minutes of my meal trying to get some. Only one waitress, Deiker, gave me a pot of coffee, when i asked for it. So annoying, especially when i am being charged for a pot. Other residents where having pots of coffee. So disappointed with this, i know its petty, but it ruined my holiday.
Carly T
on

2019-11-02
via

Tripadvisor.com
This hotel is not the most modern but its exceptionally clean. Which for me is the most important. Everywhere you look its spotless. The food is brilliant the variety is amazing and cater for everyone and last but not least the service from the staff is the best I have ever experienced. We have come at the end of their season (from working non stop since april in some cases )before they close for 5 months but that has not stopped them from giving us the best service ever. Thank you for such a great holiday and cant wait to come back next year!
spurssharon
on

2019-11-01
via

Tripadvisor.com
We spent two weeks here in October, we arrived late on a Sunday evening to be told we had been upgraded to an apartment overlooking the beach, we were not disappointed at all, the apartment was spotless, it was cleaned everyday, towels and bedding changed too. We had a problem with the air conditioning but that was sorted within 20 minutes. The staff are all so friendly and welcoming nothing was to much trouble, the food was lovely, plenty of choice, some dishes were not for everyone, but there was plenty of options, there was also a healthy eating/Gluten free area.. The complex also had a car hire office with a variety of cars available. The beach itself had plenty of sun loungers available for 3 euros a day, take your receipt with you and you can return anytime during the day, the beach is a pebble beach so swim shoes is a good idea, it is also a little breezy but still warm. The area the complex is in was a little quiet as most shops etc were closing for the end of season but taking the mini bus shuttle to Rhodes town was well worth the 7 euros for a return journey. We had a great relaxing holiday and would recommend the SUN beach hotel to anyone. Thank you for a wonderful holiday.
Michael Dixon
on

2019-10-31
via

Google
So far its been fantastic. Clean tidy big apartments well equipped. Everything on the doorstep shops bars restaurants swimming pools x5. A two minute walk to your own private beach.
DayTrip112649
on

2019-10-30
via

Tripadvisor.com
A perfect place to relax and enjoy the sun. The staff were really friendly and helpful without being intrusive. The resort was beautifully maintained with lovely gardens. Our room was cleaned very day with fresh towels which was an unexpected bonus. We stayed towards the very end of the season so it was not busy but just about all the local shops, restaurants and bars were open and very welcoming. The train giving a return trip tour round the town was a nice touch, which enabled you to see more than you would probably have ventured out to see normally. The shuttle service provided by the resort to Rhodes Town was useful as Rhodes Town is a definite "must see" especially Old Town. Food within the resort was good with lots of choice. In addition there were some lovely restaurants close by. We will definitely consider going again