IKAROS BEACH RESORT & SPA

,
Malia, Crete

,

Greece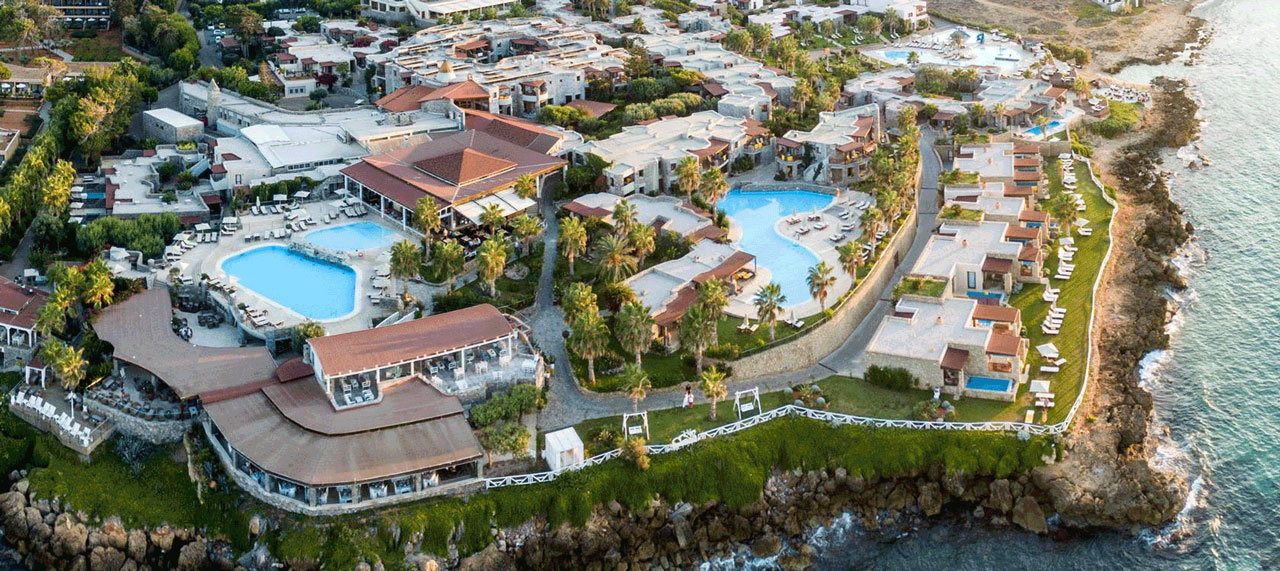 Most talked about:
Hotel Overall
Grounds & exterior
Staff friendliness & competence
Most satisfied with:
Pool Cleanliness
Fish
Room service
Most disliked:
Air conditioning
Hotel maintenance
Family & kids friendly is excellent.

relaxation is excellent.

Great Atmosphere, friendliness.

"Tennisplätze"

"great gym"

"good music"

"Spa area"

Great Swimming Pool.

Guests are very happy with the Hotel age.

Guests are very happy with the Sport facilities.

"modern design"

"private pool"

"Handtüchern"

"zufrieden zu stellen"

Great Overall CLEANLINESS.

Great Room cleanliness.

"sauber und gepflegt"

"gepflegt und sauber"

"clean hotel"

"good order"

View is excellent.

Average Room size.

Bathroom is good.

"sea view"

"Handtücher"

"private beach"

"einfach alles gepasst"

Guests are very happy with the Breakfast.

Dining experience is excellent.

Deserts & fruits could be better.

"Büfett"

"great cocktails"

"schön fast"

"einfach alles perfekt"

Great Staff friendliness & competence.

Service could be better.

Reception is acceptable.

"Mädchen"

"bar staff"

"Freundliches Personal"

"ausnahmslos sehr freundlich"

Guests are very happy with the Food price.

Food & drinks price is good.

value for money can be improved.

"sauber das essen"

"gut und billig essen"

"Prosecco, Obstteller, Rotwein kostenlos"

Average Night life & dining.

Great Shopping.

Great Distance to beach.

"direct access"

"direkt am Strand"

"direkt am Meer"

"einer der schönsten Strände der Insel"
http://ikarosbeach.gr/
Michaela Kindlová
on

2018-07-18
via

Google
JJ Buckley
on

2018-07-18
via

Google
Beautiful resort, great staff, perfect location at the end of the beach.
Alin Muresan
on

2018-07-17
via

Google
Ein sehr schönes Resort, gut geeignet für Familien mit Kindern aber, auch passend für die die Erholung und Ruhe suchen. Sehr freundlicher Personal. Sauber und gepflegt.
Christian Oest
on

2018-07-17
via

Google
Fedt sted konge plads i sengen
joseph smith
on

2018-07-17
via

Google
Traumhaft schöne Anlage! Ich hatte ehrlich gesgat mir weniger luxuriösem Standard gerechnet, aus Deutschland kommend wollte ich nicht allzu viel erwarten. Dies wurde weit übertroffen. Das Ikaros Beach ist durchaus auf dem hohen Level deutscher 5 Sterne luxus hideouts.Speziell möchte ich das fleißige und wirklich stets sehr freundliche Personal betonen! Und kann es nicht im geringsten nachempfinden das hier in den Rezensionen jemand dies anprangert.Allgemein wissen viele wohl nicht was zB Cocktails und andere offene Getränke in normalen Stadt-Restaurants kosten. Die Getränkepreise liegen ziemlich genau im Münchner Niveau, dafür wurden auch nur namhafte Alkoholika verwendet, eben nicht der billigSchnaps von aldi. Qualität kostet eben. Die Behauptung, alle Getränke wären prinzipiell nicht im all inklusive inkludiert ist eine LÜGE. Mit allinklusive kann man sich 10 Tage lang sehr abwechslungsreich betrinken ohne einen Cent drauf zu zahlen. Persönlich bestätigt, ohne Kater. Es gibt eben Menschen die keine Ahnung haben oder einfach einen falschen Maßstab anlegen. Es gibt in malia sehr viele hotelanlagen, aber zum ikros village jemeils ein sehr grosser Abstand. Wenn man billige 4 Euro cocktails möchte, sollte man vielleicht ein solches wählen. Ausserdem ist die Anlage gross und weitläufig, super schön bepflanzt und sehr romantisch! Es gab einige Familien mit Kindern, was die Ruhe aber nicht stört, da es genug verschiedene pools zum zurückziehen gibt und diese auch weit auseinander sind. Dann selbstverständlich noch den grossen Strand. Das essen ist super, frisch und regional. Im hauptrestaurant ändert sich das Dinner thema täglich.Speisen sind Perfekt und auf den punkt zubereitet Als koch bin ich begeistert. Das Essen in den verschiedenen Restaurants wird auf höherem Niveau zubereitet. Ein Abendessen in je 4 Restaurants ist im allinklusive inkludiert, perfekt. Es werden auch extravagante themen wie Hummerabende angeboten.Alles in allem, werden wir sicher wieder kommen.
Ivan Hlavanda
on

2018-07-15
via

Google
Druhý krát a určite nie posledný na tomto mieste. Aj hľadáte skutočný oddych, profesionálny prístup a nádherné priestory a pláže so skvelou kuchyňou a atmosférou toto je to miesto.
Anonyml14
on

2018-07-15
via

Tripadvisor.com
I had previously left a bitter review explaining how disappointing our first two days at Ikaros have been. I have deleted it to update the review and let know whoever might be interested in booking that our experience was very unfortunate and down to one staff member making us feel out of order complaining and dealing with our issues with the room in a quite abrupt manner. As soon as the lady in charge at the hotel got a word from her lovely assistant about our situation and how we didn't appreciate the way we've been talked too, she contacted us to meet and try to find a way to get us full satisfaction. She was very kind and offered many options for us to chose and even offered more. She deeply apologised for her staff behaviour and told us she spoke to the person. At the end we finally got the most wonderful holidays and got to try the a la carte breakfast in the other restaurant and that's something you shouldn't miss!! The hotel is surprisingly peaceful and quiet everywhere. Surprising because there are kids but for some reason no screams or noise. Only the sea to be heard. The grounds are picturesque and the spa amazing too. The views and amenities are delightful. The food from main restaurant will suit any diet or fuss, it's varied and few of the dishes change everyday. A lot of Greek delicacies and some live cooking experience. It's foody heaven! Everything tastes delicious and always refilled till the end. All restaurants have outdoor seats and sea view. Truly exceptional dining experience. We ended with a stunning room, modern with huge space and terrace, great sea view and sunset! Always clean. I enjoyed the 15min massage offer, got one of the best foot massage ever. They then offer you to seat on the sofa with a tea, neck pillow and steamed water with eucalyptus for you to relax. The gym is really good too, nice equipment, but the terrace being huge I enjoy doing my yoga there looking at the sea! My favs: silent pool, hammam, à la carte breakfast restaurant, the room terrace! Not cool: towels on empty sunbeds all day...you'll have to play the game or you'll be erring all day wishing one empty sunbeds shows up. The dividing on terrace, shame you can see your neighbours and also inhaling their cigarettes.. Overall I'd highly recommend this place, it's a real gem in a very convenient location full of little shops and not too far from airport too!
Pavel Štulc
on

2018-07-14
via

Google
Senzační, skvělá úroveň, vše na 5 hvězd.
Corinne
on

2018-07-13
via

HolidayCheck
Sehr sauber und liebevoll gestaltet. Die Zimmer sind sehr modern eingerichtet (moderne Beleuchtung, Dusche, sehr bequemes Bett). Wunderschöne Garten- und Poollandschaft, sowie Lage. Vielseitiges Angebot wie z.B zwei Tennisplätze zur gratis Benutzung, Fitnessraum, etc. Sehr zu empfehlen sind auch die Themenrestaurant (Ayeri und Sunset!). Wir kommen gerne wieder :-)
Karl
on

2018-07-13
via

HolidayCheck
Wunderschönes Strandhotel, wunderbare Pools, gepflegter Garten, herrlicher Sandstrand mit privaten Teil für das Hotel, Essen ausgezeichnet & abwechlungsreich.
Reinhard
on

2018-07-13
via

HolidayCheck
Altes Haus (Haupthaus mit neu renovierten Zimmer) mit vielen Stammkunden. Sehr gepflegte Gartenanlage mit vielen ruhigen Plätzen.
Gudrun Beyer
on

2018-07-13
via

Google
Es war ein toller Kurzurlaub Anlage,Hotel, Restaurant, Zimmer Top.. wir kommen gerne wieder...Danke
Tanja
on

2018-07-12
via

HolidayCheck
Das Ikaros Beach Resort & Spa empfängt einen mit offenen Armen. Das gesamte Hotelpersonal ist sehr freundlich, zuvorkommend aber nie aufdringlich. Die Hotelanlage ist gepflegt und wie ein kleines Dorf aufgebaut. Obwohl das Hotel im Mai ausgebucht war, war es am Pool, Strand oder beim Essen nie überlaufen.
Andreas und Karin
on

2018-07-11
via

HolidayCheck
Einfach genial !! Nach zweijähriger Pause das dritte mal wieder hier gewesen einziges zu bemängeln ..wir mussten das Hotel wieder verlassen :-) Werden wieder kommen ! lg
Simone
on

2018-07-11
via

HolidayCheck
Hotel in schöner Lage in Malia. Sehr schön angelegt; wie ein kleines Dorf. Sehr schöner Strand; Sandstrand, der super für Kinder geeignet ist.
Barbara
on

2018-07-10
via

HolidayCheck
Wir kommen schon zum 6ten mal hierher. Der Service ist ein Traum, das Personal ist sehr liebevoll und zuvorkommend. Es ist sehr sauber. Das Essen ist sehr frisch und man könnte mehrere Restaurants nutzen. Der Spabereich ist sehr zu empfehlen. Dieses Jahr hatten wir einen kleinen Kochkurs und Sprachkurs in Anspruch genommen, was sehr lustig war. Vielen dank für die wundervollen Stunden.
Wolfgang
on

2018-07-10
via

HolidayCheck
Super freundliche Mitarbieter, guten Auswahl an Speisen und Gertränken im Hauptrestaurante(Büfett), sehr saubere und moderne Zimmer, tolle Stranlage und guter Service für den Tausch der Handtücher am Strand. Ferner konnte alle vier Themenrestaurants besucht werden, welchen eine sehr gehobene Auswahl an Speisen und Getränke hatte. Idealer Ausgangspunkt um Kreta zu erkunden.
Tamás Guczi
on

2018-07-10
via

Google
Very nice beach. Loved it.
Thomas KLAUS
on

2018-07-10
via

Google
Corina Salagean
on

2018-07-10
via

Facebook
Amazing place, very nice people. Thank you for our perfect vacation. Hope to see you soon! �