Blue Bay Resort Hotel

,
Agia Pelagia

,

Greece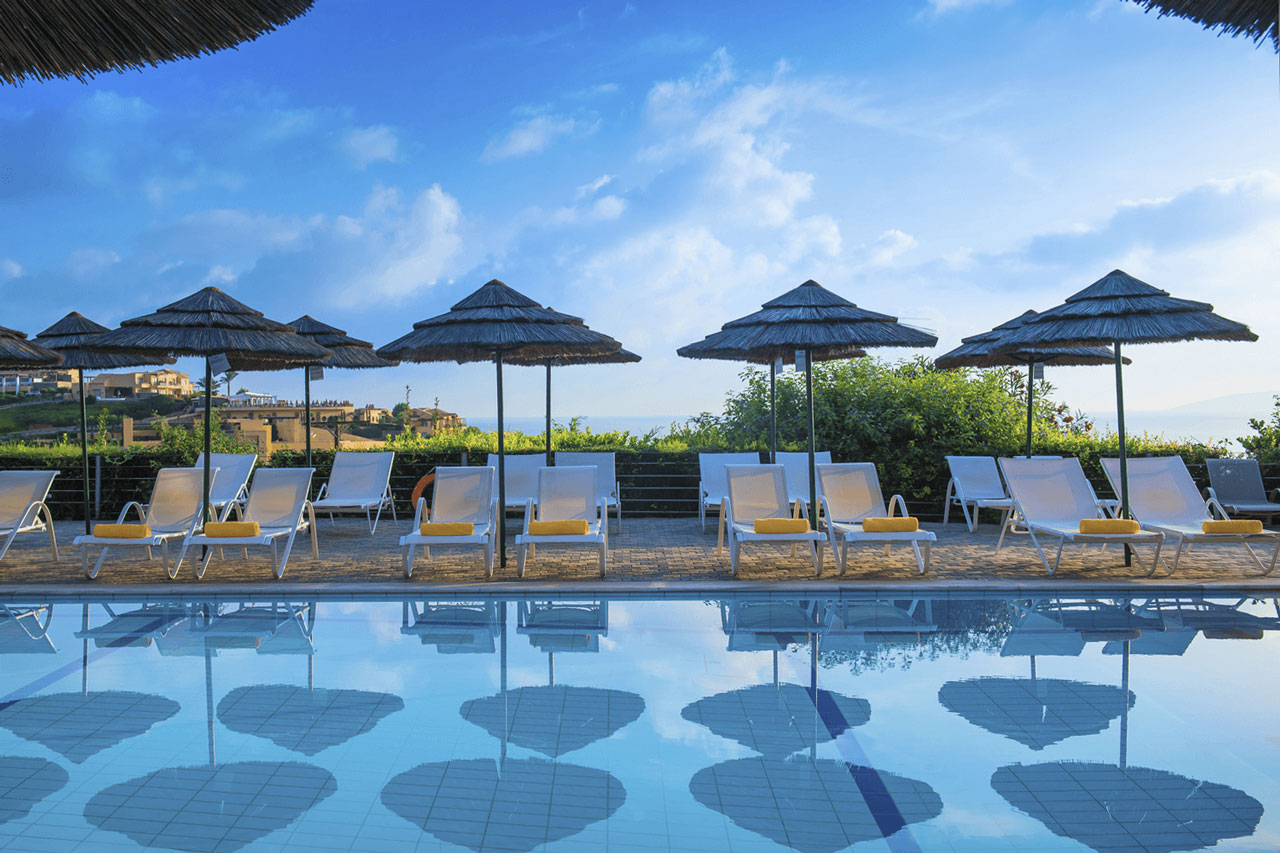 Most talked about:
Hotel Overall
Swimming Pool
Staff friendliness & competence
Most satisfied with:
Terrace
Design
Breakfast price
Great Animation, entertainment, nightlife, music.

Family & kids friendly could be better.

Couples friendly is good.

"wide range"

"young children"

"older generation"

"ping pong"

Average Swimming Pool.

Average Hotel age.

common areas - lobby, lifts, launge, entrance is good.

"main building"

"pool area"

"swimming pools"

"pool bars"

Guests are very happy with the Overall CLEANLINESS.

Room cleanliness can be improved.

Guests are not happy with Bathroom cleanliness.

"Sự sạch sẽ"

"clean room"

"clean hotel"

"Tisztaság"

Great View.

Bathroom can be improved.

Room size could be better.

"fresh towels"

"good size"

"large balcony"

"quiet location"

Breakfast is nice.

Average Alcohol.

Pizza, Pasta, Salads, Snacks, etc is acceptable.

"good choice"

"limited choice"

"Großteil"

"buffet style"

Great Staff friendliness & competence.

Average Service.

Reception could be better.

"hard work"

"Great atmosphere"

"mobility issues"

"polite staff"

Great value for money.

Guests are OK with the Food price.

Food & drinks price could be better.

"Good value"

"fruit juices"

"fruit basket"

"good value"

Average Transport (taxi, car rental, transfers).

Guests are very happy with the Distance to public transport.

Average Night life & dining.

"Blue Bay"

"blue bay"

"Agia Pelagia"

"main city"

Guests are OK with the Wifi price.

"free wifi"
http://www.bluebay.gr/en_GB
birmsi
on

2019-03-13
via

Google
jlang201
on

2019-03-08
via

Tripadvisor.com
My partner and I visited the Blue Bay Resort Hotel last September and had a wonderful time. The food is so nice and we found that there was plenty of choice at each meal for the three weeks that we were there. I am quite a fussy eater as health issues mean there are foods I need to avoid and I still found that there was plenty of choice. The drinks package is limited as they make clear when you book, but the wine (rose, red and white) were all lovely and my partner really enjoyed the beer. We contact the hotel to ask to upgrade our room to one with a jacuzzi on the balcony which they kindly arranged. I would thoroughly recommend going for a jacuzzi room, so relaxing and a beautiful sea view. The staff were all friendly and happy to help. We had one issue during our stay after we were told that we could pay to extend our room for a late check out and then they realised the next day that it was booked and we couldn't. The staff were so accommodating and kind about it and arranged another room for us to stay in until our departure. The only con I would say is that the bar in the hotel isn't open during the day so if you want to take drinks up to your room for the balcony etc it was four flights of stairs each way! It would be so much better if they opened the bar near the lobby during the day for all inclusive guests. All in, I would really recommend this hotel and we've booked to return this September! Can't wait.
joannaz212
on

2019-03-07
via

Tripadvisor.com
Nie mogliśmy trafić lepiej! Ludzie wspaniali, życzliwi. Jedzenie mistrzostwo świata, każdy coś dla siebie napewno znajdzie. Plaża urokliwa, hotel piękny oraz boczne budynki przynależące do hotelu rewelacja. Codzienne sprzątane, ręczniki wymieniane. Idealne miejsce na odpoczynek dla rodzin z dziećmi. Dziękujemy
Nicholas Jones
on

2019-02-23
via

Google
magnifyingone
on

2019-02-10
via

Tripadvisor.com
Отдыхали в данном отеле парой в августе 2018 года. Заезд был ранним утром. Заселили в течении полутора часов. Посоветовали оставить чемоданы на ресепшен и отправиться на завтрак + провести некоторое время у бассейна в ожидании номера. Заселение было в номер во втором корпусе отеля, который находится выше основого корпуса (удаленность около 200 метров). До корпуса довезли на машине. Номер нам достался на первом этаже, который оказался цокольным. Несмотря на то, что он продается как Sea-Side view, вид из него исключительно на газон внутреннего двора (эта проблема возникает для номеров 712-719, так как они все цокольные). У номера небольшая терраса со столом и двумя стульями. Номер обычный: светлый и чистый. В номере было две односпальные кровати, сдвинутые вместе. Санузел чистый, с окном для проветривания. В дополнительном корпусе есть свой бар и бассейн (взрослый + детский). Во втором корпусе всегда очень тихо, небольшое количество народа как в баре, так и у бассейна (рай для мизантропа в гостинице для семейного отдыха). В бассейне ежедневно проходит аква-аэробика. На это время бассейном пользоваться затруднительно. В баре в систему all-inclusive входят коктейли из местного алкоголя (раки/узо), местное пиво и вино. Коктейли достаточно специфические, но алкоголь достаточно качественный и утренних последствий не вызывает. Пиво возможно пить, пока оно холодное. В основном корпусе у бассейнов в час пик находиться затруднительно (огромное количество народа, шумно, большие очереди в бар). Еда в системе all-inclusive в целом хорошая(шведский стол). Но надо быть избирательным. Рыбные блюда невкусные. Завтраки однообразны, но, в целом, по еде нареканий нет, так как выбор очень большой. Всегда есть свежие фрукты. Местность очень холмистая. Дорога к морю идет под очень крутым уклоном. Будьте готовы к сложной обратной дороге. Море очень чистое, огромное количество рыб, так что запасайтесь масками для снорклинга. Ближайший пляж не очень большой, лежаки платные (7,5 евро на день), но нет проблем бросить покрывало. Заход в воду очень каменистый. Без аквашузов будет невероятно трудно. За время пребывания не столкнулись с какими-либо проблемами, требующими вмешательства администрации. Чудесный отель с замечательными пейзажами в 20-минутной шаговой доступности. P.S. Все фото относятся ко второму корпусу
atchoum2014
on

2019-02-08
via

Tripadvisor.com
Les chambres sont très propres et climatisées, malgré que le salle de bain nécessite un petit rafraichissement. Le restaurant est bon, avec une belle terrasse avec vue sur mer, mais pas assez de spécialités grecques, de poissons frais, pour correspondre je pense, à la clientèle internationale (très peu de français, il y a d'ailleurs très peu de personnel parlant français) La piscine est très agréable, de même que le bar, il y avait quelques animations. La plage est en contrebas (Mononaftis) et nécessite une bonne forme pour remonter, sinon l'hotel propose une navette, mais je recommande plutôt la plage d'Agia Pelagia, a 2km à pied, mais le village est plus dynamique et la plage plus grande. Le spa de l'hotel est à recommander. Globalement un bon sejour dans cet hôtel, mais un peu isolé, je recommande fortement de louer une voiture et de partir à la découverte de l'ile.
Kevoka Azadî
on

2019-02-04
via

Google
Es ist ein sehr sehr schöner Ort um Urlaub zu machen und Hotel war echt mega in Ordnung einzigste Nachteil die Zimmern riechen unangenehm ich denke mal es liegt an den Gardinen die müssten öfters gereinigt werden und die Zimmern auch sonst war echt alles in Ordnung würde wieder hin :)
314geraldinem
on

2019-02-03
via

Tripadvisor.com
A great hotel with nice views. The staff is friendly and the rooms are clean. There is a village that you can reach in 15 minutes walk. The highlight for us again this year was Quad Safari Peninsula. Its the best way to get to the hidden places of Crete, with a guide that is just as knowledgeable as he is fun. This year we also rented a scooter with them and explored the rest of Crete. Definitely a good choice!
nicolehD9166HP
on

2019-01-27
via

Tripadvisor.com
Me and my boyfriend came to Crete for our first holiday together! We had the best time and were treated so well by the nicest people that worked at Blue Bay! The restaurant had a variety of different food every evening that always tasted great. Our room was in the annex building and was small but perfect for us, it was cleaned whenever we were not there with fresh towels put in everyday. Big thank you to Dimos who made it so special.. we will never forget him and his hard work.. we hope to return in the near future! Would certainly recommend a holiday to blue bay!!!
20thcboy
on

2019-01-17
via

Tripadvisor.com
Had a wonderful time at this Hotel. Staff were all very friendly and helpful. Made you feel welcome. Food was amazing! Something a little different most days. Selection of drinks was perfect for me and my GF but we're not big drinkers. Sitting by the pool with a beer, bliss. Great atmosphere and holiday. Recommend this place!
Jennifer G
on

2019-01-15
via

Tripadvisor.com
Lovely accommodation, great food cooked fresh daily, very helpful staff that made sure our stay was as comfortable as possible. Lots to do and see. A walk away from a lovely private bay. Would visit this place again with its clean and friendly staff.
Nohr Ye
on

2019-01-08
via

Google
Schönes, sauberes Hotel, nette Mitarbeiter und gute Aussicht. Leider etwas abgeschottet.
Wir hatten ein Zimmer außerhalb des Hotels, dass leider etwas in die Jahre gekommen ist und nicht ganz wie auf den Bildern aussieht.
Phill Welsh
on

2019-01-07
via

Google
Pauline M
on

2019-01-04
via

Tripadvisor.com
excellent stay at this hotel from the minute we walked through the door to the minute we left. Staff excellent and go the extra mile to make sure you have what you want. Food choices excellent - even my teenage son found something to eat at every meal - some of the best all inclusive meals we've had anywhere. Rooms spacious enough for the three of us and very clean. Pool area clean - you will witness staff cleaning and picking up discarded cups etc all day long.
nati_grom
on

2018-12-23
via

Tripadvisor.com
Планируя поездку в Грецию,очень долго выбирали отель. И с выбором не ошиблись! От аэропорта до отеля примерно 30 мин.Прекрасное место. Отель находится на возвышении, откуда открывается прекрасный вид на море! Само оформление отеля выше всяких похвал, очень уютно. У нас был номер в главном здании, на нижнем этаже, прямо напротив главного бассейна. Сначала очень расстроились, думали будет шумно, но ошиблись и как бонус (оказалось, что в номере ловит Wfi). У отеля три бассейна. Когда увидели, что отдыхающие с самого утра занимают лежаки, подумали, что с этим будут сложности, но мы снова ошиблись. Персонал очень отзывчивый и приветливый. Кухня выше всяких похвал и по разнообразию и по качеству. Персонал отеля очень отзывчивый и старается сразу решить все вопросы.Если спросите, стоит ли ехать? Мой ответ однозначно - да! Наша семья так точно посетит этот отель второй раз!
PaulTutt
on

2018-12-21
via

Tripadvisor.com
Lovely large accomodation, two large bedrooms with plenty of space for the two of us, food was excellent , all well cooked with plenty of choice, great service aswell, good choice of trips and activities available, went on quad bike safari run by hotel just up the road, which was excellent aswell with two guys running it who made it really fun.
billybag2125
on

2018-12-21
via

Tripadvisor.com
Great hotel wonderful staff great area. All of the staff are friendly and helpful the hotel is very clean and comfortable all you need for great holiday wonderful views and little villages to visit. This hotel does have quite a number of steps. The good is great, there is no noise at night, a very relaxing place to be.
Friedhelm
on

2018-12-21
via

HolidayCheck
Die Zimmer sind gut ausgestattet. Das Personal ist immer freundlich und hilfsbereit. Im Restaurant ist es sehr sauber. Essen ist sehr wechselhaft und völlig ausreichend. Wir haben uns sehr wohl gefühlt. Zu verbessern wäre das es auch Internet auf den Zimmern gibt.
Lucymilner123
on

2018-12-13
via

Tripadvisor.com
Visited Blue Bay in June 2018 for 11 nights - 6 people Fantastic service all round. The first night we got there 2 of the couple's had rooms next two each other upstairs and one couple had a room on the lower floor. However after speaking to reception they changed the room the next day so we were all together, which was brilliant. While we were there it was my birthday so we tried the a la carte which was lovely. All the staff are friendly but our favourite was definitely Dimitrus - who supplied us with our body weight in Raki most nights. - he's a credit to your team. We will definitely be returning to your hotel for another holiday with a doubt.
648days
on

2018-12-12
via

Tripadvisor.com
3 amazing weeks perfect hotel amazing staff. It was are second time the third is booked. All the staff from the time you get there till you leave will do their best and more, the world Cup was on while we where there the main bar opens at 5 England were on at 3 they opened for us little things mean alot, cant wait to see you all next summer