Laguna Park

,
Sunny Beach

,

Bulgaria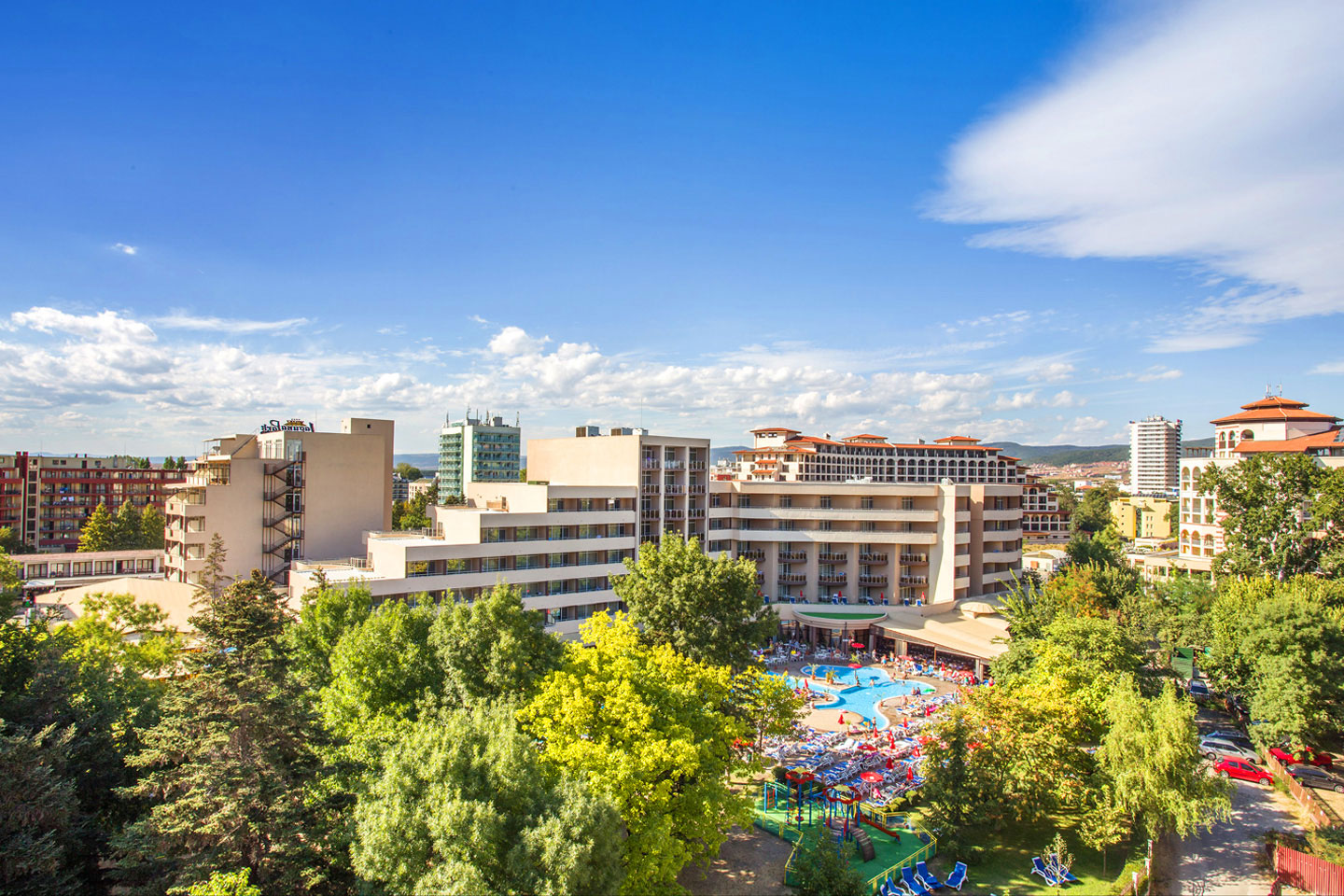 Most talked about:
Hotel Overall
Swimming Pool
Family & kids friendly
Most satisfied with:
Pool Cleanliness
Business traveler friendly
Distance to airport
Most disliked:
Food & drinks price
Guests are OK with the Family & kids friendly.

Animation, entertainment, nightlife, music is acceptable.

Atmosphere, friendliness is good.

"s play area"

"theme night"

"entertainment area"

"Kids club"

Swimming Pool is good.

Average common areas - lobby, lifts, launge, entrance.

Average Hotel maintenance.

"pool area"

"quieter pool"

"great condition"

"small pool"

Guests are very happy with the Overall CLEANLINESS.

Room cleanliness is nice.

Bathroom cleanliness could be better.

"Clean hotel"

"clean hotel"

"Sự sạch sẽ"

"camere super"

Bathroom could be better.

Average Bed.

Room size can be improved.

"big slides"

"small children"

"water slides"

"water sports"

Breakfast could be better.

Pizza, Pasta, Salads, Snacks, etc can be improved.

Dining experience is acceptable.

"snack bar"

"ice cream"

"Snack bar"

"good selection"

Staff friendliness & competence can be improved.

Service is good.

Guests are OK with the Reception.

"animation team work"

"restaurant staff"

"friendly staff"

"personal preference"

Great value for money.

Dissatisfactory Food & drinks price.

Food price is below average.

"great value"

"good value"

"Excellent value"

"Great value"

Parking is excellent.

Guests are OK with the Night life & dining.

Shopping could be better.

"last night"

"Laguna Park"

"main strip"

"laguna park"

Wifi price could be better.

"Free wifi"

"free wifi"
+359 554 / 2 70 24
http://www.lagunapark-bg.com/
dimitar dimitrov
on

2020-02-10
via

Google
Dean Deejay Rudzta
on

2019-12-03
via

Google
Oyunbileg Zundui
on

2019-10-24
via

Google
Best place for children to enjoy and very tasty meals.
Anthony Collins
on

2019-10-24
via

Google
Nice place but noisey at nights in rooms due to all 24hr bars but I ve already booked another 11 night stay at laguna Park again excellent food and the kids and mrs loved it
Yvonne Pybus
on

2019-10-07
via

Google
Deirdre
on

2019-10-06
via

Booking.com
Pools best - Maybe there could have been stuff for 12 year old boys like football games
Yvonne Pybus
on

2019-10-05
via

Google
Shazza6464
on

2019-10-05
via

Tripadvisor.com
Had a great week staying at the Laguna Park Hotel. The hotel and pool area was very clean. Rooms cleaned every day. The food was ok, Im fussy but had something different every night. Very close to the beach, the strip and shopping areas. I would recommend thhis hotel.
Angela P
on

2019-09-28
via

Tripadvisor.com
Travelling as a couple, going to a family hotel, the staff were very caring and welcoming, they made our stay enjoyable by keeping the hotel really clean. The reception staff including customer service were always ready to help if directions are needed. The animation team work very hard for adults and children alike, there are 2 Adult pools and slides, pools and pirate ship for the children who were really good, laughing and enjoying themselves. The team provided shows in the evening which gave everyone a laugh and a good feeling. Food in the restaurant was really appetising and varied on a 14 day turnaround, something for everyone. Our room was lovely, spotless, complete with a good bathroom and balcony.
Steveclaffey250190
on

2019-09-27
via

Zoover
The effort the staff go to to make sure your stay is the best possible
Linda B
on

2019-09-26
via

Tripadvisor.com
Great Hotel very clean staff very good we were a party of 12 and at our request gave us rooms close together the pool is a must for kids food good nice and fresh and the snack bar is well worth a visit rooms nice and spacious close to Sunny Beach shopping area overall a great place to stay.
RebeccaL1986
on

2019-09-24
via

Tripadvisor.com
Just returned from 10 night stay. Had a fantastic time at Laguna Park. Check in was great. Rooms were good size and cleaned daily. Cleaning staff were amazing. Loved seeing the different towel arrangements they would do (little girl also enjoyed seeing where her dolls would be that day, frequently set up in various activities for her!). Food was amazing. Been to a few AI and was fully prepared for average food. We had planned to eat out most evenings as we knew Bulgaris was fairly cheap. However we only ate out once (and that was due to watching football only). So much choice and all high standard. No problems finding things for my 3yr old to eat too. Kids club was great. You can tell the staff really enjoy their job. And mini disco was fab, all kids seemed to enjoy it. Plenty of sunbeds to choose from. Kids pool with pirate slide was great. Also a quieter pool on the other side of the hotel if you want it. Pools were quite cold, but once you braved them there was no problem. No queues at the bar. During the day 3 bars available. Local beer was fine. Husband enjoyed pouring his own beer at meal times! Absolutely amazing time. Would go back and will recommend to anyone!
Shirleyblair1961
on

2019-09-23
via

Zoover
rooms are lovely cleaned every day, food could do with being hotter, snack bar good. staff brilliant
Jamiesssaaa
on

2019-09-22
via

Tripadvisor.com
Was My 1st Holiday With My New Partner Had A Fantastic Time Hotel Management Was A Credit To Your Company Food And Drinks Were Not Very Good Plenty Entertainment For Kids But Not For Adults Would highly recommend
Catherinewoollard
on

2019-09-22
via

Zoover
staff are fantastic, hotel is clean.
Frank Blair
on

2019-09-21
via

Google
My first visit to Bulgaria and this hotel very impressed food and drink is good staff are brilliant entertainment last night fantastic can totally recommend
Dean2406
on

2019-09-21
via

Tripadvisor.com
Well where do we start? This is the third time we've stayed here as a family in just over a year and it just continues to get better and better! Please please ignore all of the picky reviews on here, this hotel is well worth all of the positive reviews it deserves. We travelled this time as four adults and a 1 year old. The staff were brilliant, as they always were! The restaurant staff were so friendly, two of the girls (Svelta and Adile) were brilliant with our baby. They even went out and bought him some toys which was an amazing thing for them to do. The cleaner was in our room every day and changed our beds and towels for fresh every single day. The animation team were just as good this time round as they were last time - putting on some amazing shows on a night and keeping everyone entertained during the day. The team (Kari, Vanka, Gabi, Rali, Didi) were all fantastic, engaging with everyone all day, every day. This was the same team who put on the amazing shows on a night as well. Again, please ignore anything negative said about the food. We were there for two weeks and never grew sick of the wide choice of food that we had. They always had fresh meat on a night to go with a wide choice of sides. There was always something to eat for us as well as our 1 year old. Breakfast was a bit repetitive, however, it still had everything on offer that you could think of. The snack bar had plenty of food on for during the day, and you could get hot dogs, burgers, chips, ice cream, etc. The pool area was kept very clean at all times and always saw the staff cleaning up, checking the pools to ensure that they were safe. I've read on here people complaining about the pools being shut all the time. They were never shut when we were there for two weeks - but isn't it better that they close them if the water isn't clean?! I think there'd be a lot more complaints if the kids were ill because they hadn't shut the pools! The slides were amazing as always! We will definitely be back to this hotel again and again - it really is one of the best hotels in Sunny Beach! Thanks everyone at the hotel for contributing to our amazing holiday!
Sinky101
on

2019-09-21
via

Zoover
Very friendly staff. Has a everything too offer
samandmabr
on

2019-09-20
via

Tripadvisor.com
We spent 10 jigyts at Laguna Park, 6 16 September. We were worried by some of the negative reviews we had read but were delighted with our stay. Bulgaria offers great value for money and we are sure we got more bang for our buck than we would have booking another destination. Laguna Park is a lovely hotel. Rooms were cleaned and serviced regularly, we're spacious and well appointed. We had a family duplex, with one large shower room. There was a fridge, safe (extra charge) and air con in the room. There is a hairdryer built in the bathroom but it's painfully low powered. Room towels were changed daily. Chamber maids were the nicest staff in the hotel, happy and friendly. The pools were great. There are lots of sunbeds so you only need to get up early if you want the best choice of beds. The lifeguards remove towels from beds reserved between 8 and 9 am. The pools are kit heated but are warm enough to be in all day. Our kids loved the pirate ship pool and slides. Pool was clean safe and well attended by lifeguards. The larger pool is also great. The big slides have a height restriction of 130cms so our girls (aged 3 and 6) could go solo but are allowed with a parent. Again lifeguards are diligent. Towels are issued for a card and refreshed everyday if you wish. There are bars in the lobby and pool area. Service was quick and efficient. Local drink for all inclusive. Although we made a good effort with the staff we found them surly and rude but this didn't affect our holiday. Food was fantastic. Really fantastic. If yiu can't find plenty you like and want more of, you really shouldn't travel outside the UK! Only negatives are the gym and the soft play appear to be included on the website but are chargeable extras. We travel a lot and love meeting locals from all diffenwt cultures. Bulgaria is the first time we have come away feeling the reception was poor and the staff rude and unfriendly. Not to the point that it ruined our holiday. It was just a shame that those we met, didn't represent thier beautiful country better and with more professionalism. We would highly recommend laguna Park to anyone seeking a great family trip
Marie_JJ
on

2019-09-20
via

Tripadvisor.com
Stopped here for our can it holiday in August 2019. Hotel was great, food was standard All inclusive there was a great selection for everybody in our family with 2 fussy eaters. Entertainment was hit and miss but that is personal preference. It's just a short walk away from the main strip which was good for us but I w ouldnt venture up there on a night with small children as it was far to busy