Laguna Park

,
Sunny Beach

,

Bulgaria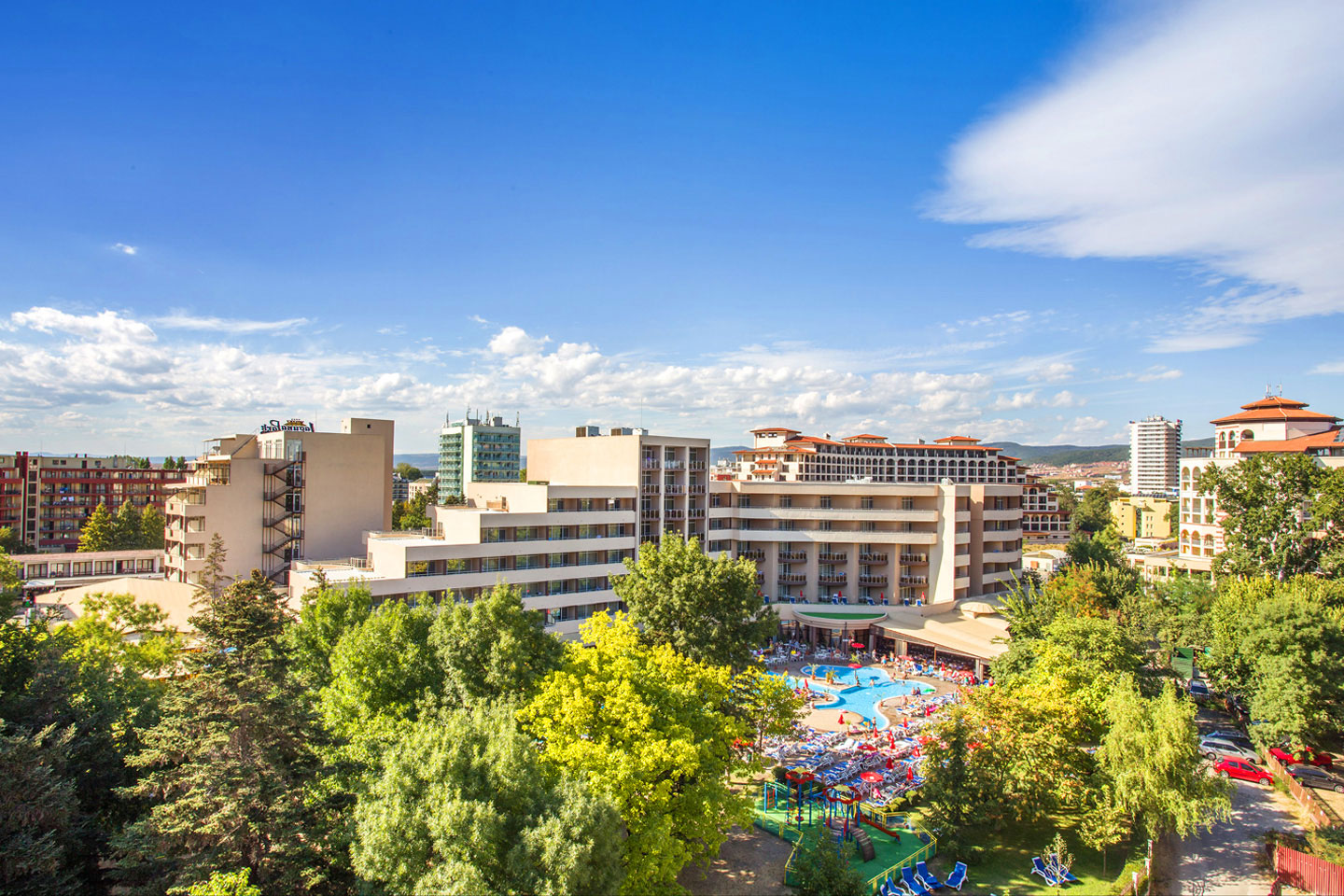 Most talked about:
Hotel Overall
Swimming Pool
Staff friendliness & competence
Most satisfied with:
Distance to airport
Business traveler friendly
Pool Cleanliness
Most disliked:
Air conditioning
Guests are OK with the Family & kids friendly.

Animation, entertainment, nightlife, music is acceptable.

Couples friendly could be better.

"perfect family holiday"

"little kids"

"younger children"

"s birthday"

Swimming Pool is acceptable.

common areas - lobby, lifts, launge, entrance can be improved.

Average Hotel maintenance.

"main pool"

"octopus pool"

"pool bar"

"quiet pool"

Overall CLEANLINESS is excellent.

Guests are very happy with the Room cleanliness.

Average Bathroom cleanliness.

"Hygiëne"

"mini fridge"

"clean towels"

"Sự sạch sẽ"

Bathroom could be better.

Bed is acceptable.

Guests are OK with the Room size.

"water polo"

"schöne große Zimmer"

"Big room"

"n't work"

Average Breakfast.

Pizza, Pasta, Salads, Snacks, etc could be better.

Dining experience can be improved.

"snack bar"

"Snack bar"

"ice cream"

"good choice"

Guests are OK with the Staff friendliness & competence.

Average Service.

Reception can be improved.

"pool bar staff"

"Entertainment team"

"much fun"

"entertainment team"

value for money is excellent.

Guests are not happy with Food & drinks price.

Food price is below average.

"good value"

"Excellent value"

"Great value"

Parking is nice.

Night life & dining is good.

Shopping is acceptable.

"Laguna Park"

"unmittelbarer Nähe"

"Laguna park"

"main strip"

Wifi price is acceptable.

"free wifi"
+359 554 / 2 70 24
http://www.lagunapark-bg.com/
rustythesnowman1
on

2019-06-18
via

Google
Everything you need for the perfect family holiday
Rikke Toennessen
on

2019-06-18
via

Google
Been here to day with my soon on 3.5 years. It s great!!! He loved the slides at the pirat ship. They were a little bit bigger than I seen before. Super!!! And ge could take two if the big slides whit me!! Perfect!
Daveygrohl
on

2019-06-17
via

Tripadvisor.com
We booked this hotel a few days before we arrived, we hadn't been to Bulgaria before, and went with an open mind having read previous reviews. Room - our room was huge and spotlessly clean, we had a shower issue which was quickly resolved. The cleaner came in daily and replaced towels etc. My only criticism would be that the air con isn't great. Pools - fantastic area for big and little kids. I agree with other reviews that closing it for a couple of hours each day seems excessive, however, it's not exactly going to ruin your holiday. Kids club - I've attached a photo of the sessions. You sign your child in and also sign to say if they can leave the kids club to find you. Ideal if you have younger ones. We didn't use the non hotel kids club, but it looked great for younger children. Food - random at times but then I've yet to visit an all inclusive that isn't. There's an extensive selection but plenty of chips and pizza for those that don't like anything different. Thankfully the probe reviewers left as we arrived, I mean really, who takes a probe on holiday? Oh yes the ones that make holiday claims. Bars - the service was swift and the staff were lovely. We encountered no rude staff. We did however encounter guests who were exceptionally rude. An example of a man who asked for a vodka/orange in a large plastic glass, they only had the smaller ones, so the guy made him two to make up for it. His response.. I only wanted effing one. I would recommend getting the water taxi to Nesebar, 10 lev each way. We got the land train on the way back but it would have been much easier just to get this on the return journey. The bars in sunny beach are a few minutes walk away. Bar Igliki across the road has Bulgarian beer at 2lev a pint. The smaller supermarkets can be quite pricey, however, if you walk to the main strip turn left, past the casino. Across the road is a two story supermarket (think ASDA style) which is much much cheaper.
Smpowell316
on

2019-06-17
via

Zoover
enjoyed staying here coming back in september
jessp612
on

2019-06-16
via

Tripadvisor.com
I have been at this hotel for two weeks and I go home today. I honestly can not fault the hotel the food is lovely, the rooms are cleaned daily, the hotel is spotless and has loads going on throughout the day. The drinks are not the best but they are drinkable. I would definitely come back to this hotel it is very central and everything is within walking distance. The pool bar staff are brilliant on both pools and great with holiday makers. Thank you Laguna Park for a brilliant holiday!
David H
on

2019-06-16
via

Tripadvisor.com
Was given this as a present for father's day on holiday brilliant 2 hours well spent after 6 days in the sun came out like I just walked of the plane threw in a Turkish shave as well put the ones back home to shame
shakespeare076
on

2019-06-16
via

Tripadvisor.com
Didn't stay here but booked in for the Turkish Bath and massage and very glad we did! Started with a sauna and steam then a face pack then the Turkish Bath - brilliant. Then another face pack with a cup of tea/coffee, then fish foot therapy and then a fabulous full body massage. Left feeling absolutely brilliant. Paid €50 and thought this was good value Thoroughly recommended
John Connell
on

2019-06-16
via

Google
Great place for family s weather great and ur right on the middle of town so no taxis needed
Dixonclaire22
on

2019-06-16
via

Zoover
cant really comment to much at the moment as onky been here 4 days but very impressed so far. would come again. will comment again at the end of my stay x
Sergiu andrici
on

2019-06-16
via

Zoover
It is the 3th day ... and we had an unexpected surprise. After breakfast, we found in the room a post card with nice wishes and a bottle of sampain, as attention for wife's birthday.Congratulation for initiative and customer care!
Andrici cris
on

2019-06-16
via

Zoover
Thank you for the pleasant surprise for my birthday.Congratulation for initiative and customer care!
Sergiu andrici
on

2019-06-15
via

Zoover
Just 1st day ... let's see how it it will be after 6 days.Nice Aqua Park for kids.
Katsanders27
on

2019-06-14
via

Zoover
water polo needs to wear a colourd band on heads or arms so we no whos on each team. an we need a clock round the pool.. we aer haveing a brilliant time and think the hotel is great. well done laguna we will be returning :) ;) xxx
Dean2406
on

2019-06-13
via

Tripadvisor.com
I am writing this review following a week's stay with family to this amazing hotel! This is actually the second year we have stayed here as a large family but wanted to share our thoughts again this year. First things first, I want to thank the cleaner of our room, who after we left, located a wallet we had left in our room which had £300 of English money, two bank cards and a driving licence in it. She handed this in to the manager and due to us having family in another hotel, we got the wallet back with everything in it that we had left! This is absolutely amazing - we wouldn't have expected such honesty - we weren't even sure that we had left it in the hotel in the first place - this really was an amazing experience for us and will definitely make us use this hotel again and again in the future. I should also say a massive thank you to all the animation team - Vanka, Andji, Moni, Didi and Kari - they all made us feel welcome and ensured that we enjoyed our stay in this hotel. We only really saw Vanka around the pool during the day and he was always very engaging, talking with us all and genuinely making us feel welcome. He got us involved in a fair few activities and we loved them all! We all almost got a diploma from the games we were involved in from him. A really nice guy all round, and should be commended for his work ethic! It was the first time we had been away on holiday with our 1 year old and he absolutely loved every minute of it - from being on the kids slides during the day to the mini disco on the evening. He wasn't old enough to get involved in the other children's activities during the day, however, I'm sure he will in the future! I've read a few reviews on here about the food not being great with regards to choice; I should say ignore these comments - we always had plenty of choice of food at every meal time - and with a fussy 1 year old, we didn't struggle at all! There was plenty to choose from, and you could also get snacks during the day to help top yourselves up. We stayed in block A, and our family stayed in block C - this was fine though as we had done a separate booking from the rest of the family. Both blocks were great and our rooms were very nice - plenty of room in them and the cot that they provided to us for our little one was very nice - he slept really well during the nights that we were there! We have also read a number of reviews about rude staff - I'm not sure where these comments have come from - the staff were all really nice. We always had service with a smile from every single staff member there - the receptionists, the cleaners, the bar staff, the animation team (Vanka more so) and the staff in the restaurant were all fantastic. They were great with our son and engaged with him every day. All in all, I would say that this hotel is fantastic for family travel - we have done this twice and it was even more amazing the second time around. The hotel is in a very good position as well - only being 5 minutes from the beach and a number of family bars. If you want a great hotel, then pay the price for this hotel - we all really highly recommend it!
Susan Taylor
on

2019-06-13
via

Google
The food is good, staff are friedly and helpful. Plenty of activities for the children.
Meany152
on

2019-06-13
via

Zoover
overall good but the food is a bit manotinus
greengrass1969
on

2019-06-12
via

Tripadvisor.com
We had a brilliant holiday staff were fantastic, the cleanliness was 100% the food was ok what you expect , there was always something to choose, the kids loved the pools and slides, only thing I didn't like was the entertainment on the evening was in the amphitheater where it was out of the way but that's my personal opinion. Would highly recommend you to visit , I will defiantly go back
Samadams681205
on

2019-06-12
via

Zoover
we love everything very clean good food and friendly helpful staff
Angela M
on

2019-06-11
via

Tripadvisor.com
after reading negative reviews about this hotel i was quite apprehensive about going, but on arrival greeted by a very happy gentleman on reception we had a very quick check in and shown to our room, room quite spacious and clean. cleaners work 24 hours a day so hotel is spotless, restaurant clean and tidy, dirty dishes speedily cleared away, great selection of food if your not fussy but not much choice for kids. pools for kids are great, pirate ship with slides, octopus pool with slides, main pool, bigger slides for bigger kids and also a quiet pool, barmen at pool bar very friendly my only gripe about the bars was every time i had a cocktail it never tasted the same twice but all in all really good. in the lobby bar there are pool tables, air hockey which you have to buy tokens for at bar at a reasonable price. mini club from 10am until 12 then 3 until 5 or a big play area by the hotel which you have to pay for. Animation team Kari, Moni, Ivan and Anji all fantastic with kids, mini disco every day except saturday, then entertainment from 9Pm hit and miss with the evening entertainment. All in all its a great hotel in a great location within easy walking distance to the beach and flower street, would definately return to this hotel
Buchanankatie11
on

2019-06-11
via

Zoover
all the sun and the hotels amazing