Laguna Park

,
Sunny Beach

,

Bulgaria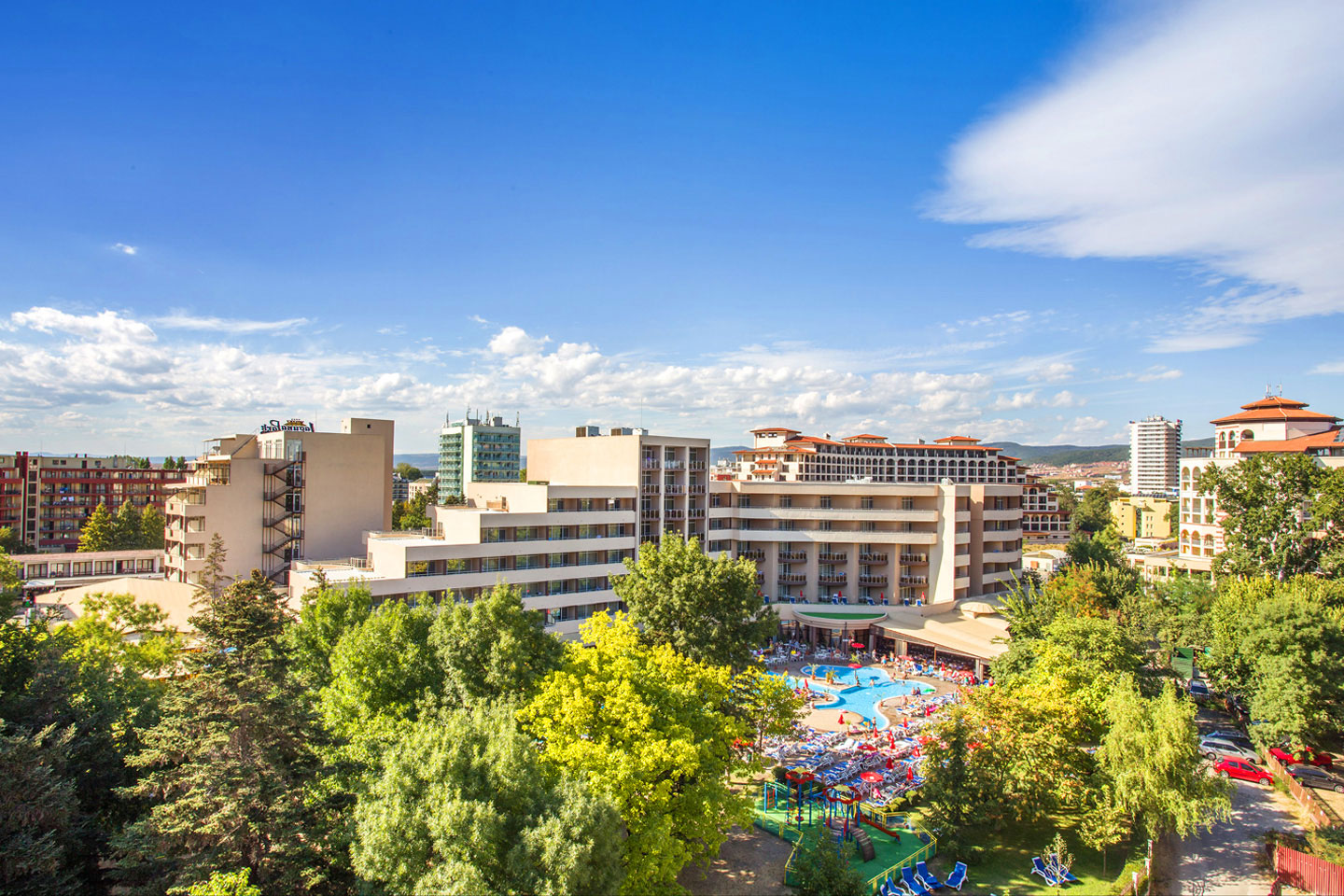 Most talked about:
Hotel Overall
Swimming Pool
Staff friendliness & competence
Most satisfied with:
Distance to airport
Business traveler friendly
Pool Cleanliness
Most disliked:
Air conditioning
Family & kids friendly is acceptable.

Animation, entertainment, nightlife, music is good.

Couples friendly is good.

"entertainment team"

"good fun"

"aqua park"

"young kids"

Swimming Pool could be better.

common areas - lobby, lifts, launge, entrance is acceptable.

Hotel maintenance could be better.

"pool tables"

"pool area"

"n't work"

"disabled person"

Guests are very happy with the Overall CLEANLINESS.

Room cleanliness is nice.

Bathroom cleanliness can be improved.

"Hygiëne"

"mini fridge"

"clean towels"

"Sự sạch sẽ"

Guests are OK with the Bathroom.

Bed is good.

Room size could be better.

"Big room"

"water slides"

"rock hard"

"sun beds"

Guests are OK with the Breakfast.

Pizza, Pasta, Salads, Snacks, etc can be improved.

Dining experience is good.

"snack bar"

"Snack bar"

"ice cream"

"good choice"

Staff friendliness & competence can be improved.

Average Service.

Average Reception.

"entertainment staff"

"hotel staff"

"Friendly staff"

"friendly staff"

value for money is nice.

Dissatisfactory Food & drinks price.

Guests are not happy with Food price.

"good value"

"Excellent value"

"Great value"

Great Parking.

Guests are OK with the Night life & dining.

Average Shopping.

"Laguna park"

"Laguna Park"

"main strip"

"water park"

Wifi price can be improved.

"free wifi"
+359 554 / 2 70 24
http://www.lagunapark-bg.com/
Elizabeth Clark
on

2019-01-29
via

Google
Renata Nikolova
on

2019-01-06
via

Google
highly recommended this place - love it got all you need in there - perfect family place !!!
sarah b
on

2018-12-01
via

Tripadvisor.com
Great location, close to shops and the beach. The slides for the kids are brilliant. Food is OK, it's better at the Iberostar Hotel, sunny beach. You get what you pay for though, this hotel is cheaper, so we were happy. I would recommend this hotel for the fun factor in the pools! My children were 5, 9 and 10.
shaun kerry
on

2018-11-09
via

Google
nice hotel staff could be unfriendly at times
Jay M
on

2018-11-06
via

Tripadvisor.com
The food here is amazing! The room & bathroom were fine & the entertainment shows were good fun & enjoyable! Great to have kids cartoons & music channels available, as well as soaps & shower gels on tap. This hotel rates topmost in my list of clean places to visit, which is so important to me when taking my kid abroad!
jason brown
on

2018-11-04
via

Google
Great resort on site play area
Lisa Plowman
on

2018-10-16
via

Google
Had a great time kids loved it
Linda H
on

2018-10-16
via

Tripadvisor.com
Laguna Park is a lovely hotel inside and out. Well kept gardens and a very clean bright interior. Our room was lovely, quite large with what looked like new mattresses and new furniture. Food was of a high standard and always plenty to eat, constantly replaced with fresh hot trays. The slides are brilliant for children and plenty lifeguards working all day, also a small pool for the little ones also with their own lifeguard and small slides. The pool area was cleaned regularly each day and pool checked and cleaned each night. It has a snack bar serving cold sandwiches, pizzas, chips salad and drinks. Ice cream cones avail with 4 or 5 different flavoured ice cream. Rooms cleaned each day and maids on hand all day around the hotel. Pool towels are available and can be exchanged every nite for a fresh towel. The tables in the buffet restaurant were cleared away very quickly, plenty of staff on hand, there's lots of variety of meats available each day with salads, potatoes, children's food eg nuggets chips fish fingers . It was hard to find fault here as everything was as we would expect . The hotel is perfect walking distance to shops and bars which are open till late each night. 24 hour bar opposite hotel was decently priced and lovely to just sit outside enjoying a drink . The beach again 10 to 15 minute walk with sunbeds and parasols approx 9 lev for the day. A walk to Nessebar along the beach takes about an hour and was beautiful. Well worth a visit here, very historic and pretty to see. The mini train brings you back for 3 lev or chose one of the many horse and carriage rides,, you can barter for a decent price. Khans tent is worth a visit for a trip out , fantastic food and entertainment , a brilliant night out , we were picked up at our hotel and dropped of back at the door for round about £35.00 this includes a beautiful 4 course meal .
Betty479
on

2018-10-09
via

Tripadvisor.com
Really enjoyed our stay here! Staff were super friendly and great with kids! Only thing I wasn't keen on was the all inclusive drinks! Food was nice and plenty of variety and always kids options of fish/chicken nuggets and pizza! Snack bar was great and the icecream was BEAUTIFUL. Would visit again!
Lorraine Collins
on

2018-10-02
via

Google
Just came back from a weeks holiday at laguna park I would like to say it was one of the best hotels I ve been to very clean the staff was friendly and the food was brilliant would definitely go there again
michal samociuk
on

2018-09-28
via

Google
good hotel, very good food. Ladies clean the rooms everyday. hotel recommendable
Mooorat
on

2018-09-25
via

Tripadvisor.com
I spent one week a vacation with my family in this excellent hotel. Clean and tidy rooms, cool and friendly staff. Many thanks and kisses to Vanya - the restaurant manager and Asya our lovely waiter. Thank you for our fab holiday, for all you done for us! Highly recommended !!! Me and my family enjoyed everything ,it was pleasure to stay in Laguna Park!
Joerg ffo
on

2018-09-24
via

Zoover
No comments. Everything is great
Anonymous
on

2018-09-23
via

Booking.com
-you should bring towels to the pool from home because they dont let you replace them if they are wet' and also its not open all the time.
Leannmakin
on

2018-09-23
via

Zoover
The service is excellent.
daft85
on

2018-09-22
via

Tripadvisor.com
On arrival until the minute we checked out this hotel was really enjoyable. The staff were all really friendly and helpful in every way. The food hall is faultless from breakfast, lunch and dinner. The food was lovely and such a big variety there is something for everyone and no excuse not to enjoy it. The room was pleasant basic as no tea and coffee facilities which for me is a bit of a problem as I like a tea when I wake first thing but that is really the only fault as it was clean throughout, only other negative was the choice of English channels if you fancied an early night. There are a few lovely pools some with slides and a nice quieter one out the front should you fancy a quieter swim. All in all we were very pleased with our stay at the hotel and would recommend the hotel to others
Charlotte W
on

2018-09-22
via

Tripadvisor.com
Starting with the hotel- in our opinion it was fabulous- I can't imagine getting one more perfect for a family of 3 (one being an almost 3 year old) the pools were fabulous- particularly the pirate ship and slides for my son! The lifeguards do a great job watching the kiddies too! The animation team were great- during the day and and the kids disco on an evening. Food in main restaurant and in snack bar was good- something for everyone including fussy eaters every day. Soft drinks weren't great but still ok. Our hotel room was nice, big and the cleaners work tirelessly. I think the octopus water slide / pool is a waste as it is fully in the shade and the pool is absolutely freezing (didn't see a single person in it all holiday) which is a real shame- this would be good as a heated pool. The only thing that let this hotel down was after checkout when we asked if we could get a shower later in the day anywhere as we didn't want to pay 70lev to keep the room for a few hours and we could not! There was nowhere to do this. I had to get myself and my 2 year old ready in a toilet. Big let down and the receptionist was rude about it too. Sunny beach- a massive surprise to us as it was really beautiful. The beach itself is stunning. Lovely restaurants. You don't get pestered too much. Almost surprisingly it did not seem like an 18-30s clubbing scene to us at all. Granted we were never out late however, I am guessing in September the nightlife quietens and it was just fab for us! I would definitely stay in this hotel again and visit Bulgaria sunny beach again.
Leannmakin
on

2018-09-19
via

Zoover
The service is excellent.
Vered
on

2018-09-18
via

Booking.com
-Me and my kids enjoyed the hotel. Everything was perfect +We liked it very much the food was good the pool and the water slides are amazing
justincase1
on

2018-09-17
via

Tripadvisor.com
fantastic super clean hotel, fantastic clean pools, could have been even better if there had been entertament in the evening. food was ok but not much for the british taste,all the staff were nice and friendly.